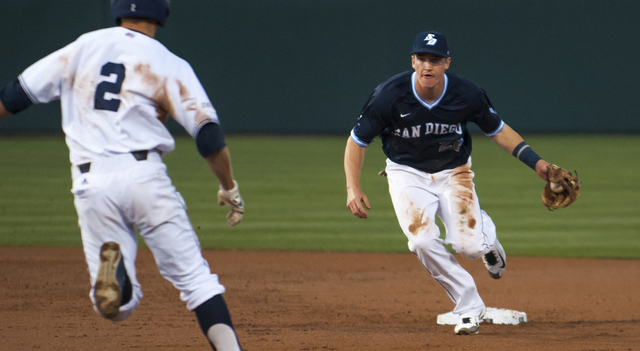 Monday: Holder signed for $1.8M, reports Jonathan Mayo. So slightly below slot but not substantially so. Here is our 2015 Draft Pool Tracker.
Friday: According to his Twitter feed, shortstop Kyle Holder has officially signed with the Yankees. There's no word on his signing bonus yet. Holder was the team's supplemental first round pick in this week's draft, the 30th overall selection. That's the pick the Yankees received as compensation for losing David Robertson to free agency.
Holder, 21, was drafted out of the University of San Diego. He has been billed as a great defender — some scouting reports called him the single best defensive player in the draft, regardless of position — which a questionable bat, though the Yankees think the offense will come. Everything you need to know about Holder is right here.
"I got more text messages from scouts from within the game — cross-checkers, scouting directors — about how good a pick (Holder) was, more than any other pick we took," said scouting director Damon Oppenheimer to Chad Jennings. "From the left side, to go along with what he does defensively, he's going to be a fine offensive player to go along with some stellar defense at shortstop."
The 30th overall pick comes with a $1,914,900 bonus slot and I have no reason to think Holder signed for substantially more or less than that. He probably took straight slot money, though we'll find out soon enough. Now that he's already signed, Holder will likely play with the Short Season Staten Island Yankees when their season begins next week.