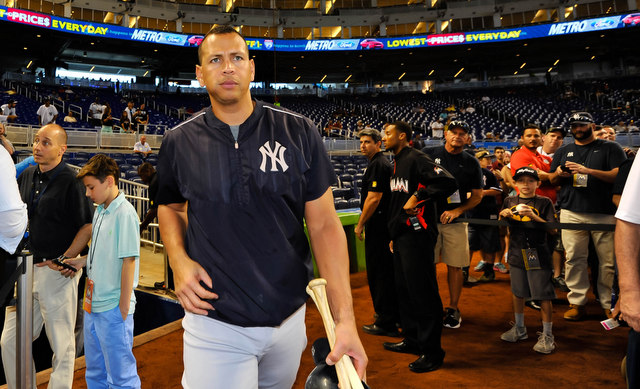 According to Ken Davidoff, the MLB Players' Association has formally requested a "hold" from MLB in hopes of settling the dispute over Alex Rodriguez's 660th home run milestone bonus. The MLBPA is acting on A-Rod's behalf. The Yankees owe Alex a $6M bonus for the homer but have opted not to pay because they claim his performance-enhancing drug history has rendered the milestone unmarketable.
Monday was a soft deadline for A-Rod and/or the MLBPA to file a grievance on the matter — the Collective Bargaining Agreement gives players 45 days to file an appeal and Monday marked 45 days since the 660th homer. A-Rod has been deferring everything to the MLBPA thus far. They're handling the dispute. Understandably, the union doesn't want set a precedent by allowing a team to simply refuse to pay a contract bonus.
"At this point in time, the focus right now (is) on the field," said MLBPA chief Tony Clark to Davidoff. "I know there are other things that are out there, but the focus right now, being in the field, is what's been beneficial to everyone. For now, we're going to make sure that remains the focus, regardless of anything or any dialogue that happens in conjunction."
Davidoff says the Yankees at one point reached out to Rodriguez and presented the idea of settling the dispute with a donation to charity, and while A-Rod's camp has not yet agreed to that, it isn't off the table either. (I'm no accountant but I imagine there is some sort of tax implication that makes the charitable donation solution less of a no-brainer than it appears to be.) For what it's worth, Davidoff says everyone involved has "maintained steady, mostly peaceful discussion in the interest of common ground."
Anyway, Monday had the potential to be an ugly day had the MLBPA gone ahead and officially filed the grievance on A-Rod's behalf. Instead, the two sides are working amicably to find a solution and avoid a grievance, which no one wants. I find it hard to believe the argument that the 660th homer was unmarketable would hold up in a hearing, but what do I know. I'm no lawyer. At least this controversy is flying under the radar relatively quietly.