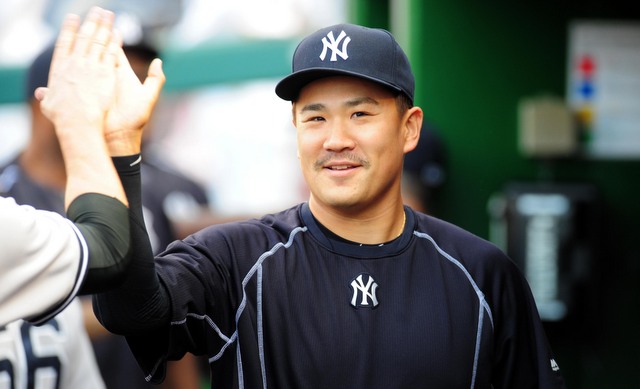 Tomorrow afternoon the Yankees will welcome arguably their best pitcher and inarguably one of their most important players back from the DL, as Masahiro Tanaka returns to the rotation after missing a month with wrist tendinitis and a minor forearm strain. Tanaka will be limited to 80 pitches after making just two Triple-A rehab starts, but, at this point, 80 pitches from Tanaka is preferable to none. That goes without saying.
Joe Girardi has already said Chris Capuano will move into the bullpen to make room for Tanaka in the rotation, which isn't surprising. Adam Warren has been too good his last four starts to remove him from the rotation. They owe it to themselves to see if he can be a cheap, reliable starter going forward. The Yankees do still have to fit Tanaka on the 25-man roster, and there are several ways they can do that. They have two candidates to bump down to Triple-A and three candidates they could drop from the roster all together. Here's a quick overview of said options.
Option No. 1: Demote Lindgren
These are presented in no particular order, but this seems like a natural place to start since Jacob Lindgren is the low man on the pitching staff totem pole. He's been in the big leagues for about a week now and has allowed six of 15 batters faced to reach base (.400 OBP). Lindgren may be the team's top bullpen prospect, but bullpen prospects usually have to wow in order to stick around. Had Lindgren dominated those first 15 batters, the decision to send him around would be much tougher. For now, he's the low man in terms of service time and that guy tends to get demoted whenever a spot is needed.
Option No. 2: Demote Shreve
Shreve has arguably been the team's third best reliever this season, pitching to a 2.49 ERA (3.14 FIP) in 21.2 innings. He's struck out 23 of 84 batters faced (27.4%), and heading into last night's game he'd held right-handed batters to a .162/.212/.286 batting line thanks to his splitter. Shreve is no lefty specialist. The Yankees would be crazy to send him down, except they did it once already this year, when they needed a fresh arm in April. (Of course Shreve had not yet shown he was a bullpen weapon at that point.) Shreve is too valuable to send to Triple-A, even temporarily, but he has options and doesn't have the prospect pedigree of Lindgren, which could work against him.
Option No. 3: Designate Carpenter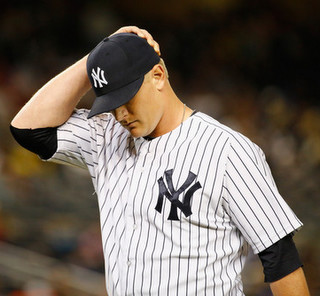 We're now almost one-third of the way through the 2015 season, and thus far David Carpenter has a 4.91 ERA (5.33 FIP) in 18.1 innings. Girardi has been using Carpenter often in an effort to get him back on track — he's appeared in eight of the team's last 16 games — but it just hasn't happened. On one hand, Carpenter has been the team's least effective middle reliever. On the other, he was pretty damn good with the Braves the last two years (2.63 ERA and 2.88 FIP) and is under team control through 2017 as an arbitration-eligible player, and you'd hate to give that up after only 18.1 bad innings. Then again, what good are those years of control if he stinks? This is a player who's in his sixth organization already. If nothing else, Carpenter has pitched his way into fringe roster territory and any discussion about designating him for assignment isn't undeserved. (Carpenter is out of minor league options and can't go to Triple-A without passing through waivers, and even though he's been bad this year, he'd get claimed in a heartbeat.)
Option No. 4: Designate Rogers
The Yankees very clearly like something about his Esmil Rogers — to his credit, he does have good stuff and his arm seems resilient — and he started the season well, allowing just four earned runs in his first 16.1 innings. He's since allowed 13 earned runs in his last 14.2 innings, so his ERA (4.94) and FIP (4.77) suddenly resemble his 2012-14 marks (4.91 and 4.35, respectively). Every team needs a long man and Esmil usually isn't deciding games, he's just mopping them up, but the Yankees have some other long man options who could be better, include Capuano.
Option No. 5: Designate Capuano
Capuano has pitched to a 6.39 ERA (4.20 FIP) in three starts since coming back from his quad injury and he does have experience in a relief role, but cutting ties with Capuano all together is possible if the Yankees think he's done. They already have four lefties in the bullpen and might not want to add another. Then again, Capuano can start, and rotation depth probably isn't something the Yankees should be giving away at this point. Plus his $5M salary could be factor. Everyone else in this post is making peanuts. Money has a way of buying extra time on the roster.
* * *
It goes without saying that Warren, Michael Pineda, CC Sabathia, Nathan Eovaldi, Andrew Miller, and Dellin Betances are locked into their roster spots, and I think the Justin Wilson is more safe than not as well. Those other five pitching staff slots are not as safe and any one of the five could wind up going to make room for Tanaka. Lindgren or Shreve could find themselves in Triple-A or one of Rogers, Carpenter, or Capuano could find themselves out of the organization entirely. What's the best way to get Tanaka back onto the roster?
How should the Yankees clear a roster spot for Tanaka?