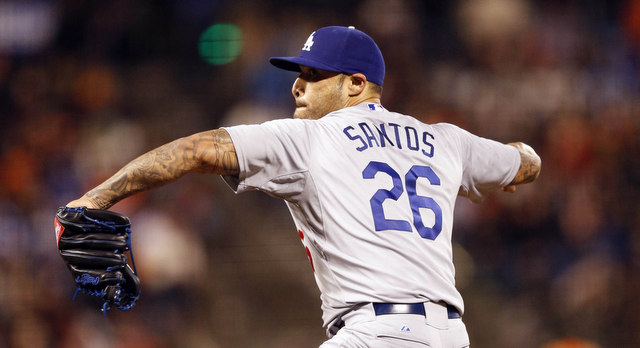 According to Ken Rosenthal, the Yankees will sign right-hander Sergio Santos to a minor league contract. He's heading to Double-A Trenton. Santos was up with the Dodgers earlier this year but elected free agency after being dropped from the 40-man roster. Fun fact: He struck out four batters in an inning not once, but twice this year.
Santos, 31, was really good with the White Sox from 2010-11 (3.29 ERA and 2.97 FIP in 115 innings), but he struggled from 2012-14 after getting traded to the Blue Jays (5.23 ERA and 4.00 FIP in 51.2 innings). Santos allowed seven runs in 13.1 innings with Los Angeles earlier this year, with 15 strikeouts and seven walks. He's a classic low-to-mid-90s fastball/mid-80s slider guy.
Late last week Brian Cashman said the Yankees want to add a right-handed reliever — "I do need to find a right-handed arm for the bullpen here at some point," said the GM — to their five-lefty bullpen. Santos may or may not be the answer. Probably not. A minor league contract is no risk — he's not even in Triple-A! — and he's worth the look though. But still, I encourage you to go forth with outrage.