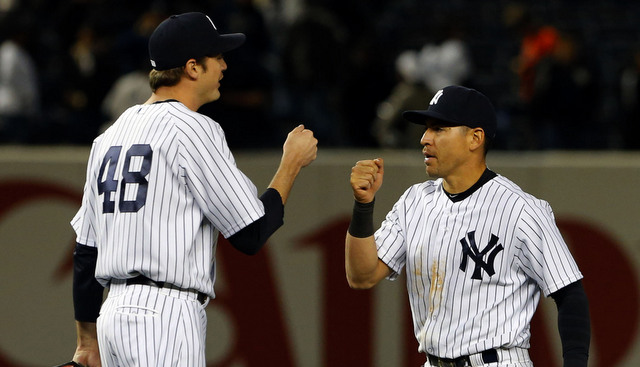 The Yankees made two big trades today! Well, no, not really. People just like to say getting someone back from the DL is like making a trade for whatever reason. Both Jacoby Ellsbury (knee) and Andrew Miller (forearm) have rejoined the team today, so they're whole again. Or at least closer to being whole. They still have some dudes out with injury.
Miller and especially Ellsbury will be asked to contribute right away because the offense has had trouble scoring more than three runs a game lately and because CC Sabathia is back on the mound tonight. Sabathia has not pitched well at all this year — he's made 16 starts and allowed fewer than four runs only six times — but he's staying in the rotation, so the Yankees are hoping he turns in a surprisingly strong performance tonight. Hopefully Ellsbury and Miller can help pick up the slack. Here is the A's lineup and here is the Yanks' lineup:
CF Jacoby Ellsbury
LF Brett Gardner
DH Alex Rodriguez
1B Mark Teixeira
RF Chris Young
C John Ryan Murphy
SS Didi Gregorius
2B Jose Pirela
3B Gregorio Petit
LHP CC Sabathia
Now, the bad news: It's raining. Has been for most of the afternoon but it's just light rain at the moment. There's more rain in the forecast later tonight, though it appears there's a big enough window to get the game in. We'll find out soon enough, I suppose. First pitch is scheduled for a bit after 7pm ET. The game will be on YES. Enjoy.
Roster Moves: Both Ramon Flores and Nick Rumbelow were sent down to Triple-A Scranton to make room for Ellsbury and Miller, the Yankees announced. Not unexpected.
Injury Updates: Chase Headley is day-to-day with a sore calf … Brendan Ryan (back) has resumed baseball activities and could begin a minor league rehab assignment soon … Mason Williams (shoulder) has renewed soreness after throwing, so his rehab has been slowed down. Surgery is not being considered at this time … Slade Heathcott (quad) is still shut down. He's not close to returning.
All-Star Update: According to MLB's update, Brett Gardner is currently fourth in the AL Final Vote voting. There is basically no chance anyone other than Mike Moustakas wins based on the way Royals fans stuffed the ballots for the starters. Here's the ballot anyway … No Yankees will be in the Home Run Derby, unsurprisingly. Here are the participants.