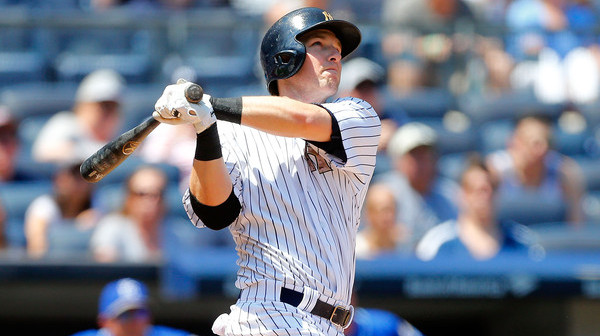 Yesterday afternoon, the best available second baseman came off the board when the Athletics shipped Ben Zobrist to the Royals for two pitching prospects. The Yankees reportedly had interest in Zobrist, it just didn't come together. For shame. Zobrist was a perfect fit for the Yankees and I was really hoping they'd land him before Friday's trade deadline.
So now the Yankees will move forward and either stick with their current second base situation or acquire … someone. The second base market is really thin now. Martin Prado is the best available option and it's not clear whether he is even available. The Marlins could simply hold onto him for next year. Brandon Phillips is the other big name out there. Let's run down the club's second base options with Zobrist now off the board.
Option No. 1: Stick with Drew
The Yankees have given Stephen Drew plenty of leash so far this season — he picked up plate appearances 300 and 301 last night — and he's rewarded them with a .187/.261/.377 (73 wRC+) batting line. The 13 homers and 9.0% walk rate are nice, but there is basically no level of defense or power that makes making an out more than 73% of the time is acceptable. A total of 160 hitters are qualified for the batting title right now. Drew's on-base percentage would be the 92nd best batting average. Yeah, it's bad.
Now, to be fair, Drew has been better of late. He's hitting .226/.308/.478 (115 wRC+) in 131 plate appearances since the calendar flipped to June, with a lot of that built on his three two-homer games in June. They count! Drew just hasn't done a whole lot aside from those games. The bat hasn't really come around to the point where you'd safely expect him to put up league average numbers going forward, but Drew has never not been reliable in the field, even while making the transition over to second. He's as sure-handed as they come, and with no second base options likely to put up big offensive numbers, going with the best defender is a viable strategy.
Option No. 2: Go with Refnsyder
For a total of four games, the Yankees gave top second base prospect Rob Refsnyder a shot at the job. He was called up earlier this month, played the last two games before the All-Star break and the first two games after the break, and went 2-for-12 (.167) with a homer. His defense at second was … passable. Rough around the edges is a good way to describe it. Refsnyder didn't look too natural there. The routine seemed difficult.
Of course, Refsnyder's calling card is not his defense, it's his bat. He's hitting .285/.378/.404 (131 wRC+) in 393 plate appearances at Triple-A this year and .292/.383/.428 (133 wRC+) in 726 plate appearances at the level dating back to last year, so Refsnyder's put up good numbers at the highest level of the minors. There are reasons to believe he'd be an upgrade over Drew at the plate. As an added bonus, Refsnyder is right-handed and would balance out the lefty heavy bottom of the lineup. The Yankees seem hesitant to give Refsnyder an extended opportunity — that's not too surprising, they prioritize defense and he doesn't offer it — but could do so after the trade deadline.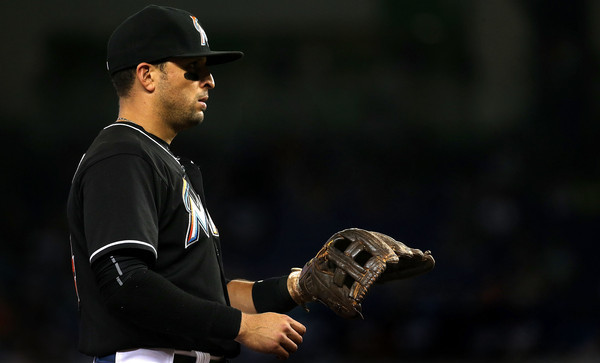 Option No. 3: Trade for Prado
Like I said, the Marlins aren't even committed to shopping Prado yet. Joel Sherman heard Miami will now "at least contemplate" trading Prado, which I guess is better than saying he's off limits. He's hitting .280/.321/.375 (92 wRC+) with 14 doubles and four homers this season, continuing a gradual decline that has seen him go from a 117 wRC+ in 2012 to 104 in 2013 to 103 in 2014 to 92 in 2015. Prado is versatile, which is nice even though we're talking about him slotting in as the regular second baseman. Also, it's worth noting Prado has not played second base regularly since 2010. He's just filled in a handful of times each year. Check out our Scouting The Market post for more info on the ex-Yankee, who is also under contract next year.
Option No. 4: Trade for Phillips
At this point the rebuilding Reds would probably give Phillips away to rid themselves of the $32M they owe him through 2017. He's hitting .273/.310/.355 (83 wRC+) so far this year, and, at age 34, his power is all but gone. His ISO has slid from .157 in 2011 to .148 in 2012 to .135 in 2013 to .103 in 2014 to .081 in 2015. That is both not a good trend and perfectly normal for a guy this age. Phillips is on the downside of his career. It's clear as day. Peak dollars for non-peak production. But, Phillips is very available, and at this point he might be an upgrade over what the Yankees have in-house. Here's our Scouting The Market post.
* * *
Unless a trade candidate comes out of nowhere — Dee Gordon? he just returned from his dislocated thumb — these are the four main options the Yankees have at second best now that Zobrist is off the board. I'm not sure there's a right answer. I'm not even sure there's much of a difference between the three when you considered expected production and acquisition costs, stuff like that. Time for a poll.
What should the Yankees do at second base?