Remember May 17th? Yeah, me neither. That day, however, I published this piece on Mark Teixeira and his performance on pitches in and out of the zone. A Twitter conversation I had with ESPN's Mark Simon last week brought this post to my mind (more on that later). My breakdown was mostly general and didn't get specific as to what Tex was doing on pitches in certain parts of the zone or where those balls were ending up. In researching for this piece, I took a look at Tex's splits, specifically his numbers based on location.
When pulling the ball as a right handed batter, Tex hits to a fantastic line: a .288 batting average; a .615 slugging percentage; a .327 ISO; a .386 wOBA; and a 148 wRC+. As a lefty, his pull numbers are even gaudier: .387 BA; .978 SLG; .591 ISO; .567 wOBA; 275 wRC+. Given his reputation, my assumption was that Tex was doing what seemed logical: dropping his (very powerful) bat head onto pitches on the inner part of the plate and mashing them to his pull field. However, the opposite seemed to be true. Recall, all the way from the first paragraph, my conversation with Mark Simon:
He tweeted that Tex was second in all of baseball (to Albert Pujols) on outer-half home runs this season, and posted the following heat map: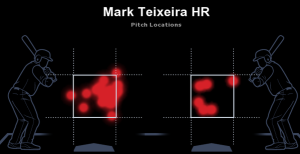 I asked Mark if he could give me the locations of all those homers and he obliged: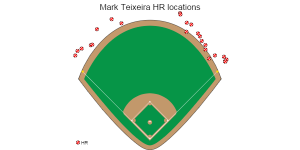 All but two of those homers–the shortest dots to the left field side, numbers nine and 11 on the year for Tex–were pulled. So it seems that, instead of ripping inside pitches, Tex is extending his arms and getting the sweet spot of the bat to the ball in front of outside pitches and muscling them over the fence. Rather than just going with the pitch, Tex is sticking to what he said way back in February. "We've talked about it ad nauseam," he said. "Every time I try to slap the ball the other way, it doesn't go well for anybody. That's what the other team wants. They want to take a middle-of-the-order power hitter and turn him into a slap hitter….So if I can hit more home runs, more doubles, walk more, that takes care of the shift." Thus far, going back to his pull happy roots has turned out pretty well for Teixeira. He already has more homers this year (24) than he did all of last year (22); he's also hit more doubles in 2015 (21 to 14) and is walking more (13.1% to 11.4%) than in 2014.
When we talk about adjustments in baseball, we usually mean that a player is trying something new. Well, Tex adjusted back to something old and the results have greatly benefited both the Yankees and him. His offensive resurgence and reclaimed production are big reasons why the Yankees sit in first place in the AL East. Keep on pulling, Tex; keep on pulling.