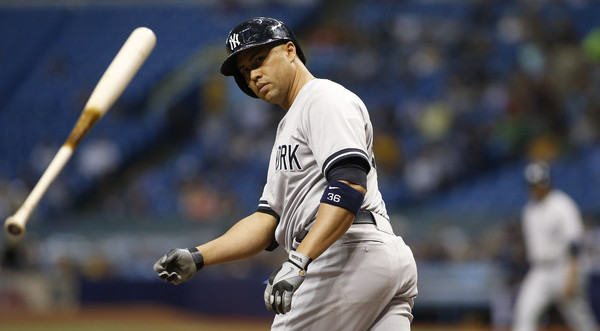 The Yankees have placed Carlos Beltran on the 15-day DL with an oblique strain, the team announced. Ramon Flores and Gregorio Petit were both called up from Triple-A Scranton in corresponding moves. Taylor Dugas was optioned down to Triple-A to clear the other roster spot.
Beltran, 38, left Tuesday's game in Anaheim after grabbing his side during an at-bat. He actually stayed in to finish the at-bat before being removed between innings. Beltran told reporters his oblique had been bothering him for a few days but the discomfort was manageable. Beltran went for tests yesterday that showed the strain.
Although he is hitting an average-ish .260/.309/.430 (102 wRC+) overall this season, Beltran has been much more productive since May 1st, hitting .299/.346/.494 (132 wRC+) in his last 188 plate appearances. The Yankees will miss his bat in the middle of the order for sure. His defense? Not so much. The lineup is a little shorter now though.
Flores wasn't called up when Beltran initially got hurt because he couldn't be recalled — he was still in his ten-day window after being sent down last week and the team wasn't sure if Beltran needed to be placed on the DL yet. His ten days are up now. Beltran's injury allowed Petit to come back before his ten days were up. He was sent down last weekend.
The Yankees are currently have Beltran, Jacoby Ellsbury (knee), Slade Heathcott (quad), and Mason Williams (shoulder) on the DL, so they're running out of outfielders. Their depth has been put to the test. Ellsbury might be back soon and Williams is eligible to come off the DL tomorrow, but there have been no updates on him. Heathcott will miss several more weeks.
Chris Young and Garrett Jones have both played well of late, though Girardi has given the majority of the playing time to Young, even against righties. My guess is Flores plays left, Young plays right, and Brett Gardner mans center for the time being. Once Ellsbury comes back, they can figure out a new alignment then.