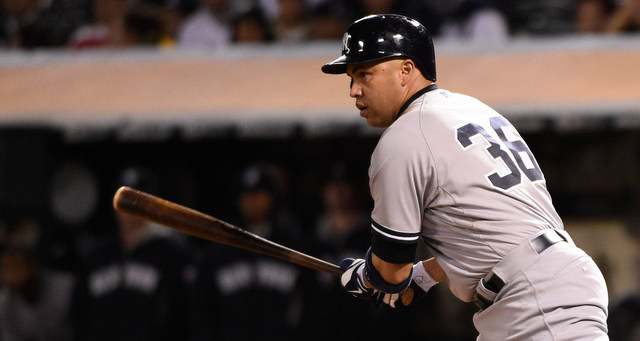 The Yankees have called up outfielder Taylor Dugas from Double-A Trenton, the team announced. Esmil Rogers has been outrighted back to Triple-A Scranton, which clears both a 25-man and 40-man roster spot for Dugas. The Yankees are back to a normal seven-man bullpen and a four-man bench.
Dugas was called up simply because the Yankees couldn't call up Ramon Flores — he was sent down eight days ago and players have to wait ten days to be called back up unless someone is placed on the DL, and Carlos Beltran has not been placed on the DL after leaving last night's game with a ribcage issue. He is day-to-day for now and will undergo tests when the team gets back to New York.
So far this season Beltran is hitting .260/.309/.430 (102 wRC+) with seven homers, which isn't all that good for a DH masquerading as an outfielder. To be fair, Beltran has been much better of late, hitting .299/.346/.494 (132 wRC+) since May 1st. The Yankees will miss him in the lineup. No doubt. Good thing he's only day-to-day and it isn't something more serious.
Dugas, 25, was New York's eighth round pick in 2012, and he's hitting only .198/.316/.235 (67 wRC+) in 54 games with Double-A Trenton and Triple-A Scranton this year. He hit .299/.399/.390 (126 wRC+) at the same two levels last year. Dugas is a left-handed hitting bat control guy with a good eye at the plate (career 13.6 BB% and 11.7 K%) and strong defense in all three outfield spots.
The Yankees are currently without Jacoby Ellsbury (knee), Slade Heathcott (quad), and Mason Williams (shoulder), though Ellsbury is currently on a minor league rehab assignment and Williams is eligible to be activated off the DL on Saturday. Gregorio Petit is still in his ten-day window like Flores and the only other healthy position player on the 40-man roster is Gary Sanchez.
Dugas got the call because he's only needed for a few days and won't clog up the 40-man roster. The Yankees don't have to worry too much about sending him through waivers when they need another 40-man spot down the road. Harsh, but hey, Dugas gets access to quality health care for life now. Spending a day in the bigs comes with some great perks.
Rogers was called back up from Triple-A Scranton over the weekend because the bullpen needed a fresh arm. He didn't get into a game and as far as I know he didn't even warm up in the bullpen.