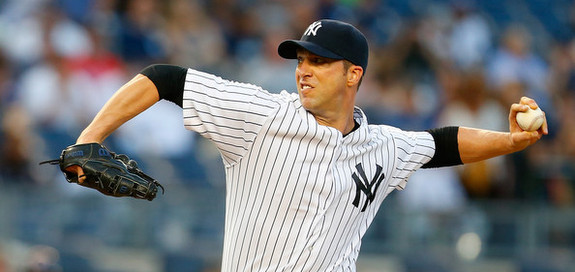 As expected, the Yankees have made some moves to beef up their bullpen following last night's 16-inning marathon loss. Both Chris Capuano and Nick Goody have been called up from Triple-A Scranton, the team announced. Branden Pinder was sent down and Garrett Jones was designated for assignment to clear roster spots. The Jones move also clears a 40-man spot for Capuano.
Pinder threw two innings and 20 pitches last night, taking the loss. Joe Girardi has thrown Pinder into some tight spots the last few days and he wound up with two losses on his record. Sucks. Jones re-signed with the team last week following Dustin Ackley's injury and did not get into a game. Bryan Mitchell, who threw 60 pitches last night and won't be able available for a few days, is still with the team.
Capuano was scheduled to start for the RailRiders today, so he'll be available for multiple innings tonight if necessary, which I really hope is not the case. He was able to get stretched out to 65 pitches in Triple-A after being designated for assignment two weeks ago. Capuano had a 6.97 ERA (5.00 FIP) in 31 innings for the Yankees before being cut and accepting his assignment to Triple-A.
Goody threw 16 pitches in Triple-A last night and was called up simply because there weren't any other options. Caleb Cotham and Nick Rumbelow were both sent down last week and were unable to be recalled due to the ten-day rule. Goody was the only healthy call-up-able pitcher on the 40-man roster. He allowed one run in 1.1 innings with the Yankees earlier this year.
The Yankees have been talking about using a spot sixth starter at some point during this road trip and keeping Mitchell around will allow them to do that at some point. Had he been sent down, they wouldn't have been able to call him up for ten days. Cutting Jones means the Yankees are down to a three-man bench, however. That will change once rosters expand in three weeks.