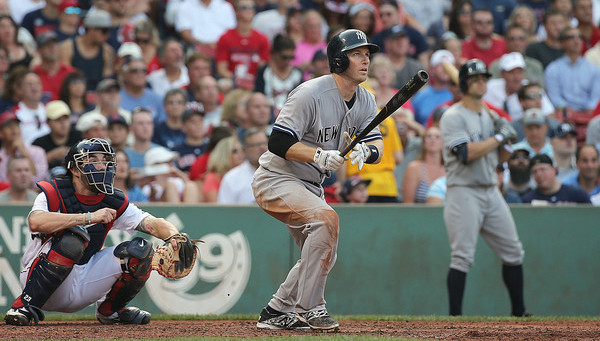 At various points during the 2015 season, we've been fed up and "done" with multiple players. Didi Gregorius's first few weeks in pinstripes were far from smooth. Carlos Beltran looked deep fried, extra crispy, well done and every other overcooked food metaphor you can think of during the first month of the season. Then, there's Stephen Drew, a player who has, can, and will draw ire from Yankee fans in a variety of different ways for a variety of different reasons. This outrage, however mild or vitriolic, is not unfounded. There's no denying that Drew had a wholly awful season in 2014 no matter how you slice it and started of 2015 just as poorly.
Though he showed some pop with five homers between April and May of this year, Drew hit just .157/.225/.301/.526. He also suffered from an unfathomably low .164 BABIP in that time, though his exit velocity in the beginning of the season was below league average, hinting that hard contact wasn't quite his thing (aside from the homers, of course). Drew's dreadful start to the season prompted many fans–myself included–to wonder when the Yankees would cut bait with Drew and make a change at second base. The team certainly had options, with the trade market available and Rob Refsnyder hanging in the minors; he even got a call up and a brief audition during a weekend series with the Red Sox. A trade never happened and the Yankees didn't call up Refsynder (for the long-term, that is), but the Yankees were right to hold onto Drew as the starting second baseman, even after that dismal beginning tacked onto a poor end to 2014.
It was remarkably frustrating to watch Drew during April and May, but the non-trade was defensible. Though there were trade possibilities, we have no idea what the Yankees did or what the market actually looked like. While it's likely that Refsnyder will be better than Stephen Drew was during those first months, in the short term, a guy getting his first exposure to MLB is likely to suffer from non-ideal play. It's a moot point since the time has passed, but it's definitely possible that Refsnyder, in the short term, would've been just as bad or worse than Drew at the plate during his first extended time in the majors. That also ignores defense, which Drew is pretty good at and Refsnyder has a bad reputation with.
And even if it wasn't really a trade or a signing or a promotion, the Yankees did get a new second baseman on June 1. From that point on, Drew has hit .246/.317/.473/.791 (compare that to the .715 league average OPS for an AL 2B). This is something I–and others–have been parroting for a while now when I see the lingering complaints about Drew's play. Due to that awful start, everyone seems ready to jump on him whenever he has a poor at bat. Did this come out of no where? Sort of, given how terrible he was at the end of 2014 and the beginning of this year. But there were promising signs in those early struggles.
During the first two months, he did have a walk rate of 8.2% and and ISO of .144. Neither one of those numbers is outstanding, but neither is bad. He also so a solid 4.04 pitches per plate appearances, so he wasn't giving away at bats; the results just weren't there. Since June and his turnaround, Drew has a similar walk rate of just over 9% and an ISO of .227, much better than the first two months. The basic underlying things were there for Drew and the Yankees recognized them and held onto Drew. Now, given his second half surge, the Yankees do look pretty smart for holding onto him at second.
Had the Yankees made a change–like trading for Ben Zobrist or someone similar–I would not have been mad or even reacted in any sort of negative way. However, this does serve as a reminder that most of the time, we are not as informed as the organization is and we do not know nearly as much as we think we do. This isn't to say that teams should be free from blame or criticism, but rather that we should remember we have no where near as much information or context as the teams do. Their reluctance to let go of Drew was not stubbornness. Their reluctance to let go of Drew was not hanging onto a sunk cost for the sake of saving face. It was a calculated decision made with knowledge of the alternatives. The organization clearly didn't think that any internal replacements, like Refsnyder, would outperform drew and that any external replacements, like a trade or signing, wouldn't be worth the cost. It's likely that the Yankees saw the underlying numbers and data that pointed to a rebound for Stephen Drew and they made the choice to stay with him and it paid off.