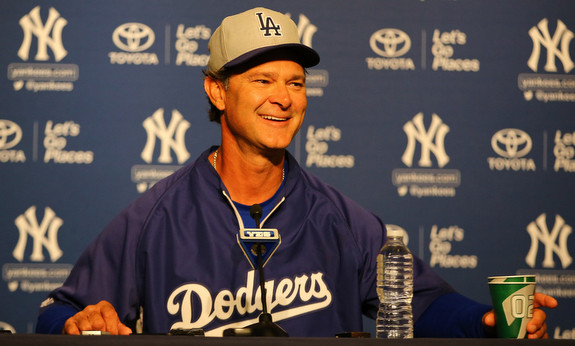 As expected, the Dodgers and manager Don Mattingly have parted ways, according to multiple reports. It's being called a mutual decision, though Mattingly had a year left on his contract, so the front office kinda nudged him out the door.
Mattingly's job security has been in question for probably two years now. It seemed like only a matter of time until he was let go so the new front office could bring in their own manager. By all accounts Mattingly and the Andrew Friedman-led regime were on good terms though.
The Yankees do have several openings on the coach staff — they fired hitting coach Jeff Pentland over the weekend — and I'm certain we'll hear Mattingly mentioned as a candidate. Joel Sherman says Mattingly wants to manage though, and that won't happen here. Joe Girardi's entrenched as manager.
The Yankees also have a front office opening with assistant GM Billy Eppler leaving for the Angels. I'm not sure if that would interest Mattingly or vice versa. Anyway, expect to hear some stuff about the Yankees and Mattingly in the coming days and weeks. It's inevitable.