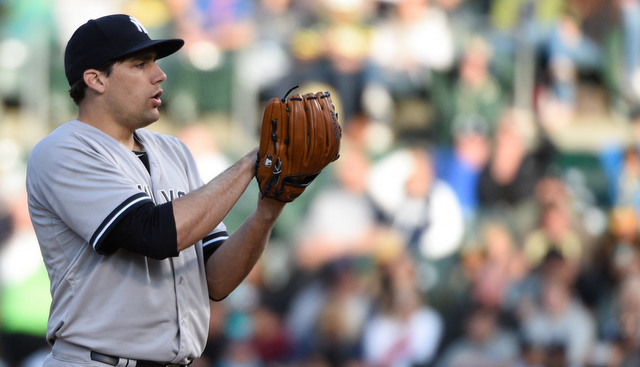 The Yankees and Orioles will play a split doubleheader later today following last night's rainout. The first game will begin a little after 12pm ET. Here are some important injury updates via George King, Meredith Marakovits, and Ryan Hatch.
Nathan Eovaldi (elbow) threw a bullpen session yesterday, his first since going down with inflammation. "Everything felt great. I threw 25 pitches, 18 fastballs and seven splits," he said. Eovaldi will throw a 35-pitch bullpen session Monday, and if that goes well, he'll then face hitters in live batting practice or a simulated game. There is no chance Eovaldi will be available for the wildcard game Tuesday, but Joe Girardi acknowledged an ALDS roster spot "is something we will look at" should the team advance.
Stephen Drew has a "vestibular concussion" and he is unlikely to return this year, even if the Yankees go deep into October. "Right now (his return is) doubtful because he still has the symptoms," said Girardi. That's a shame. Drew wasn't great this season, but you never want to see anyone's season end due to injury, especially a brain injury. Also, this more or less guarantees Brendan Ryan will be on the postseason roster as the backup infielder.
Both Chase Headley and Jacoby Ellsbury are scheduled to play one game of today's doubleheader. Both were sidelined Thursday with back soreness but were available off the bench if necessary. "They are both better," said Girardi. Headley said he wants some at-bats this weekend and not have such a long layoff before the wildcard game.