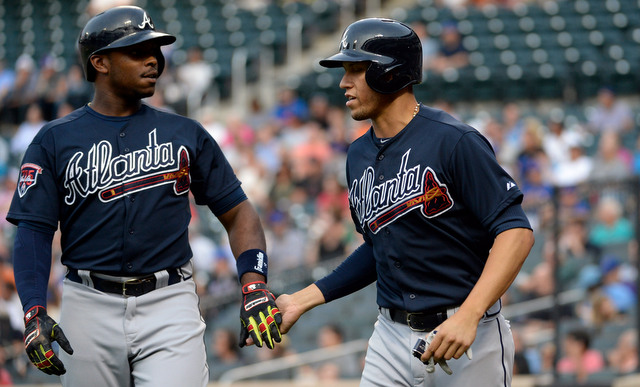 Hang in there, the weekend is only a few hours away. Here are a handful of stray links and notes to check out and help pass the time.
Yankees, Braves talked Upton and Severino last year
Last offseason the Yankees and Braves discussed a potential blockbuster trade that would have brought Jason Heyward and Andrelton Simmons to New York. Obviously things didn't work out. Heyward was traded to the Cardinals last November and Simmons was traded to the Angels last night. The Yankees ended up acquiring Didi Gregorius to play shortstop and that worked out pretty well.
According to Jeff Passan and Mark Bowman, other iterations of the Heyward/Simmons blockbuster included Justin Upton — presumably instead of Heyward — and also Luis Severino. You've got to give something to get something, right? Last offseason Severino was still a Double-A pitching prospect who was ranked a top 35-ish prospect in baseball. Heyward fetched Shelby Miller, an established big leaguer, and Simmons by himself landed Sean Newcomb, a top 35-ish prospect.
A Heyward or Upton plus Simmons trade would have been mighty fun, though I'm happy with the way things turned out. Gregorius looks like a keeper at shortstop and Severino dazzled in his MLB debut this summer. Plus the Yankees can still sign Heyward or Upton this winter. That really would have been a fun trade though. Blockbusters are cool.
Yankees planning run at Chen
Last week we heard ex-Orioles lefty Wei-Yin Chen is a "possible target" for the Yankees this offseason, and now Mark Feinsand has corroborated the story, hearing the team will indeed make a serious run at Chen. The southpaw is said to be seeking at least a five-year contract. The O's made Chen a qualifying offer as well, so the Yankees or whoever signs him will have to surrender a high draft pick.
I don't doubt the reporting, but I'm not sure this one passes the sniff test. The Yankees seem disinclined to both spend big and give up their first round draft pick. And if they are going to spend big and give up a pick, there are better pitchers available in free agency, right? No knock on Chen, but you know what I mean. I can't help but wonder if the Yankees are being used to create leverage. Them going after an AL East proven pitcher is believable, and hey, getting the Yankees involved is never bad for business. I dunno. We'll see.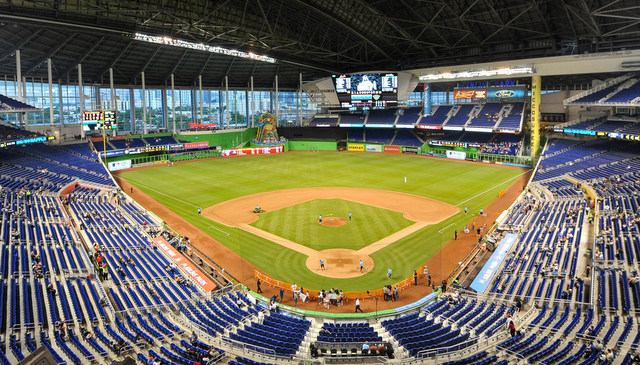 Big market teams upset with Marlins
According to Jon Heyman, several big market clubs are upset with the Marlins and their financial situation. Miami generates the lowest revenue in baseball and thus receives the most revenue sharing money despite having a four-year-old ballpark. The big market clubs that pay into revenue sharing aren't happy. "They're a joke," said one executive to Heyman.
The Yankees have paid more money into revenue sharing than any other club since the system was implemented, so it's fair to wonder if they're one of the teams upset with the Marlins. The Marlins receive roughly $50M in revenue sharing each year, according to Heyman. I'm not sure what MLB and the MLBPA can do about the Marlins — the union complained the team wasn't spending enough money a few years ago, then poof, Josh Johnson got a nice extension — but getting rid of Jeffrey Loria is a good start. No reason to think that's happening anytime soon though.
Yankees a candidate to play spring games in Cuba
At the GM Meetings earlier this week, commissioner Rob Manfred said MLB is looking into playing Spring Training games in Cuba next year. League officials visited different parks in Cuba recently and I guess gave the thumbs up, which is why Manfred is still talking about it. According to Joel Sherman, the Yankees are one of ten teams being considered for potential spring games in Cuba.
This makes a lot of sense, right? The Yankees are the most popular and most recognizable brand in baseball, if not all of sports. I don't think selling out exhibition games in Cuba would be a problem no matter who plays, but getting the Yankees involved would create a lot more interest. Also, from a logistical standpoint, it's a nice quick flight from Tampa. I don't think MLB would drag teams from Arizona to Cuba in the middle of Spring Training. Either way, nothing is final yet. There are still hurdles to clear before exhibition games are played in Cuba next year.