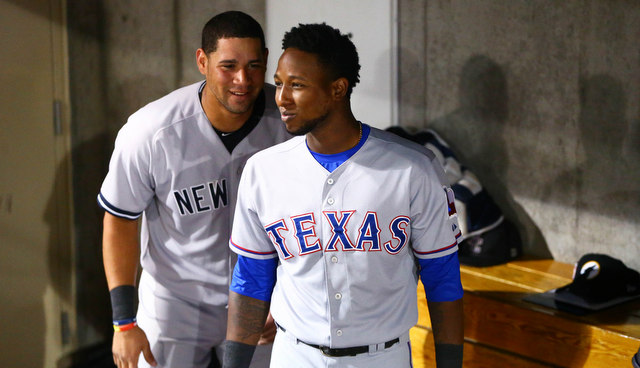 According to Joel Sherman, the Yankees have asked the Rangers about the availability of infielder Jurickson Profar, who was once arguably the best prospect in baseball. He's been beset by shoulder injuries the last two years, including a labrum tear that required surgery in February, so the Yankees are looking to buy low.
Profar, 22, is currently playing in the Arizona Fall League, though he is limited to DH duty because he hasn't been cleared to resume throwing. He's hitting .239/.321/.435 (95 wRC+) in 12 games but the numbers don't really matter. Keith Law (subs. req'd) saw Profar recently and said his "bat speed is totally intact" after the shoulder injury.
I answered a question about Profar in last week's mailbag and the short version of my answer is yes, the Yankees should absolutely look to buy low on him if possible. I just don't think the Rangers will move him while his trade value is so low. They hung onto him through the injuries, might as well wait to see what happens when his shoulder is at full strength, right?
"We are not looking to trade him," said Rangers GM Jon Daniels to Sherman. "We held onto him this long. We are pretty optimistic his shoulder is fit. The mindset is to wait and see where he is. We believe he will get back to his value, which was one of the best young players out there."
Sherman says the Yankees have interest in Profar as a second baseman, which might now be his ultimate long-term position if the shoulder injuries limit his ability to make throws from the left side of the infield. The Yankees are set at shortstop for the time being, but they do have a need at second base, at least until Rob Refsnyder shows he can handle the job.
Missing two full years at such a young age scares me — those are two lost development years Profar can't get back — but I still love the idea of buying low on Profar. Even if his days at shortstop are over, he's still incredibly young — younger than Kris Bryant! — and he projects to have big offensive value while adding nifty defense. No mystery why the Yankees inquired, right?