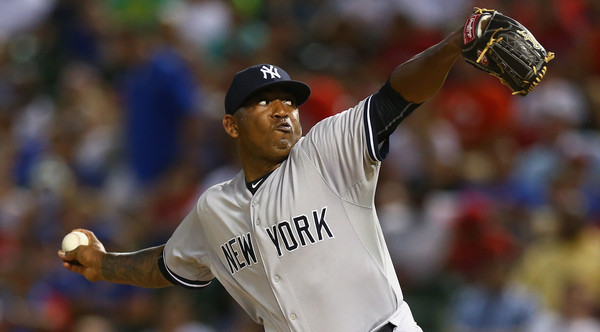 The Yankees have re-signed right-handers Domingo German and Diego Moreno to minor league contracts. The team announced the German signing while Chad Jennings reported the Moreno deal. German was non-tendered last week and Moreno became a minor league free agent after being dropped from the 40-man roster in October.
German, 23, did not pitch at all this season after blowing out his elbow and having Tommy John surgery in Spring Training. He came over from the Marlins last winter in the Martin Prado/Nathan Eovaldi deal. By non-tendering German, the Yankees were able to remove him from the 40-man roster without exposing him to waivers. They did the non-tender/re-sign trick with Slade Heathcott and Vicente Campos last year.
I ranked German as the No. 11 prospect in the system coming into the season. The right-hander broke out with the Marlins in 2014, pitching to a 2.48 ERA (3.26 FIP) in 123.1 innings for Miami's Low Class-A affiliate. He's a sinker/slider guy and represented the Marlins in the 2014 Futures Game. My guess is he heads to High-A Tampa once he's done rehabbing next year.
Moreno, 29, split last season between Triple-A Scranton and the Yankees. He had a 2.18 ERA (2.73 FIP) in 53.2 innings for the RailRiders and a 5.23 ERA (4.30 FIP) in 10.1 innings for the big league team. Moreno's season ended in August due to surgery to remove bone chips from his elbow. He's a Triple-A depth arm heading into 2016. Nothing more.