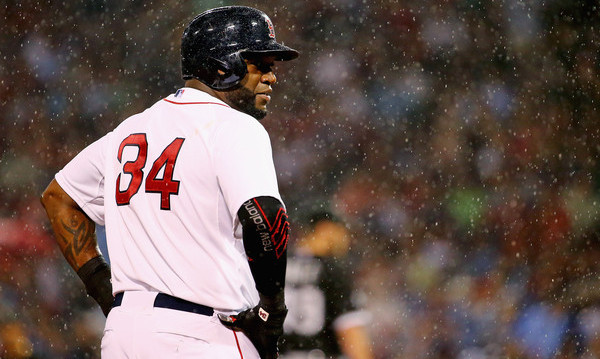 Earlier this offseason David Ortiz announced he will retire following the 2016 season, which was music to the ears of Yankees fans everyone. Ortiz has crushed the Yankees over the years — he's a career .306/.395/.565 hitter against New York — and no one on this side of the rivalry will miss him. He was a worthy foe, and I'm glad he's retiring.
While speaking to reporters at the owners' meetings yesterday, Hal Steinbrenner confirmed the Yankees will indeed honor Ortiz in some way this coming season. From Ken Davidoff:
"I am sure we're going to do something," Steinbrenner said. "We have not formally, minute by minute, figured out exactly what we're going to do yet. He's a great player, great part of that franchise. Everything you like to see in a player."
The Red Sox will be in the Bronx for the second-to-last series of the season, a three-game set from September 27-29. That's a Tuesday through Thursday. I assume that's when the ceremony will take place.
Ortiz has said he doesn't want any kind of farewell tour, but it's not really up to him. Teams, including the Yankees, are going to honor him whether his wants it or not. The Red Sox honored both Derek Jeter and Mariano Rivera when they retired a few years back, so I guess it's only fair the Yankees honor Ortiz.
As the story goes, George Steinbrenner wanted to sign Ortiz after the Twins non-tendered him back in 2002, but Brian Cashman talked him out of it. The Yankees had the newly signed Jason Giambi at first base, plus a top first base prospect in Nick Johnson, who was an elite first base prospect at the time. Signing Ortiz meant burying or trading Johnson, which eventually happened anyway. So it goes.
Anyway, I don't really have a problem with the Yankees honoring Ortiz. They honored Chipper Jones and Paul Konerko when they were retiring a few years back. Have a quick little pre-game ceremony and then keep him in the park during the games. No fireworks, if you know what I mean.