Got 15 questions in the mailbag this week. They're a mix of Retro Week questions and regular ol' 2016 Yankees questions. Use the RABmailbag (at) gmail (dot) com email address to send us anything.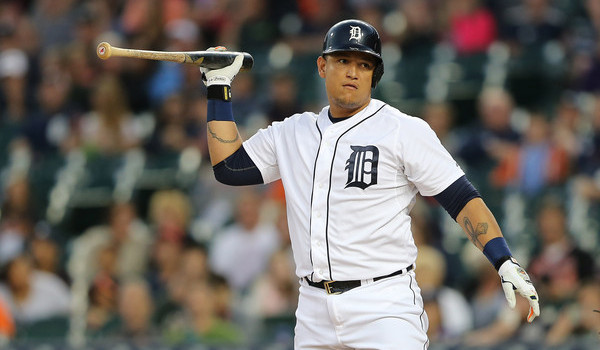 Steve asks: I had this conversation with a friend the other day but how many active players would you say are locks to go in the Hall of Fame? And would you say that number is less than the typical number?
I'm not sure what you mean by typical number. I count three slam dunk, no doubt about it future Hall of Famers who are still active: Albert Pujols, Ichiro Suzuki, and Miguel Cabrera. Those guys get in if they retire tomorrow. Alex Rodriguez would be in that group too, he has inner circle Hall of Famer credentials, but it seems unlikely he'll ever get in due to the performance-enhancing drug stuff.
Adrian Beltre is a "very likely to get in" guy for me but not a no-doubter. Carlos Beltran and David Ortiz are a notch below that. Robinson Cano, Clayton Kershaw, Buster Posey, Mike Trout, Felix Hernandez, Zack Greinke, Andrew McCutchen, and Bryce Harper are all on the Hall of Fame track, I'd say. They still have some more compiling to do. Did I miss anyone obvious? I feel like I'm missing someone obvious.
Chris asks: Any interest in the freshly DFA'd Christian Friedrich?
I was surprised to see Friedrich is already 28. It feels like just yesterday he was slipping in the draft and I was hoping he'd get to the Yankees but holy crap he was drafted back in 2008 (25th overall). Friedrich was in the bullpen full-time last year with the Rockies and had a 5.25 ERA (4.04 FIP) with bad strikeout (16.7%) and walk (9.3%) numbers. Righties hammered him (.409 wOBA) but he held his own against lefties (.292 wOBA), so maybe he still has some lefty specialist potential. He's out of options, so you can't send him to the minors without slipping him through waivers. Meh. There's not much to see here now. A few years back he would have been a nice reclamation project. Now he's back-end of the 40-man roster fodder. I say pass.
Glenn asks: I realize the Yankees need Nova as a sixth starter, but is there anything in his record that suggests he could excel when concentrating on just two pitches as a short reliever?
Ivan Nova is a two-pitch pitcher as a starter, basically. He's switched between a slider and a curveball a few times in recent years, but he's generally a fastball-breaking ball guy who rarely throws a changeup. (During his full seasons from 2011-13, the most he threw his changeup was 4.4% in 2011.) The two-pitch approach has historically worked better in relief because you don't have to turn a lineup over multiple times. Nova has good stuff. His command isn't very good and he has a reputation for making it easy to pick the ball up out of his hand, so it plays down. Nova might excel as a one-inning reliever. That applies to lots of guys.
Richard asks: Mike, the MLB Top 100 scouting report said Aaron Judge "could be a higher-average hitter with 20 or so homers per season or more of a masher who delivers 30-plus long balls" depending on how he balances power and discipline. Can you think of a comp for each outcome, and which is ideal for 1) the Yankees and 2) Judge with respect to career outlook? Dingers are great, but a higher BA also means a higher OBP and SLG. Thanks!
The comps part is difficult. Over the last few seasons the only high-average, 20-homer right-handed hitting outfielder is Andrew McCutchen. Adrian Beltre, Troy Tulowitzki, and Buster Posey have done it at other positions, and then you have the superhuman high-average, 30-homer guys like Mike Trout, Paul Goldschmidt, and Miguel Cabrera. A lot of players will have a random .300+ AVG, 20+ homer season, but very few do it consistently. Hitting for average is very hard nowadays. There are more mediocre-average, 30-homer guys out there. Adam Jones, Justin Upton, Giancarlo Stanton, etc. Assuming everything else is equal, I'd take the high-average, 20-homer version of Judge because it's a more well-rounded player. Batting average is underrated.
John asks: After hearing that Howie Kendrick signed for only 2 years $20 million with the Dodgers, do you think the Yankees made a mistake in going after Castro so early?
I would so much rather have Kendrick at two years and $20M plus Adam Warren than Starlin Castro plus a first round pick. Easy call in my opinion. There was no indication Kendrick would take such a sweetheart deal earlier in the offseason though. And besides, who's to say the Yankees could get him so cheaply anyway? Kendrick's played in Southern California his entire career, so I assume he has some roots there, and going back was appealing to him.
If it was known Kendrick would take two years and $20M, lots of teams would have been after him, including the Nationals, who gave up their first rounder to give Daniel Murphy three years and $37.5M. The qualifying offer hurt Kendrick's market badly and no one could foresee that. I don't blame the Yankees at all for jumping on Castro in December.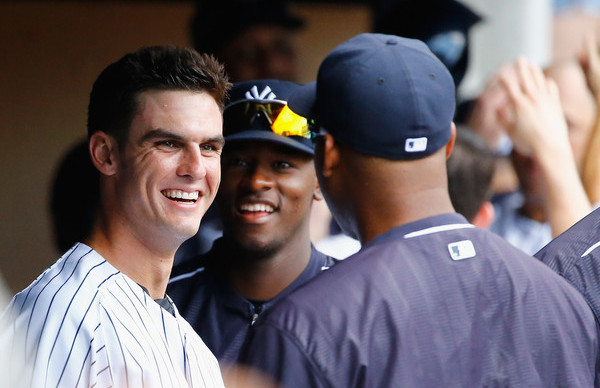 Michael asks: Will Bird's year be in the MLB dl or the MiLB DL? He was on the mlb roster at the end of the season, but was slated to start the season in AAA. Seems the Yankees are going to get burned on a year of service time.
Bird will be on the MLB DL this year and burn a year of service time. He's a big league player — he played 46 games with the Yankees last season plus the wildcard game — and when big league players get hurt, they go on the big league DL. It doesn't matter that Bird was likely to start 2016 in Triple-A. If it were that simple, teams would be claiming all of their injured young players were going to start the year in the minors to prevent them from accruing service time. It sucks, but that's the system. Bird was on the MLB roster for the final third of last season and he deserves the big league pay and service time coming his way after getting hurt.
Many asks: Does Bird's injury mean Mark Teixeira will get the qualifying offer?
No automatically, no. There's still an entire season to play out first. Teixeira could hit .210/.280/.350 with nine home runs this season for all we know. Ideally, the decision would be made independent of Bird's status, right? Either Teixeira is worth the QO or he is not. That's not really the case though. If the Yankees are on the fence about the QO, Bird's status could sway them one way or the other. If he's strong and healthy, they might not think it's worth the risk. If Bird's rehab is slow, they might decide to roll the dice. The chances of Teixeira returning in 2017 are greater now than they were before Bird's injury, but remember, the Yankees will want to keep the average annual value of any contract down for luxury tax purposes. The QO figures to be over $16M next year.
Andrew asks: Any idea on how the qualifying offers will work this upcoming offseason? With all the Teix QO discussion, QO's need to be offered 5 days after World Series is over and players have 7 days to accept after that. CBA up Dec. 1st, so all of these decisions will be made prior to knowing what will happen?
When the last Collective Bargaining Agreement was struck the Type-A/B system was still in place, then the QO system was part of the new CBA. Last time around they stuck with the Type-A/B system for the rest of the offseason — they did however change the system so teams wouldn't give up picks for Type-A relievers, I remember everyone laughing at the Phillies for this because they signed Jonathan Papelbon so early and gave up their pick — then switched to the QO system the following year. I assume that will happen again. They'll ride out the current system next offseason and then implement any changes the following offseason.
Robert asks: So this got shot down in the last mailbag but with the awful Bird news today is there a need now for a backup first baseman? I admit this is mostly nostalgia driven obviously but lefties have remained a problem and Montero could help in that department.
Yeah it makes more sense to bring Jesus Montero back now because the Triple-A first base job is wide open. He is out of options though, so he has to go through waivers to go to the minors. So either you have to trade for him and slip him through waivers yourself, or claim him on waivers and try to pass him through yourself. (Or make a deal with the Mariners contingent on him passing through waivers first.) It seems more likely the Yankees will just sign a minor league free agent. Ike Davis or Chris Parmelee could work. Maybe a Quad-A guy like Matt Clark or Neftali Soto. Montero would be wonderful for nostalgia purposes. The mechanics of getting him are a bit complicated though.
Jonathan asks: Most of us know the fact that Maddux and Bonds turned us down in the '92 offseason, and then we signed basically anyone we wanted until Cliff Lee, but what do you think our main roster and results of their tenures in NY would have looked like if we signed both back then? Hard to believe we could have done better than we did, but it's also hard to believe the best pitcher and best hitter of their generation would have made us worse.
Yeah this is an interesting one. The Yankees went hard after both Bonds and Maddux during the 1992-93 offseason but didn't land either. (They settled for Jimmy Key because they couldn't get their Plan B, C, or D either.) The 1993 Yankees finished seven games out of a postseason spot even though Key (139 ERA+ in 236.2 IP) and primary left field Dion James (133 OPS+) were really awesome. Do Bonds and Maddux make up the seven-game difference? Maybe! They were that good.
The 1994 Yankees were awesome before the strike. That 1995 season is the big question for me. Do the Yankees beat the Mariners with Bonds in left and Maddux making two starts in the ALDS? (They won Game One, remember.) Signing Maddux probably means no David Cone trade that season. This is a fun thought exercise. It's hard to think adding two historically great players like Bonds and Maddux would have hurt. At the same time, it's hard to complain about the way things turned out.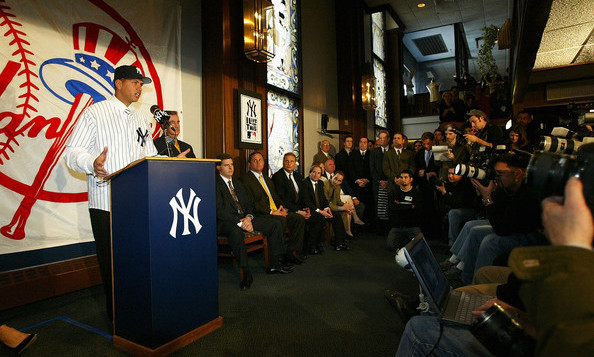 Dan asks: Over the years the Yankees have pulled off some crazy big trades: Roger Clemens, David Justice, A-Rod, Randy Johnson, just to name a few. Thinking back on your Yankees fandom do you have a favorite one? Thanks!
I remember hating the Clemens trade because I loved David Wells. I guess that answers the opposite of your question. The Alex Rodriguez trade is something of a baseball JFK moment for me (and probably a bunch of others). I remember exactly where I was and who I was with and what I was doing when I found out it happened.
I was still in college and I was out at dinner with the girl I was dating at the time. We were at Applebee's with some other friends because, you know, we were classy like that. I saw the trade scroll across the screen on the ESPN ticker at the bar. There were no details. It was just "Yankees get A-Rod." I remember thinking the Yankees were going to have to move Derek Jeter to second base and Alfonso Soriano to third to make it work. I guess that's my favorite trade. It was a foregone conclusion A-Rod was going to the Red Sox at the time, then bam, he was a Yankee. It was awesome.
Daniel asks: This 'Core Four' moniker completely cuts out the contributions of Bernie Williams. The guy was a 5-time All-Star, 4-Time Gold Glover, and starting center fielder on four World Series championship teams! Why does he get lost in the shuffle?
Because Core Five doesn't rhyme. I'm dead serious. If someone had been able to come up with a cute nickname for a group of five, Bernie would be included in that group. It's too late now though. The Core Four is established. I've heard people say Bernie is not in the Core Four because he wasn't there for all five World Series titles from 1996-2009, which is true, but also disingenuous. Jorge Posada played eight games for the 1996 Yankees as a September call-up. He was hardly a key contributor. Bernie is part of the Core Four as far as I'm concerned.
Elliot asks: Which Yankee Pitcher had the highest game score to clinch a world series?  Game 7?
This was shockingly easy to look up with the Play Index. They have options for series clinching games and everything. Who knew? Here are the five best World Series clinching games by a Yankee (full list):
1999 Roger Clemens and 1998 Andy Pettitte are tied for eighth with a 69 Game Score. Imagine being Turley and losing that game in 1956. Woof. The top five all came long before most of us were born, because that's when the Yankees did most of their World Series winning. Here are the best World Series Game Seven performances. There's some overlap with the best clinching games list (full list):
Look at that. The Yankees lost three of their five best pitching performances in a Game Seven of a World Series. Crazy. I ran a query for the best pitched games by a Yankee in a series clincher regardless of round (full list), and it was identical to the top table with one exception: CC Sabathia's performance in Game Five of the 2012 ALDS slots in at No. 2 with an 82 Game Score. What a game that was.
Marc asks: The 1996 Yankees had 3 players (Boggs, O'Neill, Williams) with over 500 PA that walked more than they struck out.  In the last 20 years, how many other times has that happened, if at all?
There are a handful of players each year who walk more than they strike out. Jose Bautista, Joey Votto, Michael Brantley, Buster Posey, and Ben Zobrist were the only guys to do it last year. The last team with multiple players who qualified for the batting title with more walks than strikeouts is the 2009 Cardinals with Yadier Molina and Albert Pujols. Here are the last four teams with three such players:
2000 Cubs: Mark Grace, Ricky Gutierrez, Eric Young
2000 Mariners: Edgar Martinez, John Olerud, Mark McLemore
1999 Rangers: Rusty Greer, Rafael Palmeiro, Mark McLemore
1996 Yankees: Wade Boggs, Paul O'Neill, Bernie Williams
The last team with four such players? The 1995 Yankees, who had five: Boggs, Bernie, O'Neill, Don Mattingly, and Luis Polonia all did it that year. As you keep going further back in history there are more and more teams with multiple players who had more walks than strikeouts. Baseball was a much different game back in the day. In 1962 Sandy Koufax had a 10.5 K/9 when the league average was 5.6 K/9, so yeah.
Rick asks: When does it make sense to add a guy like Ian Desmond to the roster and figure the rest out? If Desmond at resembles the player of two or three years ago, he's well worth the draft pick attached. He can play multiple positions across the infield.
It comes down to the size of the contract. If you're going to give up the draft pick, I think you'd prefer to keep the player more than one year. That's just me. Would Desmond take the Kendrick contract (two years, $20M) to be what amounts to a super utility guy, someone who gets 400+ plate appearances at second, short, third, and left field? My guess is if he were willing to do that, several other teams would have interest as well. Desmond's going to look at the Yankees and wonder where he'll play. The White Sox, for example, could offer him the same money and the starting shortstop job. It takes two to tango, and besides, I'm pretty sure the Yankees aren't giving up their first round pick to sign a free agent at this point.