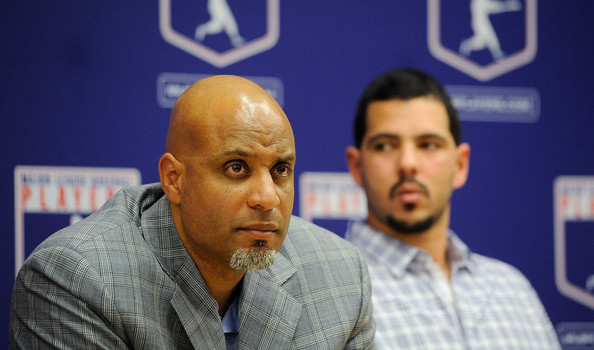 At some point very soon MLB and the MLBPA will get together to begin crafting the next Collective Bargaining Agreement, assuming they haven't done so already. The current CBA expires December 1st and the two sides have an awful lot to work through these next few weeks. Here are some MLB big picture updates from Buster Olney and Ronald Blum.
Take-out slide rule change coming
In the wake of the broken legs suffered by Jung-Ho Kang and Ruben Tejada last year, MLB and the MLBPA are moving closer to changing the take-out slide rules. An agreement has not been reached just yet but the two sides "will get there," and the new rule is expected to be in place for the start of the 2016 season.
The new rule will be designed to prevent runners from going beyond the base path to break up the double play. They want the runner to slide directly into second base, basically. Both Chase Utley and Chris Coghlan were able to touch second base when they slid into Tejada and Kang, respectively, but they were outside the base path. The new rule would eliminate stuff like this: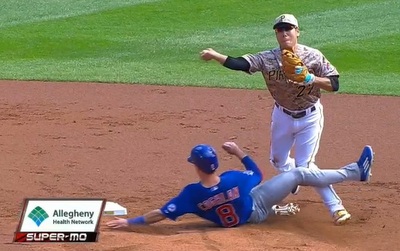 The MLBPA has reportedly indicated they want to make the game safer for middle infielders without completely eliminating the runner's ability to slide in aggressively to break up the double play. Players have been taught to play the game one way their entire lives and they don't want to change too much.
Players are so big and so fast these days that catastrophic injuries like the ones suffered by Kang and Tejada will become more and more common in the coming years. I'm all in favor of making the game safer, so if the upcoming rule change can reduce the risk of injury without totally eliminating take-out slides, great. Seems like everyone will be happy.
Qualifying offer to be "reviewed" during CBA talks
Pitchers and catchers begin reporting to Spring Training this week and three qualified free agents still remain unsigned: Yovani Gallardo, Ian Desmond, and Dexter Fowler. (Gallardo is said to be nearing a deal with the Orioles.) Howie Kendrick, another qualified free agent, recently signed a contract that appeared to be well-below market value. Needless to say, this is a concern for the MLBPA.
"I think it's disappointing when there are as many talented players still without a home," said union chief Tony Clark. "I don't think it's in anyone's best interest to be in a world where very talented players are at home for whatever reason they are there. It will likely be a part of the conversation in bargaining. If there are considerations in areas that appear to be damaging the concept of competitive balance, then they should be reviewed and looked at, and this would appear to be one of them."
I few weeks back I wrote a post at CBS looking at possible ways to improve the qualifying offer system. I don't think there is a perfect fix as long as the draft and free agency are tied together, but after a few years of the current system, it's obvious it's not working as intending. The elite free agents are in good shape. The mid-range guys like Gallardo and Fowler and Desmond and Kendrick are having their markets severely limited, and that's bad for the MLBPA.
MLBPA thinks it would be "beneficial" to explore a draft lottery
Tanking has become a pretty hot topic in recent weeks, and while you could argue tanking is just a scary word for rebuilding, there are folks within the game concerned about the increasing number of teams willing to be bad on purpose. Being bad is very rewarding nowadays. You can protected first round draft picks, large bonus pools, potentially more revenue sharing dollars, etc. If you're bad, be really bad. The system works in your favor.
In an effort to reduce the incentive to be bad, Clark suggested it would be beneficial for MLB and the MLBPA to explore a draft lottery during CBA discussions. "It will be beneficial to look at that, and not look at it in a vacuum but appreciate whatever it is that we attempt to negotiate there or propose there, that it ties into the other moving pieces and doesn't create an imbalance," he said.
Both the NHL and NBA have had draft lotteries for decades now. In the NHL, each of the 14 teams that miss the postseason gets a shot at the first overall pick, with the very worst teams having the best odds. The No. 1 pick is determined via lottery, then the remaining 13 teams are slotted in reverse order of the standings. The NBA has a similar system, except the top three picks are selected via lottery, then the remaining are set in reverse order of the standings. (I think. Someone tell me if I'm wrong.)
A similar system in MLB would involve a 20-team lottery. There are many other possible ways to do it, of course. Either way, the point would be ensuring teams wouldn't automatically receive the tippy top draft picks as a result of being awful. It would reduce the reward for being bad, albeit slightly. I personally would like to see a rule preventing teams from getting the No. 1 pick in back-to-back years, or even multiple times in a span of several years, say three or four.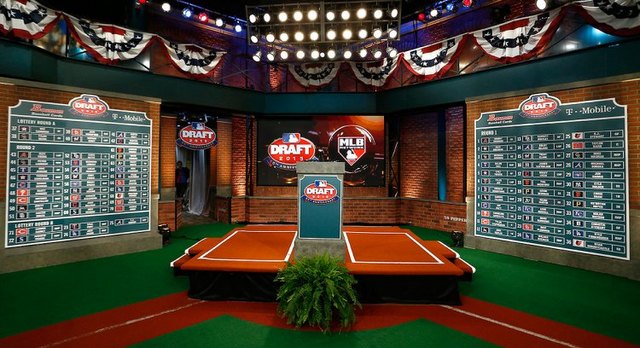 "Significant issues" with an international draft
It has long been management's goal to implement an international draft, mostly because it would be another way to keep costs down for owners. MLB is so ready to do this that the international bonus pools are already broke down into slots so they could be easily transferred over to a draft format. Needless to say, "significant issues" still exist with an international lottery format.
"While conceptually it sounds nice to think of everyone entering the game in same fashion, the truth is there are significant issues," said Clark. "It will undoubtedly be part of the negotiation in '16, and it will be very interesting to see how that discussion manifests itself."
I'm curious to know how the international draft order would be determined. Would MLB and MLBPA really give the worst teams the top picks in both the domestic and international drafts? That's just another reward for being bad. An international draft would really hurt the Yankees, who never have high amateur draft picks and instead use the international open market to bolster their farm system.
MLBPA wants the luxury tax threshold to increase
This is not surprising at all: Clark says the luxury tax threshold should increase with the next CBA. "We were coming out of a very difficult time with the recession (when the last CBA was negotiated). As the industry continues to grow, considerations made to the competitive balance tax should grow as well," said the MLBPA chief.
When the current CBA was ratified in 2012, the average payroll was $98.02M and the luxury tax threshold was $178M. Heading into 2016, the average payroll is $112.96M and the luxury tax threshold is $189M. So the average payroll has climbed 15.2% while the threshold has climbed 6.2%. That's a problem! The threshold should really climb up to $200M next year, if not $210M. Obviously the new tax threshold will be very pertinent to the Yankees.
September call-ups rules will be revisited
Sometimes I feel like I'm the only person in the world in favor of September call-ups. Every September the same arguments take place and it does feel like only a matter of time until some kind of change is made. Maybe teams will be allowed to call up their 40-man roster but must declare a 25-man active roster for each series. Something like that. Anyway, the September call-up rules will be revisited as part of CBA talks.
"We discussed as recently as 2011 formally what may make the most sense. Unfortunately, we weren't able to find common ground at that time," said Clark. "I'm sure we'll have the conversation. Perhaps this go-around we can find some common ground on considerations in September or any other month that may make sense."
I like September roster expansion for a few reasons. First and foremost, it rewards teams with depth. If one club has a better third catcher or extra lefty specialist, let them take advantage. Secondly, expanded rosters allow teams to better manage workloads. Innings limits are a big deal nowadays and those extra arms come in handy. Expanded rosters also allow teams to audition young players and reward those who had strong seasons in the minors. Eh, whatever. We'll see what happens. I know I'll lose this fight eventually.