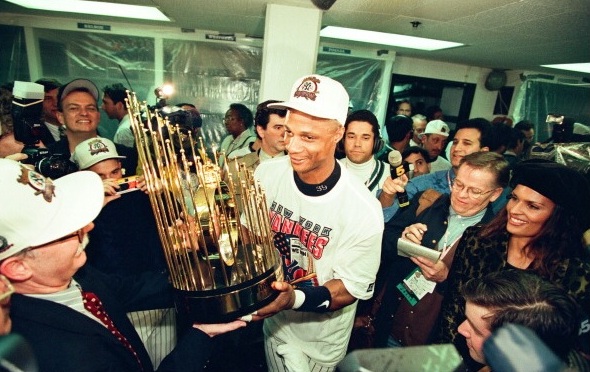 I grew up in Brooklyn in a family of almost all Mets fans. I became a Yankees fan because of my grandfather. My grandparents used to watch me when I was a kid while my parents worked — they lived literally right next door, so it was pretty convenient — and I used to hang out and watch games with my grandfather, hence the Yankees fandom.
Even as a young Yankees fan, Darryl Strawberry was my favorite player growing up. My family took me to whole bunch of Mets games as a kid and Strawberry mashed a ton of dingers. I loved it. He was the man. Plus he had such a sweet swing: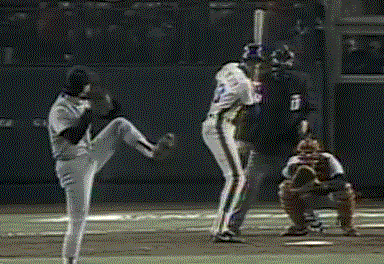 *fans self*

Needless to say, I was thrilled when the Yankees picked Strawberry up in 1995. I didn't really understand the severity of his off-the-field issues — he was suspended for cocaine use for the first half of the 1995 season — but I was glad my favorite player growing up was on my favorite team. It was awesome.
Strawberry became a free agent after that 1995 season and no team signed him. He instead had to head to an independent league and hope someone would grab him at midseason. With the St. Paul Saints in 1996, the then-34-year-old Strawberry hit .435/.538/1.000 with 18 home runs in 29 games. Yeah, he still had something left in the tank.
With Ruben Sierra not providing much thunder at DH and the Yankees lacking power in general, the team purchased Strawberry's contract from the Saints on Independence Day in 1996. George Steinbrenner loved ex-stars and he was very willing to give players a second chance. The Boss was so willing to help that Strawberry's signing bonus was paid directly to his ex-wife to cover his back child support.
"There have been a lot of questions about that, the bitterness of my ex-wife," said Strawberry to Jason Diamos. "Everybody talks about the child support I owe her. They never give me credit for the $3.5 million dollars I've paid her … I came back because I can play. I've got money deferred. I would have been okay."
After two quick tune-up games with Triple-A Columbus, Strawberry was back in the big leagues with the Yankees, joining them at midseason like he did a year earlier. (Except this time there was no cocaine suspension.) "Yes, I'm Darryl Strawberry. Yes, I've had a great deal of problems," he said. "But I've also had a great deal of pride. I'm recovering. I'm moving my life forward … This might be my last opportunity. So be it. I'm not going to die if I don't play baseball anymore."
One of the reasons the Yankees were so great in the late-90s was the veteran players who produced in part-time roles. Guys like Strawberry and Tim Raines accepted they were no longer everyday players. They swallowed their pride, slid into reduced roles, and produced. "I'm not here to upset any chemistry," said Strawberry. "I'm just here to do what's asked of me."
Straw's return did not get off to a great start. He went 0-for-10 with a walk and two strikeouts in his first three games back while serving as the DH. Three straight two-hit games followed, including a two-homer game against the Orioles in his fourth game back. Two weeks later, Strawberry hit his third home run since coming back, this one a walk-off shot and the 300th dinger of his career.
"When I came back out (for the curtain call) I was thanking the fans for accepting me back with open arms," said Strawberry to
Selena Roberts
after the game. "After all I've been through, that was really special. They've been really patient … Today is even more special because this is New York. This is where I started my career. It's where I've had all of my success."
Strawberry hit eleven home runs with the Yankees in 1996 and he seemed to hit them in bunches. He hit two against the Orioles on July 13th, he hit three against the White Sox on August 6th, then two days later he hit two more against the ChiSox. Strawberry also bunched some homers together in late-August.
The Yankees acquired Cecil Fielder at the trade deadline, which pushed Strawberry into left field, replacing Gerald Williams. The move seemed to agree with Strawberry. He hit .224/.350/.418 as the DH and .281/.363/.523 as the left fielder. Lots of players struggle with the move to DH — Strawberry was new to the position after playing his entire career in the NL and only 15 games at DH in 1995 — because they don't know how to handle the downtime between at-bats.
After coming back at midseason, Strawberry hit .262/.359/.490 (112 OPS+) with those eleven home runs in 237 plate appearances and 63 games. He held his own against southpaws — 124 OPS+ against righties and 109 OPS+ against lefties — so he didn't need to be platooned either. The Yankees needed an offensive jolt at midseason and they got it from Strawberry and Fielder.
Strawberry fouled a ball off his right big toe late in the regular season and dealt with the injury throughout the postseason. "I know they told me it wasn't fractured, but it doesn't feel right. Who'd have thought a toe injury could be that painful?" he said to Jack O'Connell. Strawberry served as the DH in Game One of the ALDS against the Rangers — Fielder did not play — pinch-hit in Game Two, then sat out the rest of the series because of the toe.
The injury still hobbled Strawberry in the ALCS. He pinch-hit and played four innings in right field in Game One against the Orioles, sat out Game Two against the lefty David Wells, then returned to the outfield in Game Three. Strawberry hit two home runs in Game Four — he gave the Yankees a 2-1 lead with a second inning solo shot and tacked on two insurance runs with an eighth inning blast.
Strawberry went deep again in the Game Five series-clinching win — he went back-to-back with Fielder — and went 5-for-12 (.417) with three homers and five runs driven in in the series. He also fouled another pitch off his right big toe in that Game Five win. "I've kind of got the feeling it may be broken," he said to reporters after the game. Torre added, "If he can't play, he won't be on the roster."
Strawberry did make the World Series roster and he did play in Game One, at least before being pulled in the seventh inning of the blowout loss. He sat in Game Two against Tom Glavine, then played the outfield in Games Three through Six. The toe was clearly bothering him though. Strawberry went 3-for-16 (.188) in the Fall Classic and mostly hobbled around the outfield.
Aside from Games Four and Five of the ALCS against the Orioles, Strawberry didn't have much impact in the postseason, mostly because he was nursing an injury. He did give the club a big lift during the regular season though. He added power, added depth to the lineup — "Some guys have a presence at the plate. Darryl has that sitting in the dugout," said Paul O'Neill to O'Connell — and made good on what could have possibly been his last chance in MLB.
"(Playing in St. Paul) allowed me to find out who I am, it allowed me to have no pride. I had forgotten baseball could be fun," said Strawberry after rejoining the Yankees in July. "Without George Steinbrenner, I wouldn't be here."