Over the last six seasons, each of the five AL East teams has won at least one division title. The Yankees (2011, 2012) are the only club with multiple division titles in the last six years. The days of the AL East being dominated by the Yankees and Red Sox are long gone. The other three teams are no longer pushovers.
For what it's worth, the projections at FanGraphs have the five AL East teams all winning between 79-88 games in 2016, a gap of only nine wins. Baseball Prospectus has them all in the 75-87 win range. If nothing else, the objective computers think the five clubs are pretty close in terms of talent level. You're welcome to disagree, of course.
Because knowing your enemy is just as important as knowing yourself, let's take some time to preview the upcoming season for the four non-Yankees teams in the AL East. This is nothing too in-depth. It's just enough to give you an idea what the Yankees are up against in 2016.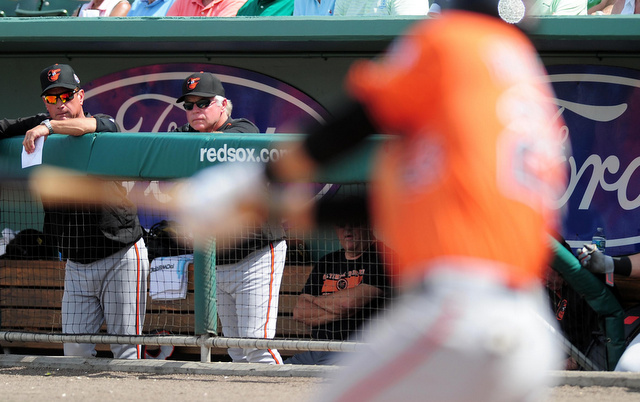 Baltimore Orioles
Notable Additions: Mark Trumbo, Pedro Alvarez, Yovani Gallardo
Notable Losses: Wei-Yin Chen, Steve Pearce, Gerardo Parra
The Orioles went 81-81 last season, and they had to commit $207.8M to Chris Davis, Darren O'Day, and Matt Wieters this offseason just to keep their core intact. Also, Kevin Gausman is dealing with a shoulder issue and Miguel Gonzalez was released yesterday, so their rotation right now is:
Chris Tillman
Yovani Gallardo
Ubaldo Jimenez
???
???
That seems less than ideal. O'Day and Zach Britton are a dynamite end-game tandem, but I'm not sure how manager Buck Showalter expects to get the ball to them. They're counting on a big time bounceback from Tillman and consistency from Jimenez (lol), and for Gallardo to chew up innings better than he did last year. He completed six innings just twice in his final 16 starts of 2015.
The O's are going to have to win a lot of 7-6 games to contend and they have the firepower to do so. Davis, Trumbo, Alvarez, Adam Jones, and Manny Machado are all legitimate 30 homer threats. Watch out for Jonathan Schoop too. He hit 15 homers in only 321 plate appearances last year. The Trumbo and Alvarez pickups don't do anything to help the club's OBP problem — the O's were 26th in baseball with a .307 OBP in 2015 — so while they might hit 250 home runs this season, most of them will be solo shots.
Baltimore is the only AL East team that would really surprise me by winning the division. They're going to hit a ton of homers, there's no doubt about that, but they don't get on base and the pitching staff is thin. I mean really, really thin. The O's will be a headache to play this season. Over the course of 162 games though, I feel it's only a matter of time until they fall behind the rest of the AL East.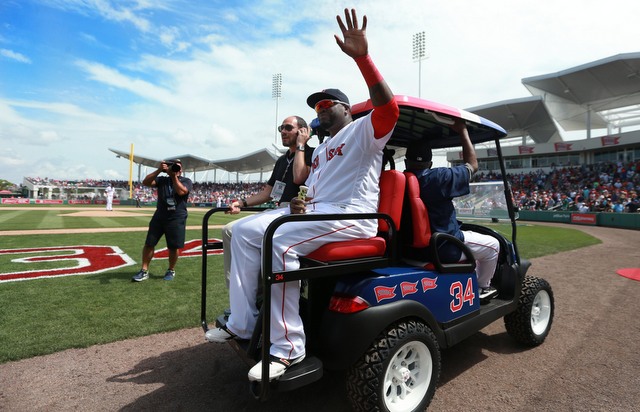 Boston Red Sox
Notable Additions: David Price, Craig Kimbrel, Carson Smith, Chris Young
Notable Losses: Wade Miley
For the third or fourth year in a row, the Red Sox changed philosophies this offseason, deciding to spend big after former GM Ben Cherington spent a few years preaching restraint and flexibility. New baseball operations chief Dave Dombrowski is all about big names, has been for years, hence the Price signing and Kimbrel trade. Those moves were right in his wheelhouse.
Price gives the BoSox the ace they so clearly lacked, but I think the bullpen additions are going to help them more than Price. Kimbrel and Smith are replacing Alexei Ogando and Craig Breslow, who combined to allow 62 runs in 130.1 innings in 2015. Those two will join Koji Uehara and Junichi Tazawa in the late innings. (Smith's dealing with a flexor injury and will miss the start of the regular season.)
Offensively, the Red Sox have sneaky big questions in five spots: catcher (Blake Swihart), first base (Hanley Ramirez), third base (Pablo Sandoval), left field (Rusney Castillo), and center field (Jackie Bradley Jr.). They're already talking about sending Castillo to Triple-A and playing a Young/Brock Holt platoon in left, and apparently now Travis Shaw is the starting third baseman. Everyone seems to be assuming Hanley and Bradley will have above-average seasons because … I don't know why. At least Hanley has his track record to fall back on.
The Red Sox get the benefit of the doubt more than any chronically underachieving team deserves. They have talent, that much is clear, but they've had talent the last two years too, and they still finished in last place. The Red Sox are going to be tough to play against because they're always tough to play against. Bet on them at your own risk though. No club has done less with more the last two seasons.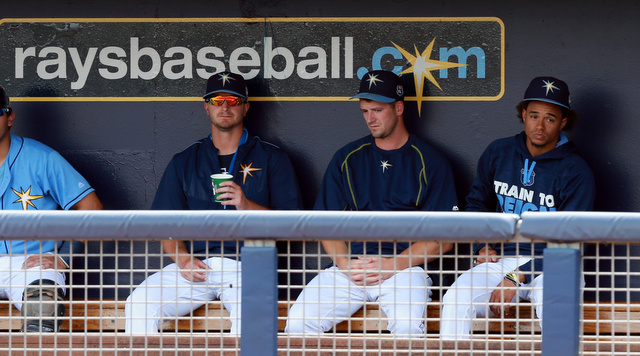 Tampa Bay Rays
Notable Additions: Logan Morrison, Brad Miller, Hank Conger, Steve Pearce, Corey Dickerson
Notable Losses: Asdrubal Cabrera, John Jaso, Nate Karns, Jake McGee, James Loney
Only the White Sox scored fewer runs than the Rays among AL teams a year ago, so Tampa Bay set out to improve their offense by acquiring a bunch of guys who can be good if used in very specific ways. Dickerson is good as long as he never faces lefties and is your DH. Miller is good as long as he never faces lefties and the ball is never hit to him. That kinda thing. That's what the Rays do. They find imperfect players and try to use them perfectly.
The Rays did sacrifice some defense for offense this winter. Morrison is unquestionably worse at first base than Loney. (Loney was told he won't make the team yesterday.) Remember how shaky and goof prone Didi Gregorius was early last year? That's Miller all the time. Asdrubal is no great shakes in the field, but he is sure-handed. Conger, meanwhile, is the worst throwing catcher in baseball. He went 1-for-43 throwing out base-stealers last year. That is not a typo. 1-for-43. o n e f o r f o r t y t h r e e
To their credit, the Rays ostensibly improved their weaknesses without sacrificing too much from their strengths. They still have a solid rotation even without Karns and their defense is not atrocious. The bullpen is a little up in the air because McGee is gone and Brad Boxberger will miss a few weeks following core muscle surgery, so that's their big question right now. Manager Kevin Cash usually doesn't let his non-Chris Archer starters go through the lineup a third time, and those middle innings are rather treacherous.
For Tampa Bay to contend this year, they'll need Evan Longoria to get back to where he was earlier in his career, and I'm not sure how possible that is. He's now 30 and his power is starting to vanish; he went from being a consistent .230+ ISO guy to a .150 ISO guy the last two seasons. That's bad news for the Rays, especially since his six-year, $100M extension kicks in next year. The Rays will be in the hunt this year, but, as always, they'll need a lot to go right to beat out division rivals with more resources.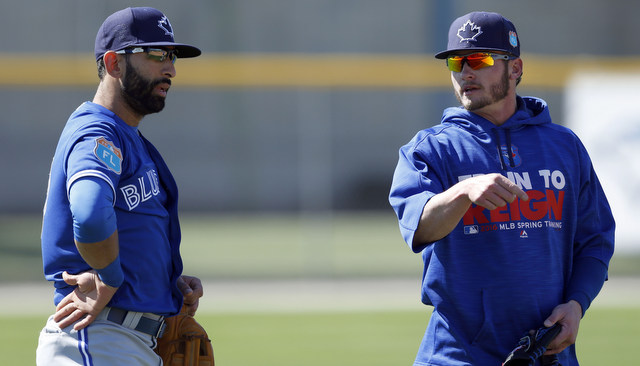 Toronto Blue Jays
Notable Additions: Jesse Chavez, J.A. Happ, Drew Storen, Gavin Floyd
Notable Losses: David Price, Mark Buehrle, Mark Lowe, Liam Hendriks, Ben Revere
You'd think going to the postseason for the first time in two decades would be enough to keep the GM around, but apparently not. The Blue Jays named former Indians president Mark Shapiro their new president last year, replacing the retired Paul Beeston, and GM Alex Anthopoulos felt his authority would be undermined, so he rejected an extension offer and walked away over the winter. Crazy, huh?
The Blue Jays have never been huge spenders and Shapiro himself has a history of steering clear of big free agents, so the team never made much of an effort to keep Price. They instead opted to replace him (and Buehrle) with Happ, Chavez, and a full year of Marcus Stroman. It … might work? They only had Price for eleven starts in 2015, after all. Buehrle was close to toast by the end of the season too.
Toronto still has their powerhouse lineup — they scored 891 runs last season, 127 more than the second highest scoring team (Yankees!) and the most by any team since the 2009 Yankees (915) — and now they'll have a full year of Troy Tulowitzki at shortstop. Even if he spends time on the DL, 100 games of Tulo and 62 games of a replacement level player is still one of the best shortstops in the game.
As I said this morning, I am of the belief the Blue Jays will outscore any pitching problems. The Yankees did that for years in the mid-2000s. I'm an offense first guy. I'll always bet on the team with a juggernaut offense coming out ahead over the course of a 162-game season. The Blue Jays may not be quite as imposing as they were in the second half last season, but they're still very good. Jose Bautista and Edwin Encarnacion will be free agents next offseason, so this might be the club's last chance to win with this core.