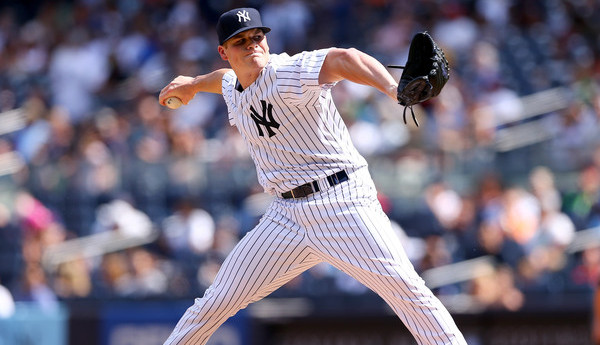 Saturday: Pinder does indeed have a torn UCL, reports Brendan Kuty. Yuck. Pinder has not yet decided whether to have Tommy John surgery, but yeah. Pretty much a formality at this point. Sucks.
Friday: The Yankees have placed right-hander Branden Pinder on the 15-day DL with a right elbow strain, the team announced. The move is retroactive to yesterday. Fellow righty Nick Goody was called up from Triple-A Scranton to fill the roster spot.
Pinder, 27, was the team's main shuttle reliever last season and he figured to fill the same role this year. He's appeared in one game with the Yankees so far, allowing two runs on three hits and a walk in one inning. Pinder started the season in Triple-A before being called up a last week.
The Yankees lost Nick Rumbelow to Tommy John surgery not too long ago, so they're now down two of their main shuttle arms. A strain is, by definition, a tear in the ligament, though the Yankees did not say anything about the severity of Pinder's injury. He may only need rest before returning to the mound.
Goody, 24, has been alarmingly home run prone in game action this year. Between Triple-A and Spring Training, he's given up eight dingers in only 16.1 innings. Zoinks. Goody last pitched for the RailRiders on Wednesday, so he's good to go tonight for an inning or two.
I wonder if the Goody call-up is only temporary. Luis Cessa, who was in the Opening Day bullpen, started and threw 57 pitches for Triple-A Scranton yesterday, so he'll be out of commission for a few days. I wonder if the Yankees will call-up Cessa and send down Goody once he's available. We'll see.