Source: FanGraphs
It figures that after sitting through those last two losses, I couldn't watch Friday's series opening win over the Rays. I was at Citi Field for Julio Urias' debut and I planned to watch the game on the FOX Sports Go app, but the stupid game was on WPIX, so the app was useless. Blah. I caught a few innings on the radio instead. Here are some thoughts to quasi-recap the 4-1 win.
1. 80 pitches is the new 100. Based on the box score and what I heard on the radio, Masahiro Tanaka was awfully sharp Friday. One single and one double in seven scoreless innings. No walks, four strikeouts, four balls hit out of the infield. Just awesome. And yet, Tanaka was out of the game after only 82 pitches, which is starting to become the norm. Joe Girardi is like a kid on Christmas morning with his bullpen. He's got all these shiny toys and he can't wait to play with them. Tanaka was cruising and, as far as I know, there was no reason he couldn't go out and pitch the eighth. This isn't the first time a starter was taken out of the game before necessary and I'm guessing it won't be the last.
2. Narratives: busted. For the last few days we've been hearing about Alex Rodriguez and Carlos Beltran being unable to coexist because there is only one DH spot — Beltran's Golden Sombrero on Thursday didn't help matters — but they put an end to that Friday. A-Rod smacked a long two-run home in the sixth inning …
… and Beltran hit a solo homer in the eighth as well. Yeah, I think they'll be just fine. There's no doubt the defense is worse off with Beltran in right field, but as long as both guys hit, it'll be worth it. I do love A-Rod's bat flip too. That is a gentleman's bat flip.
3. Two quick runners, three quick outs. Jacoby Ellsbury and Brett Gardner started the game with a single and walk, respectively. Chris Archer has struggled overall this season and especially so in the first inning — he came into the game with 12 first inning runs allowed, second most in baseball (Michael Pineda is first with 13) — so it looked like the Yankees were going to put up a crooked number early. Instead, Beltran and Brian McCann popped up and A-Rod grounded out. Ellsbury and Gardner didn't move after reaching base. Sigh. Ultimately it didn't matter when the game was over, but you still hate to see early opportunities like that go to waste.
4. Matte helmets? Whaaa? It has come to my attention the Yankees were wearing helmets with a matte finish Friday night. Here's a photo: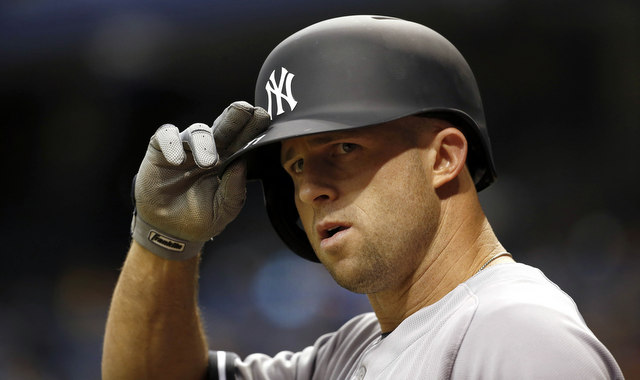 That's the first time we've seen those this season and, well, ever. Apparently the Yankees are only going to wear those on the road. They'll continue to wear the regular glossy helmets at home. I dunno man, the Yankees uniform is a classic. Why the change? Eh, whatever. No big deal. I do wonder what spurred this on though.
5. Save situation. Like I said, Girardi is like a kid on Christmas morning. He went to Aroldis Chapman for a one-out save (!) because Kirby Yates allowed a two-out solo homer in the ninth with a four-run lead. Now Chapman has pitched two straight days, which will affect his availability the rest of the weekend. Andrew Miller pitched the eighth because he needed the work — he hadn't pitched since Sunday — so why not stick with Tanaka for the eighth and let Miller close out the ninth? I mean, I know the answer (eighth inning guys pitch the eighth inning), but good gravy, not everyone needs to warm up every day. The bullpen is gonna be toast by August. (Update: Chapman didn't even get a save. Heh.)
Here are the box score, video highlights, and updated standings. Don't miss our Bullpen Workload and Announcer Standings pages too. The Yankees and Rays will continue this series with the middle game Saturday. That's a 4pm ET start for whatever reason.
Minor League Update: I don't have time for a full DotF tonight, sorry. Here are the box scores. Ben Gamel homered, Chad Green tossed seven scoreless innings, Jorge Mateo had a hit and a walk, and Kyle Holder extended his hitting streak. That's the short version.