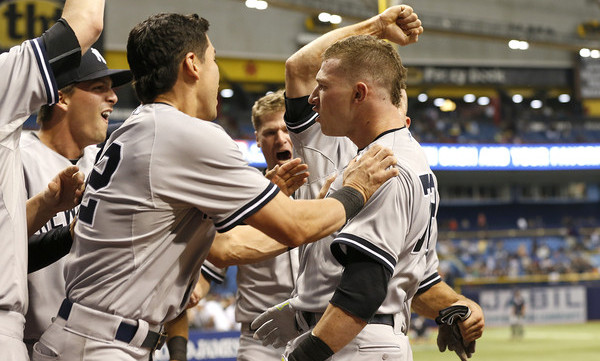 8:45pm: The Yankees have no plans to re-sign Heathcott, reports Chad Jennings. It's been real, Slade.
8:32pm: The Yankees have given outfielder Slade Heathcott his unconditional release, the team announced this evening. The move clears a 40-man roster spot for lefty Richard Bleier, who was called up earlier today.
I'm not quite sure how the mechanics of the transaction work, but my guess is the unconditional release makes it easier for the Yankees to re-sign Heathcott to a minor league contract. Designating him for assignment would mean exposing him to waivers.
Heathcott, 25, is currently on the Triple-A DL with a knee injury. He's hit only .218/.260/.287 (50 wRC+) with a 32.0% strikeout rate in 23 Triple-A games this season. Slade made his MLB debut last year and playing sparingly, but he did do this:
That was pretty awesome. Definitely one of the highlights of the season.
Heathcott has been hampered by all sorts of injuries throughout his career, including multiple knee and shoulder surgeries. He's played only 302 games total from 2012-16. The Yankees have a small army of left-handed hitting outfielders at Double-A and Triple-A, so it's possible Slade will look for a team that can give him a greater opportunity. We'll see.
Fun fact: Heathcott leads all Yankees first round picks from 2007-15 in career WAR. He has +0.4 WAR. Now that I think about it, that fact isn't fun at all.