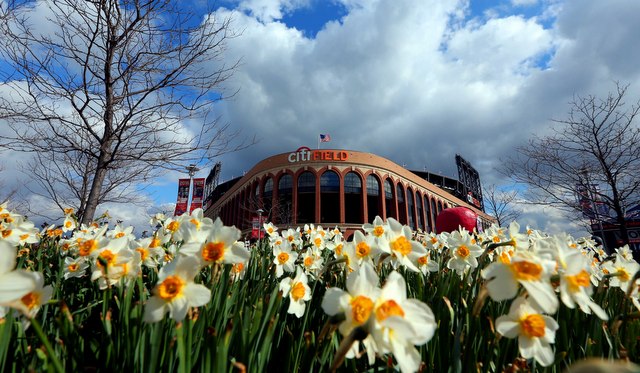 Will this be the least hyped Subway Series in history? Both the Yankees and Mets are reeling and on the outside of the postseason picture looking in. Not too many folks expected the Yankees to contend this year. Certainly not a majority. The Mets? Well, I had them winning the World Series before the season, so don't listen to me. The two teams are playing a four-game home-and-home-series this week. They'll be in Citi Field tonight and tomorrow, and Yankee Stadium on Wednesday and Thursday.
What Have They Done Lately?
The Mets rallied to beat the Rockies yesterday but they have been slumping hard of late. They dropped four straight and five of six prior to that. The Mets are 54-50 with a +9 run differential. They're 2.5 games back of the Marlins (!) for the second wildcard spot. The Yankees are 52-52 with a -33 run differential. They're 5.5 games out of the second wildcard spot.
Offense & Defense
Fun fact: The Yankees are not the lowest scoring baseball team in New York this year. They're averaging 4.03 runs per game with a team 86 wRC+. The Mets are averaging 3.66 runs per game with a team 95 wRC+. They've put up a 58 wRC+ with runners in scoring position, by far the worst in baseball. That's why they're averaging so few runs despite getting a 100 wRC+ from their non-pitchers.
Anyway, holy cow are the Mets banged up. Manager Terry Collins is without an entire infield and then some. Check out their list of injured position players:
SS Asdrubal Cabrera (95 wRC+) — suffered a knee sprain yesterday, seeing a doctor today
OF Yoenis Cespedes (147 wRC+) — day-to-day with a right quad injury
1B Lucas Duda (106 wRC+) — out long-term with a stress fracture in his back
CF Juan Lagares (88 wRC+) — will miss six weeks following thumb surgery
3B Jose Reyes (104 wRC+) — out a few weeks with an intercostal strain
3B David Wright (119 wRC+) — out long-term following neck surgery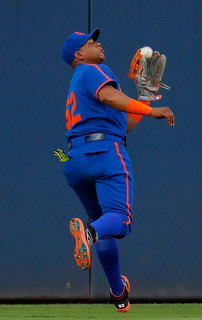 That's rough. Cespedes might be able to play at some point this series and I suppose Asdrubal could get good news from the doctor today, but man, that's an awful lot of talent on the sidelines. You could argue the Mets are without their three best hitters right now. Maybe their four best hitters.
Right now manager Terry Collins is building his lineup around ex-Yankee RF Curtis Granderson (107 wRC+), 2B Neil Walker (107 wRC+), and 1B James Loney (114 wRC+). Young LF Michael Conforto (92 wRC+) was recently recalled from Triple-A and IF Wilmer Flores (106 wRC+) is playing pretty much everyday out of necessity. IF Kelly Johnson (79 wRC+), another ex-Yankee, will probably play third with Flores at short while Cabrera's out.
C Travis d'Arnaud (69 wRC+) and C Rene Rivera (89 wRC+) are the catching tandem. OF Alejandro De Aza (71 wRC+), OF Brandon Nimmo (68 wRC+), and OF Justin Ruggiano (61 wRC+) are the outfield bench bats. They need a lot of them with Cespedes banged up and Lagares out. I imagine a roster move will happen today if Asdrubal gets bad news from the doctor. They can't play this shorthanded.
Defensively, the Mets have one clearly above-average defender in Loney, who isn't as good as he was a few years back. Johnson/Flores on the left side of the infield isn't too pretty, though Walker is solid. Granderson is okay in right but man, he can not throw. Run on him every chance you get. Conforto is not a good left fielder and the De Aza/Nimmo/Ruggiano trio all fall into the okay to good range in the field. d'Arnaud can't throw at all. Rivera can.
Pitching Matchups
Monday (7:10pm ET): LHP CC Sabathia (vs. NYM) vs. RHP Logan Verrett (vs. NYY)
Verrett, 26, was a Rule 5 Draft pick last year who bounced around on waivers a few times before being returned to the Mets. Now he's in their rotation replacing Matt Harvey, who's done for the season following surgery to treat Thoracic Outlet Syndrome. That's pretty serious. Verrett has a 4.12 ERA (5.06 FIP) in 74.1 innings spread across nine starts and 18 relief appearances this year. He gets an average-ish number of grounders (44.8%), but his strikeout (15.9%), walk (10.0%), and homer (1.33 HR/9) rates all kinda stink. Righties have hit him much harder than lefties, which is the opposite of last season. As a starter, Verrett sits 90-91 mph with his four-seamer and a touch lower than that with his sinker. A low-80s slider is his main breaking ball. He also throws a mid-80s changeup and a mid-80s curveball. Pretty generic arsenal, really. There's no standout pitch that allows Verrett to project as anything more than a swingman type.
Tuesday (7:10pm ET): RHP Masahiro Tanaka (vs. NYM) vs. RHP Jacob deGrom (vs. NYY)
For all the attention Harvey and Noah Syndergaard get (and deserve), the 28-year-old deGrom has been the Mets' best pitcher the last three seasons. He owns a 2.56 ERA (3.07 FIP) in 18 starts and 112.2 innings despite a slow start and a minor lat issue in April. deGrom has excellent peripherals (24.2 K%, 5.5 BB%, 46.4 GB%, 0.80 HR/9) and also a reverse split this season, which is the opposite of the last two years. His fastball is down just a tick this year but it still sits comfortably in the mid-90s. deGrom has two out-pitch secondaries on his best days (upper-70s slider and mid-80s changeup) as well as a good fourth pitch (low-80s curve). He's a bonafide ace.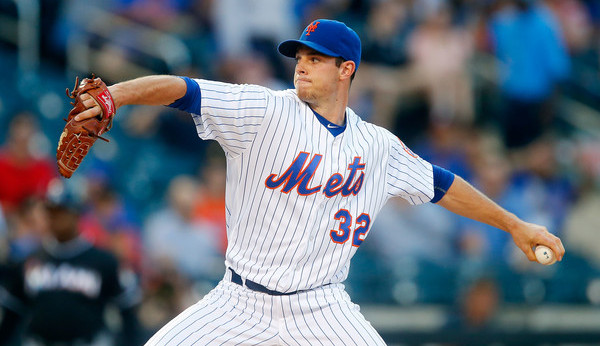 Wednesday (7:05pm ET): RHP Ivan Nova (vs. NYM) vs. LHP Steven Matz (vs. NYY)
Matz has been through an awful lot to get to where he is. The Mets took him in the second round of the 2009 draft and he didn't throw his first pro pitch until 2012 due to Tommy John surgery and subsequent setbacks. He's had other injury problems along the way as well. Matz, 25, has a 3.35 ERA (3.35 FIP!) in 19 starts and 113 innings, and his underlying numbers are outstanding across the board: 22.4% strikeouts, 5.7% walks, 50.3% grounders, and 0.88 HR/9. He's been a bit better against righties than lefties in his relatively short MLB career thanks to a nasty low-to-mid-80s changeup. Matz sets it up with a mid-90s heater and will also throw an upper-80s slider and an upper-70s curve. It's worth noting Matz is pitching with a bone spur in his elbow and it's caused him to basically stop throwing his slider. There's too much discomfort to use it regularly, so he picks his spots with it now.
Thursday (7:05pm ET): RHP Nathan Eovaldi (vs. NYM) vs. RHP Bartolo Colon (vs. NYY)
Earlier this year there was talk the Yankees would move Colon to the bullpen once Zack Wheeler was healthy, and, sure enough, he is now their second healthiest starter. Maybe their healthiest given deGrom's lat issues in April. Baseball doesn't like exciting rotations, it seems. Colon, 43, has a 3.58 ERA (4.20 FIP) in 120.2 innings this year. His strikeout (16.4%), walk (4.4%), homer (1.27 HR/9), and grounder (44.4%) are very post-2010 Bartolo-esque. Lefties have been hitting him harder than righties. Colon throws more than 90% fastballs these days — he favors his upper-80s two-seamer over his low-90s four-seamer — and when he does mix in an offspeed pitch, it's something in the low-80s, either a slider or a changeup.
Bullpen Status
I wouldn't call the bullpen a weakness for the Mets, but they have been looking to add another reliever prior to the trade deadline for depth. Pretty much every team does that, to be fair. Here is the bullpen Collins has to work with this year:
Closer: RHP Jeurys Familia (3.08 ERA/2.47 FIP)
Setup: RHP Addison Reed (1.81/1.93), RHP Hansel Robles (2.52/3.32)
Middle: LHP Antonio Bastardo (4.74/5.06), LHP Jerry Blevins (2.25/3.03), RHP Erik Goeddel (3.86/4.21)
Long: RHP Seth Lugo (2.61/3.14)
Familia and Reed are generally a dynamite closer/setup man combo — Familia did blow saves on back-to-back days earlier this week after converting 52 straight save chances — and those two plus Blevins each threw an inning yesterday. Lugo threw three innings and 41 pitches Saturday, which may limit his availability tonight.
The Yankees suddenly have a new look bullpen with Aroldis Chapman and Andrew Miller traded away. Adam Warren is back and I imagine Tyler Clippard will be in town and available tonight. Check out our Bullpen Workload page for the status of Joe Girardi's relief crew.