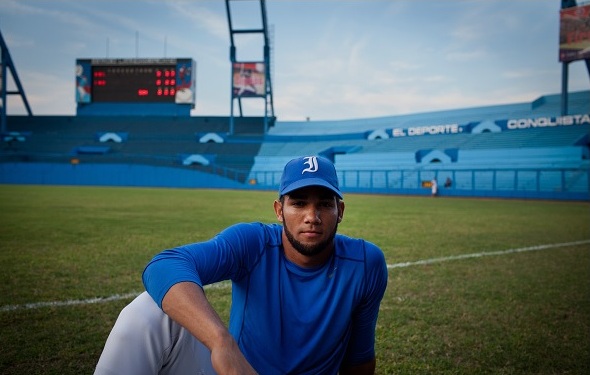 The Yankees and Angels continue their weekend series later today, but not until 9:35pm ET. Blah. I hate Saturday night games, especially when they're on the West Coast. Oh well. What can you do? Here are some links to help you pass the time.
MLB declares Gurriel a free agent
MLB has declared Lourdes Gurriel Jr. a free agent, reports Eric Longenhagen. He is the younger brother of Yulieski Gurriel, who signed a five-year contract worth $47.5M with the Astros a few weeks ago. Lourdes is a free agent but he's not going to sign right away. Once he turns 23 in October, he will no longer be eligible for the international spending restrictions. He's going to wait until then to sign to max out his earning potential.
Longenhagen and Ben Badler (subs. req'd) say reports on Lourdes are mixed. He's a good athlete capable of playing an up-the-middle position, and while he has speed and power, his swing can get long. Gurriel has a lot of upside, but is also a bit of a project for a kid who will soon turn 23. He's probably not someone who will zoom through the minors and be in the big leagues within a year. That's fine. Talent is talent, and Lourdes has a lot of it.
Red Sox tried hard to land Beltran
According to Nick Cafardo, the Red Sox "tried very hard" to acquire Carlos Beltran at the trade deadline, though the Rangers swooped in with a better offer. I assume Boston would have played Beltran in left field, where they've had a revolving door pretty much all season. Or maybe Beltran plays right and Mookie Betts moves to left. I dunno. Who cares. Whatever.
The real question is whether the Yankees (and Red Sox, for that matter) would have actually gone through with the trade if the Red Sox had indeed made the best offer. Potentially losing a trade to your biggest rival is enough to make anyone squeamish. My guess is Brian Cashman and David Dombrowski would have been willing to go through with a trade, but the two ownership groups would not have signed off. This is much different than a Stephen Drew-for-Kelly Johnson swap.
Hal not ruling out a spot for A-Rod in Monument Park
During a radio interview last week, Hal Steinbrenner did not rule out the possibility of Alex Rodriguez one day winding up in Monument Park. He didn't exactly endorse it, but he didn't shoot it down entirely either. Here's what Hal said, via Brendan Kuty:
"It's a bridge to cross when we come to it, but he has done a lot for this organization, on and off the field," Steinbrenner said. "And I'm talking about players way back, even (Mariners second baseman Robinson) Cano, who he was a mentor to. He's done a lot for this organization on the field though the years, but also off the field that people don't know about. He's been a great mentor."
A-Rod is, unquestionably, one of the greatest players in Yankees history, especially recent history. He's among the all-time franchise leaders in a ton of categories, including homers (6th), OPS (7th), WAR (8th), OPS+ (10th), runs (10th), and total bases (10th). Alex also won two MVPs in pinstripes and was a major factor in the team's most recent World Series title. If that's not Monument Park plaque worthy, I don't know what is.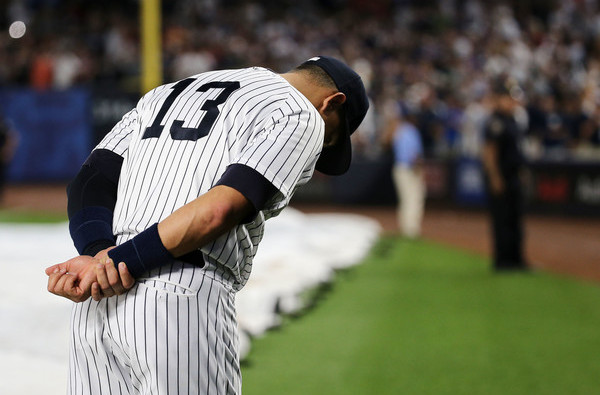 Yankees among most valuable sports franchises
A few weeks back Forbes posted their annual look at the most valuable sports franchises in the world. The Yankees placed fourth, with an estimated value of $3.4 billion. That's up 6% from last year. The Yankees are behind only the Dallas Cowboys ($4 billion), Real Madrid ($3.65 billion), and Barcelona ($3.55 billion). The Dodgers are the second most valuable MLB franchise at $2.5 billion, so the gap between the Yankees and everyone else is significant.
Attendance dropped from 41,995 fans per game in 2014 to 39,430 last year, and again to 38,967 so far this year. That's roughly 3,000 fewer fans per game since two seasons ago. The attendance decline was at least somewhat expected after Derek Jeter retired, though obviously the team's less than inspiring play for much of this season has played a role too. That said, the Yankees are still raking in money through other avenues (YES, Legends Hospitality, etc.), and there's no real end in sight. The team prints money.
Watson battling kidney failure
Going to close with some sad news: Bob Watson, former GM of the Yankees, is currently battling kidney failure, he told Chuck Modiano. He is on nocturnal dialysis and doctors told him he only has a few years to live. "I really wanted to be (at the 1996 World Series reunion last weekend), but my health won't allow it. I am battling Stage 4 kidney failure. Not too many people know about it," said Watson, who beat prostate cancer in the mid-1990s.
Watson, 70, had an incredibly productive playing career — he hit .295/.364/.447 from 1966-84, mostly with the Astros, but also with the Braves, Yankees, and Red Sox — and he became the first African American GM in baseball history to win a World Series in 1996. Watson served as Yankees GM from October 1995 to February 1998, when he stepped down and took a position in the commissioner's office. He bridged the Gene Michael and Brian Cashman eras. I'm sad to hear he isn't doing well. Keep fighting, Bob.