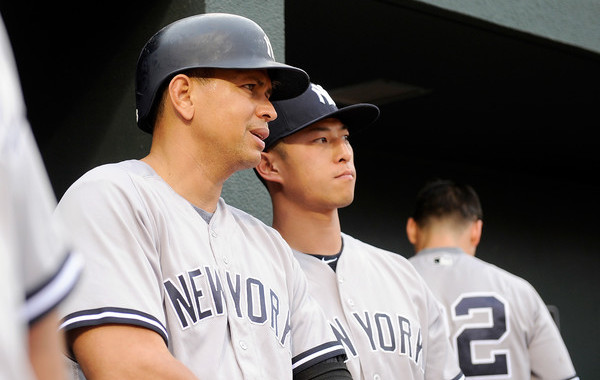 One week from tomorrow all 30 clubs will be able to expand their active rosters and carry up to 40 players. Most clubs carry fewer than 40 players once rosters expand, and that's their choice. Roster size is not an unfair advantage if one team calls up ten extra players and another only calls up three. That's long been a pet peeve of mine, calling September call-ups unfair. As long as everyone plays by the same rules, it's fair.
Anyway, the Yankees have been one of the most aggressive teams when it comes to expanding their roster in recent Septembers. Last season they called up eight players on September 1st. Eight! I'm not sure we'll see a first wave of call-ups that large again, but you can be sure the Yankees will add some extra arms and position players on the first day possible. They always do and there's no reason not to. Let's run down this year's September call-up candidates.
The Locks
Generally speaking, the first wave of call-ups are players who have been up-and-down a bunch of times throughout the season and are still on the 40-man roster. That means Nick Goody, Richard Bleier, Chasen Shreve, and Rob Refsnyder are safe bets to come up on September 1st. Ditto Ben Gamel, though he hasn't spent as much time on the big league roster this year as those other guys.
The Yankees are already carrying three catchers, so those five guys above may be the only players called up right away on September 1st. That would give the Yankees three extra bullpen arms — Bleier is working out of the Triple-A Scranton rotation at the moment, so he'd give the club a long man, which they lack right now — plus an extra infielder and an extra outfielder. That covers all the bases on the first day of expanded rosters.
The Maybes
By maybes, I mean players who may not be called up right away on September 1st. They'll have to wait a few extra days or weeks for whatever reason, usually because the Yankees want them to work on things in Triple-A. This group of players includes Johnny Barbato, Ben Heller, Bryan Mitchell, Luis Severino, and Mason Williams. All five of those guys are on the 40-man roster. Here's why they're a maybe and not a lock for an instant September 1st call-up:
Barbato: Barbato started the season in the big league bullpen but has spent much of the year in Triple-A, where his control has been an issue. He was up briefly earlier this month and did not retire any of the four batters he faced. The Yankees could keep Barbato down a little longer so he can continue to working on his location.
Heller: Acquired in the Andrew Miller trade, Heller was actually up with the Yankees for a few days earlier this month, though he did not appear in a game. Heller has pitched well and is fairly new to Triple-A, though as a reliever, that's not a big deal. I think the odds are better than 50/50 that he will be called up on September 1st, but it's definitely not set in stone.
Mitchell: Blah. Mitchell pitched so well in Spring Training and looked poised to assume a big role in the bullpen, then he broke his toe covering first base and has missed pretty much the entire season. Mitchell is on a rehab assignment right now, and while that might be enough to get him ready for game action, the Yankees could send him to Triple-A for more consistent work rather than let him sit in the bullpen unused for long stretches of time.
Severino: No, I don't think Severino is a lock for a September 1st call-up. The Yankees sent him to Triple-A with clear instructions to work on his changeup and so far he's made one start since being sent down. He'll make two more before September 1st. Hey, maybe that's enough to make the team believe Severino trusts and will use his changeup, but I'm not sure I buy it. He might be down there a little while longer.
Williams: Williams missed most of the first half of the season following shoulder surgery, though he did return about a month ago and has been playing regularly. More time in Triple-A to make up for the lost at-bats seems like a smart move. Williams won't get at-bats sitting on the MLB bench. Remember, the Yankees kept Slade Heathcott down much of September last year so he could play everyday following his quad injury. Doing the same with Williams makes sense.
Triple-A Scranton has the best record in all of Triple-A baseball and will clinch a postseason spot fairly soon. Likely before the end of the weekend. That means extra at-bats for Williams and extra starts for Severino and Mitchell. Those playoff games are valuable. They give Severino time to work on his changeup and Williams and Mitchell a chance to play following their injuries. Those guys don't figure to play much in the big leagues if they get called up on September 1st. Keeping them down is an opportunity to continue their development.
The Rule 5 Draft Guys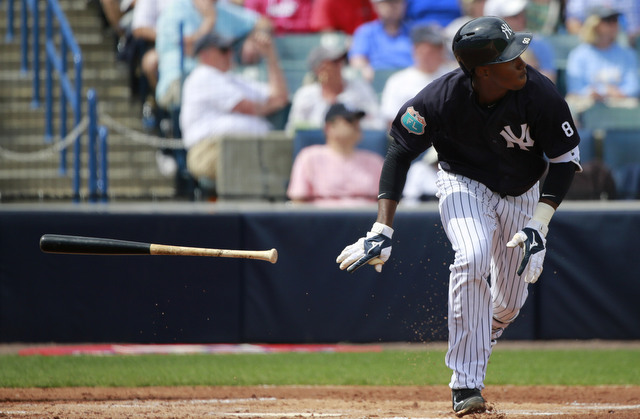 The Yankees have already gotten a head start on their Rule 5 Draft protection work by calling up Heller, Tyler Austin, and Aaron Judge. They still have many other players who need to be protected, but remember, those decisions don't have to be finalized until late-November. Calling a player up in September isn't necessary to avoid the Rule 5 Draft. Teams will sometimes call players up in September if they're planning to add them to the 40-man after the season, just get their feet wet in the show.
We can drop the Rule 5 Draft eligible players into three buckets: definitely going to be protected, possibly going to be protected, and not going to be protected. Usually only the "definitely going to be protected" guys get the early September call-up, and even then it's not a given. Space on the 40-man roster can get tight. Let's go ahead and drop the Rule 5 eligible players into those three buckets:
Definitely Going To Be Protected: Miguel Andujar, Jorge Mateo
Possibly Going To Be Protected: Jake Cave, Kyle Higashioka*, Dietrich Enns, Gio Gallegos, Brady Lail, Tyler Webb
Not Going To Be Protected: Dante Bichette Jr., Rashad Crawford, Cale Coshow, Cito Culver*, Ty Hensley, Mark Montgomery, Luis Torrens
* Higashioka and Culver are not only Rule 5 Draft eligible, they'll become minor league free agents after the season if they aren't added to the 40-man roster.
My hunch is the Yankees will protect Higashioka, Enns, and Webb in addition to Andujar and Mateo after the season. That means Cave, Gallegos, Lail, and everyone else will be left exposed. Cave was a Rule 5 Draft pick last year, and if he gets popped again, he'll be able to elect free agency rather than come back to the Yankees if he doesn't stick. I don't think that's reason enough to keep him. Not with Gamel and Williams already on the 40-man.
Okay, so with that in mind, the question now becomes: why should these players be called up in September? Mateo's speed could allow him to be the pinch-runner specialist. Then again, he was suspended for violating team rules not that long ago, and would the Yankees really reward him with a September call-up after that? Eh. I see no reason whatsoever to call up Andujar or Higashioka. Fourth string catchers and third basemen are not necessary. Those guys can wait until the offseason to be added to the 40-man roster.
That leaves Enns and Webb, two lefty pitchers. There's always room for more pitching in September, so call-ups are possible, and in fact I think they'll happen. Maybe not until after the Triple-A postseason, but eventually. Webb's a pure reliever who could audition for a 2017 bullpen spot a la Phil Coke in September 2008. Enns has starter stuff and it I'm interested to see whether the Yankees give him a start in September. (Probably not.) I'm sure they're looking forward to using a sixth starter on occasion next month, though Severino may be next on the depth chart.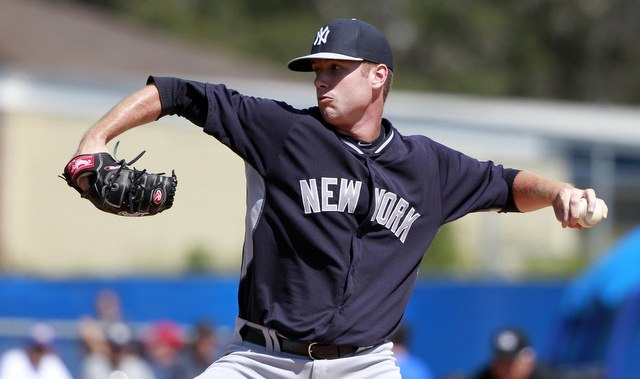 The Others
Who are the others? The non-40-man veterans in Triple-A. Chris Parmelee, for example. He was up earlier this season before getting hurt, and in fact he had a two-homer game with the Yankees. That was neat. Do the Yankees really need another first baseman with Austin, Refsnyder, and Mark Teixeira on the September roster? Not really. But maybe they'll throw Parmelee a bone.
Other others include Donovan Solano, a utility infielder having a real nice season in Triple-A, and Cesar Puello, a former top Mets prospect who is having a productive season with the RailRiders after dealing with a back injury last year. Coke was up earlier this season and is still in Triple-A. Actual prospects like Clint Frazier, Jordan Montgomery, and Jonathan Holder are in Triple-A but are not yet Rule 5 Draft eligible, so don't expect them to get called up in September. It's one thing to call someone up a month before they need to be protected from the Rule 5 Draft. It another to do it a year early.
My guess is none of these others get called up September. The Yankees have more appealing options at their positions and there's just not enough 40-man roster space to go around. Those guys will play in the Triple-A postseason and either go home once the playoffs are over, or head to Tampa to stay sharp in case there's an injury and they're needed at the MLB level. That's pretty standard for these types of players in September.
The 40-Man Roster Situation
Alright, so after all of that, my sure to be wrong prediction is the Yankees will call up 12 extra players in September. The 12:
Up on September 1st (5): Bleier, Gamel, Goody, Refsnyder, Shreve.
Up later in September (7): Barbato, Enns, Heller, Mitchell, Severino, Williams, Webb.
All but Enns, Mitchell, and Webb are on the 40-man roster, so the Yankees will have to clear three spots. They can slide Nathan Eovaldi to the 60-day DL to clear one 40-man spot. That's easy. Righty J.R. Graham, who has amazingly managed to remain on the 40-man roster since coming over in a minor trade with the Twins in mid-May, is an obvious candidate to be designated for assignment. That's the second 40-man spot.
The Yankees can go a few different ways for that final 40-man spot. They could designate someone else for assignment, maybe Anthony Swarzak or James Pazos. I don't think that'll happen though. In fact, Pazos is probably going to be called up in September, so it's really 13 call-ups, not 12. I suppose someone like Bleier or Blake Parker could be cut loose next month, or even Tommy Layne. There is some dead weight here.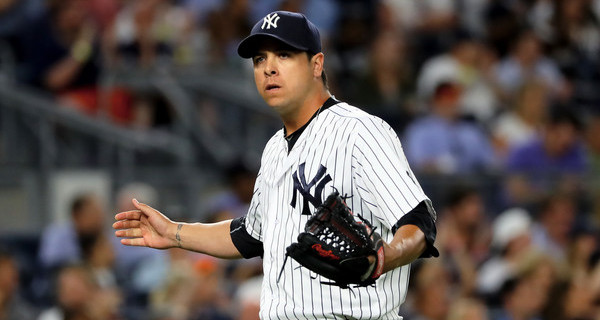 The other option is to call up Jacob Lindgren or Nick Rumbelow and place them on the 60-day DL. Both are currently rehabbing from Tommy John surgery. It sounds easy enough, though there are some complications with this. Both Lindgren and Rumbelow got hurt while in the minors, and calling them up to place them on the 60-day DL means they can not be optioned down again next year. They'd accrue service time on MLB DL instead.
Maybe that's not such a big deal, especially in Rumbelow's case. He had his surgery in April and may only spend only a month or two on the DL next year. Lindgren just had his surgery and would spent the entire 2017 season on the DL. Calling them up and placing him on the 60-day DL to clear up a 40-man roster spot is doable, but it throws a wrench into next year's plans. Me? I'd just cut ties with Swarzak. I do wonder if the Yankees would drop Pazos from the 40-man roster given his control and injury issues this year though.
* * *
The Yankees are committed to their "play the kids" plan right now, so much so that Alex Rodriguez has been released and others like Teixeira and Brian McCann have had their playing time reduced. There's no reason to think that won't continue in September, and if anything, more kids may get chances next month. Expanded rosters will give the team extra arms and whatnot, and it's an opportunity to give these youngsters even more of a chance to show whether they belong in the team's long-term plans.
(Update: Heller was called up yesterday. Adjust accordingly.)