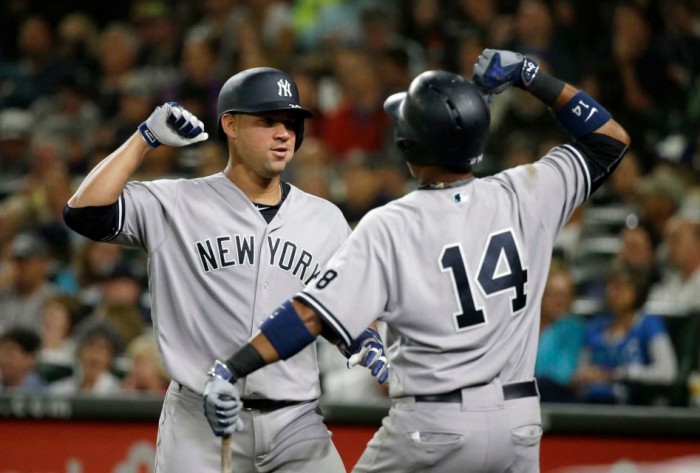 Gary is Good
Despite the superhuman feats of a scorching-hot Gary Sanchez, not to mention a two-dinger night from the streaky Starlin Castro, the Yankees still managed to lose the opener in Seattle, 7-5. It snapped their eight-game winning streak at Safeco Field, which was tied with the White Sox (2011-12) for the longest by any opponent at the ballpark.
Sanchez added yet another chapter to his Baby Bomber tale, crushing two more home runs to bring his total to eight in 19 career games. He is the first Yankee to hit at least eight homers before playing in his 20th big-league game, and just the fourth American League player in the last 100 seasons to do it. The others? Carlos Delgado (Blue Jays), Alvin Davis (Mariners) and George Scott (Red Sox).
The right-handed hitting Dominican also added a single, giving him 54 total bases since his debut in the bigs. Only one other Yankee has compiled at least 50 total bases this early into his major-league career (first 19 games), and you might have heard of him before: Joe DiMaggio.
Starlin Castro was Sanchez's co-star on Monday night, going deep twice for his first multi-homer game in pinstripes. Castro and Sanchez became the first Yankees age 26 or younger to each hit at least two homers in the same game since September 23, 1973, when Ron Blomberg and Otto Velez did it in a 9-1 rout against the Indians.
Castro and Sanchez's numbers became a mere footnote in history and not part of a winning effort when Anthony Swarzak served up a hanging slider to Mike Zunino, who deposited the pitch into the right-field seats to give the Mariners a 6-5 lead.
In his postgame press conference, Girardi said that he went to Swarzak "because of his slider," an interesting comment given these stats:
Eight of the 10 homers that Swarzak has allowed this season have come off his slider
Opponents are slugging .682 (!) off Swarzak's slider, the highest mark among the 150-plus pitchers that have thrown at least 200 sliders this year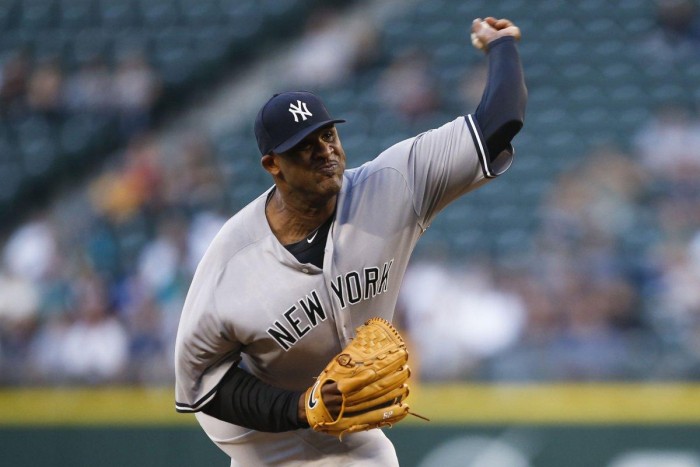 An old guy steals the spotlight
On a day when the lineup's young superstar was mortal, the Yankees got masterful performance from the rotation's elder statesman, CC Sabathia, and beat the Mariners, 5-1, to even the series at a game apiece.
Sabathia, mired in a miserable 11-game stretch during which he posted a 6.78 ERA, was brilliant as he delivered a vintage performance to help stop the Yankees two-game losing streak. He fired seven innings of one-run ball, allowing just three hits and a walk with seven strikeouts in what was his best outing since mid-June.
While Sabathia's dominant effort might have been surprising given his recent struggles, it shouldn't have been given his history of pitching extremely well in the Pacific Northwest. Overall, he's 9-1 with a 2.09 ERA in 13 career starts at Safeco Field, the second-best ERA among the 51 pitchers than have made at least 10 starts at the ballpark.
He's also a perfect 5-0 with a 1.27 ERA and 0.961 WHIP in six starts at Safeco as Yankee. Going back 100 years, that ERA is the second-lowest mark any Yankee pitcher has posted at any ballpark where he's made at least five starts. The guy atop the list is Mel Stottlemyre, who had a 1.25 ERA in nine starts at Anaheim Stadium from 1966-73.
Sanchez didn't go yard in this game but he still maintained a near-record-breaking pace to start his career by going 1-for-4 with a walk. His 26 hits as a major-leaguer are tied with Bob Meusel for the third-most by any Yankee (since at least 1913) in his first 20 MLB games. The only others with more are Joe DiMaggio (37!!) and Oscar Azocar (28).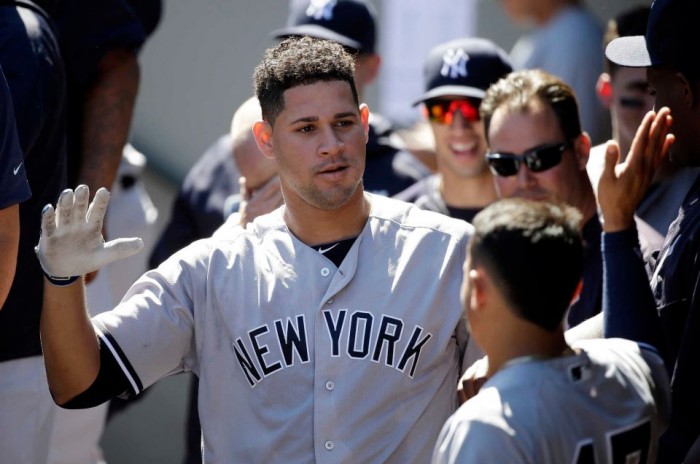 The Gary and Tanaka Show
The Yankees shut out the Mariners, 5-0, in the rubber game of this series thanks to the amazing and unprecedented — yet somehow predictable — performances by Gary Sanchez and Masahiro Tanaka.
The Yankees' underrated ace spun another gem, tossing seven scoreless innings with five strikeouts while lowering his ERA to 3.11. The only "blemish" was a third-inning walk to Seth Smith, the first free pass he'd issued since July 27.
That snapped a streak of four straight starts with at least 25 batters faced and zero walks, the longest by a Yankee since David Wells in 2003. Tanaka also saw his fantastic run of three straight games with at least eight punch outs and no walks come to an end, which was tied for a major-league record.
Tanaka is now up to five starts of at least seven scoreless innings pitched, the most among all American League pitchers. Entering Thursday, Tanaka was third among AL starters in strikeout-to-walk ratio, third in FIP, sixth in innings pitched, sixth in WHIP and seventh in ERA. He is the only AL pitcher ranked in the top-7 in each of those categories this season. And, oh yeah, he's tied with Corey Kluber for the league lead in fWAR (Fangraphs version of Wins Above Replacement).
Sanchez wasted little time in continuing his homer barrage as he crushed a mammoth 420-foot shot into the left-center field seats on the first pitch he saw, his franchise-record ninth home run in 21 career games. His light-tower power is crazy: He's now hit more 400-foot homers (seven) than every other Yankee this season except for Starlin Castro (11), and remember, Sanchez has only been a full-time player since August 3.
Gary added another double in the fifth inning, giving him 15 extra-base hits as a major-leaguer. The only Yankee to reach 15 career extra-base hits faster (in terms of games) than Sanchez was that DiMaggio dude again.
The Mariners soon learned their lesson — DO NOT PITCH TO THE KRAKEN — and intentionally walked him in each of his final two plate appearances.
The last Yankee to receive multiple intentional walks in a game within his first 21 career games was Joe Gordon in 1938. Sanchez is also youngest Yankee with at least two intentional walks and two hits in a game since a 23-year-old Yogi Berra on July 22, 1947.
And lastly, just for fun, Sanchez is the first Yankee catcher to be intentionally walked twice in a game since John Flaherty on June 15, 2004. Yes, Flash was batting eighth in an Interleague game in Arizona. The manager was not drunk.