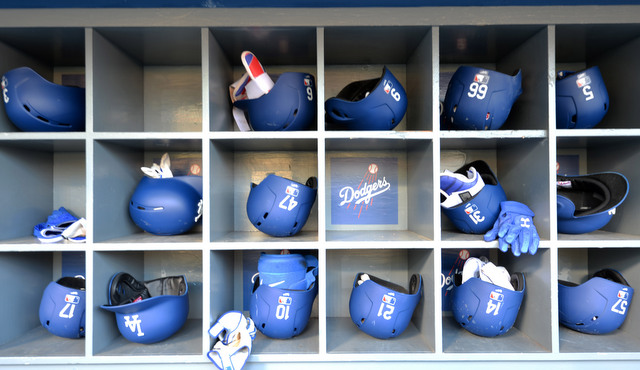 For the last time this season, the Yankees will play a series against a non-division rival this week. The NL West leading Dodgers are in the Bronx for a three-game set starting tonight. This is only the second time the Dodgers have visited Yankee Stadium during interleague play, you know. They were here back in 2013 for a quick little two-game series. There's an awful lot of history between these two franchises, though none of it is recent.
What Have They Done Lately?
The Dodgers dropped two of three to the Marlins in Miami over the weekend — the one win was Rich Hill's near perfect game — and they come to the Bronx with an 80-62 record and a +74 run differential. That's the third best record in the NL and tied for the sixth best record in all of baseball. The Yankees are looking to continue their playoff push while the Dodgers are trying to extend their NL West lead.
Offense & Defense
Los Angeles has a pretty good offense by NL standards, though it's only middle of the pack among the 30 clubs. They're averaging 4.47 runs per game with a team 99 wRC+ (106 wRC+ for non-pitchers). The Dodgers have already set a Major League record by placing 28 players on the DL this season, though most are pitchers. Platoon players OF Scott Van Slyke (wrist) and OF Trayce Thompson (back) are their only injured position players. Van Slyke is done for the year. Thompson might be.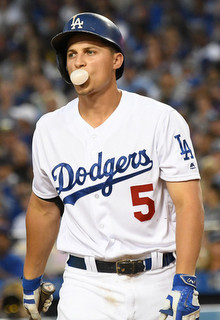 Rookie manager Dave Roberts platoons 2B Chase Utley (93 wRC+) and UTIL Howie Kendrick (98 wRC+) in the leadoff spot, with SS Corey Seager (147 wRC+), 3B Justin Turner (125 wRC+), 1B Adrian Gonzalez (116 wRC+), and C Yasmani Grandal (123 wRC+) his regular 2-3-4-5 hitters. Seager is really special. He's got the Rookie of the Year locked up and could very well finish in the top three of the MVP voting too. RF Josh Reddick (100 wRC+) is the regular right fielder, and since being called up from Triple-A, OF Yasiel Puig (101 wRC+) has spent more time on the bench than in the lineup.
CF Joc Pederson (129 wRC+) platoons in center with UTIL Enrique Hernandez (73 wRC+), and OF Andrew Toles (170 wRC+) gets spot start duty. C Carlos Ruiz (98 wRC+) is the backup and OF Andre Ethier (0-for-4) just came off the DL. He broke his leg with a foul ball Mark Teixeira style in Spring Training and returned a few days ago. C Austin Barnes, OF Charlie Culberson, and former Yankees farmhand UTIL Rob Segedin are the extra players. I'm not sure what Roberts has planned for the DH spot this series. Ethier and Puig will probably factor in there.
The Dodgers are a good team defensively, especially when Reddick is in right and someone other than Kendrick is in left. (Yes, Kendrick plays left field now.) Puig's a good defender with a great arm too, he just has a knack for boneheaded plays. Turner, Seager, and Gonzalez are all above-average and Utley is closer to average these days. Generally speaking, Los Angeles has a good defensive team. There's not many butchers on their roster.
Pitching Matchups
Monday (7:05pm ET): RHP Bryan Mitchell (No vs. LAD) vs. RHP Jose De Leon (No vs. NYY)
The Yankees are going to see some fun pitchers this week. De Leon, 24, was a top 100 prospect coming into the season and this will be his second career start. He allowed four runs (three earned) in six innings in his first start against the Padres last week. Struck out nine, walked none. De Leon had a 2.61 ERA (3.24 FIP) with a 32.5% strikeout rate and a 5.9% walk rate in 86.1 Triple-A innings around a shoulder problem earlier this year. His fastball sits 91-94 mph and he can hump it up to 97 mph on occasion. A mid-80s changeup in his top secondary pitch, and these days his breaking ball is a mid-70s curveball. De Leon's low-80s slider hasn't been much of a factor this year for whatever reason. He didn't throw it at all during his start last week. As John Flaherty would say, De Leon is proud of his fastball. He throws hard and he throws the heater a lot.
Tuesday (7:05pm ET): LHP CC Sabathia (vs. LAD) vs. LHP Julio Urias (No vs. NYY)
The 20-year-old Urias came into the season as arguably the top pitching prospect in baseball — it was either him or Nationals RHP Lucas Giolito — and he's done nothing but justify the hype. The southpaw has a 3.69 ERA (3.15 FIP) in 68.1 innings spread across 13 starts and two relief appearances. He's 20, remember. Three months younger than Justus Sheffield and nine months older than Blake Rutherford. Yeah. Urias has a very good strikeout rate (25.5%), though he walks a few too many (8.7%) and doesn't get many grounders (41.6%). His homer rate (0.66 HR/9) figures to climb a bit unless the ground ball rate gets better. His platoon split is small. Urias works in the low-to-mid-90s with his four-seamer and he throws three secondary pitches regularly: mid-80s slider, low-80s changeup, and mid-70s curveball. Two things worth noting: one, Urias is well over his previous career high in innings and he's had trouble holding his velocity the last few times out. And two, he throws a lot of pitches. Urias averages 4.18 pitches per plate appearance and 18.2 pitches per inning. He'd lead all pitchers in pitches per inning if he had enough innings to quality for the ERA title.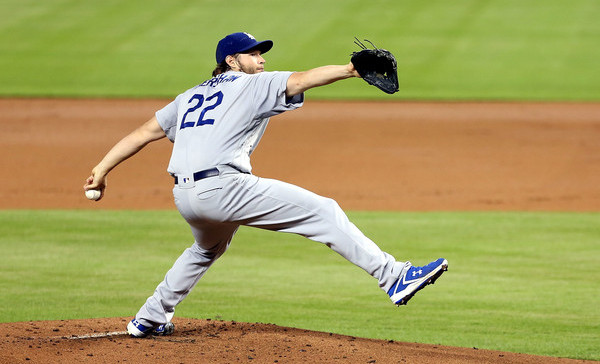 Wednesday (4:05pm ET): RHP Michael Pineda (vs. LAD) vs. LHP Clayton Kershaw (vs. NYY)
The Yankees will indeed see the best pitcher in the world this series, though they won't see him at full strength. Kershaw missed more than two months with a back injury, and in his first start off the DL last week, he was limited to three innings and 66 pitches. The expectation is Kershaw will throw five innings and about 80 pitches on Wednesday. They're slowly building him up. I'm a bit surprised the Dodgers didn't give him more time in the minors on his rehab assignment, but whatever.
Kershaw, 28, has a 1.89 ERA (1.73 FIP) in 17 starts and 124 innings, and his underlying stats are absurd: 33.0% strikeouts, 2.0% walks, 49.7% grounders, and 0.51 HR/9. In his last start he became the first pitcher in history to strike out 150 batters before walking ten. Ridiculous. Inner-circle Hall of Famer, no doubt. Righties have more success against Kershaw than lefties, but that's relatively speaking. Righties are hitting .200/.233/.313 (.230 wOBA) against him. Kershaw sits 92-95 mph with his four-seamer and has two lethal breaking balls in his upper-80s slider and mid-70s curveball. He doesn't have a changeup. Everything plays up because of the deception in his delivery and his 80 command. Best pitcher on the planet. Spare me the Madison Bumgarner in the postseason argument.
Bullpen Status
Like the Yankees, the Dodgers are carrying 13 relievers in their bullpen. They have 35 players on their active roster at the moment. Rosters expanded and the Dodgers are taking advantage. I don't blame 'em. Here's the bullpen they're carrying:
Closer: RHP Kenley Jansen (1.75 ERA/1.36 FIP)
Setup: RHP Joe Blanton (2.44/3.47), LHP Grant Dayton (1.77/3.34)
Middle: RHP Pedro Baez (3.50/4.19), RHP Luis Coleman (3.50/3.28), LHP J.P. Howell (4.34/3.63), LHP Adam Liberatore (3.20/2.99)
Long: RHP Jesse Chavez (4.16/4.28)
Extra: LHP Luis Avilan, RHP Josh Fields, RHP Bud Norris, RHP Josh Ravin, RHP Ross Stripling
The Dodgers have so many extra relievers that I'm not even sure their recent workload matters. Avilan (eight pitches) and Chavez (26 pitches) were the only relievers they used yesterday, so all the key end-game arms had the day off. Baez will see some high-leverage work along with Blanton and Dayton. I'm not sure why, but he does. Roberts loves him.
Our Bullpen Workload page can keep you updated on the Yankees' relievers. Everyone is in good shape except Luis Severino, who had an extended outing yesterday and will be down for a few days.