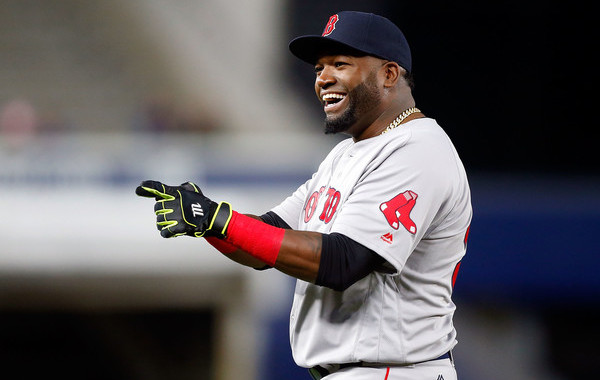 Later tonight David Ortiz will play his final game in Yankee Stadium and his final game against the Yankees in general. I speak for scores of Yankees fans when I say: finally! Ortiz has tormented New York for more than a decade now, and he's responsible for some of the worst moments in Yankees' history. As Ortiz said in his recent Players' Tribune article, "Some players are born to be Yankees … I was born to play against the Yankees."
Like Alex Rodriguez, there seems to be no middle ground with Ortiz. People either love him or hate him. Unlike A-Rod, most folks love Ortiz. Believe me. It's true. Maybe not in this neck of the woods, but all around the league and the world. People love the guy. Ortiz is affable, charismatic, and he backs it all up on the field. There are superstars like the vanilla Mike Trout, and then there are superstars. Ortiz is a superstar. The total package.
Say what you want about his legacy. Just know Ortiz is going to go down as arguably the greatest DH the game has ever seen and inarguably as one of the most popular players in recent baseball history. Like it or not, the performance-enhancing drug double standard applies to him. Do we like the player? If yes, then ignore the PED issue, which in this case is a failed test as part of MLB's screening in 2003, the results of which were supposed to remain confidential. If no, then discredit him entirely.
Ortiz has gotten a pass the same way Andy Pettitte has gotten a pass. People like him so they're willing to overlook things. And frankly, I couldn't care less. As someone who thoroughly enjoyed watching A-Rod the last 12 years, who am I to judge? Ortiz is having an off-the-charts monster season at age 40, and I think it has more to do with him not having the same wear and tear on his body as a typical 40-year-old ballplayer because he didn't play the field all those years than anything else. You're welcome to disagree.
Growing up, I first came into baseball "consciousness" around 1990 and 1991. Somewhere in there. That's when I started to really understand what was going on and things like that. For the next 13 years or so, the Yankees-Red Sox rivalry was very one-sided. The 1999 ALCS, the 2003 ALCS, whatever. The Red Sox might win a few battles along the way, but the Yankees always won the war. There was comfort in that.
Ortiz, along with Manny Ramirez and Pedro Martinez and others, had a huge role in changing that. Back in the late-1990s and early-2000s there was legitimate hatred in the rivalry — hatred among the players, I mean — and that doesn't seem to exist now. Blame baseball's parity. It's not Yankees vs. Red Sox in the AL East anymore. Now each year it's Yankees vs. Red Sox and the Blue Jays and maybe the Orioles too.
The rivalry was at its best when Ortiz first landed in Boston, and it only added to the rivalry that the Yankees missed out on him. The old story is that George Steinbrenner pushed Brian Cashman to sign Ortiz, though Cashman shot that down earlier this year. Here's what he told Scott Lauber in May:
"It's an urban myth," Cashman said in a phone interview. "Essentially what occurred here was, any time the Red Sox signed anybody, anything that was on ESPN — 'The Boston Red Sox today announced the acquisition of whoever,' a free agent, a trade, whatever — George would turn to me and say, 'Why didn't you sign him? I've always liked him. He better not be any good.' And I would tell The Boss, 'You only can have 25 guys on a roster, Boss.' At that time, we had [designated hitter Jason] Giambi and [first baseman] Nick Johnson. Did George know who David Ortiz was? No, he had no idea."
Regardless of what happened with Cashman and Steinbrenner, Ortiz is a Red Sox, and he's made the Yankees miserable ever since. To the rest of the baseball world, he's beloved Big Papi with an outsized personality and a knack for clutch hits that seems to good to be true. To the Yankees and their fans, he's a villain, a symbol of when this rivalry stopped being so one-sided.
Is Ortiz going to the Hall of Fame? Of course he is. You can't tell the story of baseball history and skip over Ortiz. Sorry, but it's true. And no, Edgar Martinez doesn't have to get in first. It doesn't work like that. Their Hall of Fame cases are independent of each other. Ortiz is on the very short list of the best players at his position and he was a central figure in the most successful period of Red Sox history in nearly a century. Hall of Famer. No doubt.
The David Ortiz era of the Yankees-Red Sox rivalry is coming to an end tonight and thank goodness for that. He's been a thorn in the Yankees' side for far too long. Ortiz had a big role in changing the dynamic of the rivalry which, for a while, wasn't much of a rivalry. The Yankees always came out on top. He changed that. Love him or hate him, Ortiz is an all-time great player and he was a worthy foe these last 14 years. Because of him, the Yankees-Red Sox rivalry won't ever be quite the same.