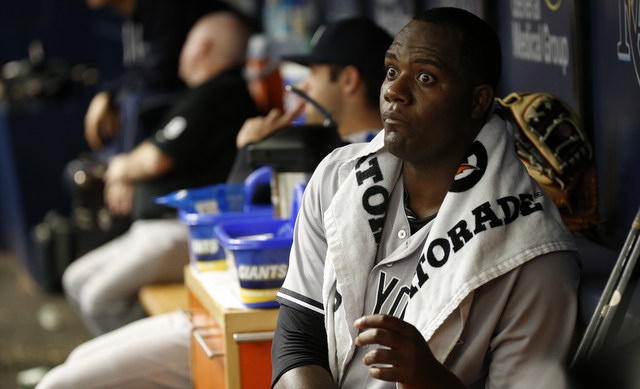 The Yankees are on a roll right now. They've won five straight and there seems to be a new hero every night. Because the Red Sox are playing the Blue Jays and the Tigers are playing the Orioles this weekend, the Yankees are guaranteed to gain ground on at least two of the teams they're chasing with each win the next three days. That's huge. Have to take advantage. (At the same time, each loss means losing ground to two teams. It cuts both ways.)
On the mound tonight is Michael Pineda, and boy, the Yankees sure could use a Big Mike outing tonight. It's been a while since we've seen one of those. He's allowed at least five runs in five of his last eleven starts. Yikes. The Rays are exactly the kind of home run happy team that can give him trouble too. Did you know Tampa is seventh in MLB with 188 homers? It's true. You got this, Big Mike. Here is the Ray's lineup and here is the Yankees' lineup:
CF Jacoby Ellsbury
LF Rob Refsnyder
C Gary Sanchez
2B Starlin Castro
1B Mark Teixeira
SS Didi Gregorius
3B Chase Headley
DH Tyler Austin
RF Aaron Judge
RHP Michael Pineda
Now, the bad news: there's rain in the forecast tonight. Scattered thunderstorms pretty much from game time right through tomorrow morning. That's a problem. Hopefully they can squeeze in nine innings — or least five if the Yankees are leading! — around the rain drops. Tonight's game is scheduled to begin at 7:05pm ET and you can watch on YES. Enjoy the game.
Injury Update: Anthony Swarzak (shoulder) has starting playing catch and could throw in the bullpen as soon as this weekend. The hope is Swarzak will be able to return sometime before the end of the season.
Roster Move: The Yankees called up Richard Bleier earlier today, the team announced. There are now 13 pitchers in the bullpen. Bleier had been starting with Triple-A Scranton — he was scheduled to start Game Four of their postseason series tomorrow — so he gives the team a true long reliever.