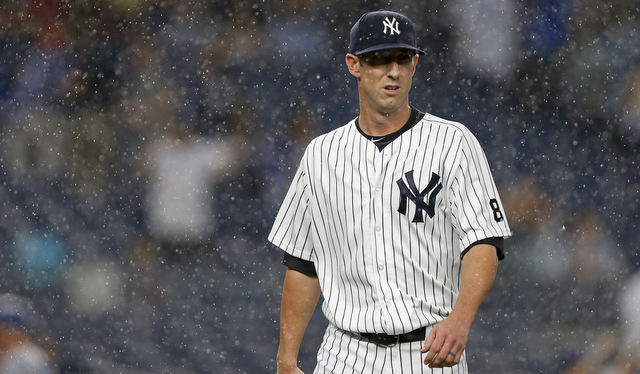 For much of the first four months of the season, the Yankees had two of the three best left-handed relievers in baseball in their bullpen in Aroldis Chapman and Andrew Miller. Those two plus Zach Britton are the holy trinity of end-game southpaws. They're not lefty specialists. They dominate batters on both sides of the plate.
After wisely trading away Chapman and Miller at the deadline, the Yankees picked up lefty Tommy Layne as soon as the Red Sox cut him loose. Boston acquired Fernando Abad at the trade deadline and didn't need Layne anymore, so they flat out released him. Abad's been pretty terrible, so that hasn't worked out for them. Such is life. The Yankees wound up with a decent southpaw and gave up nothing to get him.
The 31-year-old Layne has done a fine job for the Yankees since being picked up, pitching to a 3.00 ERA (4.01 FIP) in 15 innings overall while holding lefties to a .161/.257/.161 (.205 wOBA) batting line. His finest moment in pinstripes came Monday night, when he was brought in to face the middle of the Blue Jays' lineup — all righties, of course — with the bases loaded and no outs. He closed out the win thanks in part to his own great play at the plate:
Layne had a rough outing last night, including giving up a home run to the right-handed hitting Aaron Hill, though that's not a big deal. It was the second of back-to-back days after a stressful game Monday night — Layne threw 24 pitches Monday after throwing 24 pitches total in his previous five outings — so I'm sure the tank was far from full. Such is the life of a left-handed specialist.
At the moment the Yankees are not particularly deep in lefty relievers. Chasen Shreve seems to have fallen out of favor, Jacob Lindgren will be out until 2018 following Tommy John surgery, and others like Richard Bleier and James Pazos probably aren't the guys you want to count on in big spots. I suppose Tyler Webb and/or Dietrich Enns could be options starting next season should the Yankees protect them from the Rule 5 Draft.
That last part is pretty important. Space on the 40-man roster will be tight this offseason, so Webb or Enns or both might not be protected. The Yankees are going to have to free up several spots soon after the end of the World Series, and while much of that can be accomplished by cutting loose players like Anthony Swarzak and Kirby Yates, it won't be enough. In most cases a scrap heap lefty specialist like Layne would be on the chopping block too.
Therein lies the question: how confident are the Yankees in Layne performing this way going forward? The Red Sox didn't release him out of the kindness of their hearts. Lefties hit .255/.355/.333 (.312 wOBA) against Layne when he was with Boston earlier this year, and that's no good. Success can be very fleeting for relievers like him, the funky finesse guys who rely on deception. Remember Clay Rapada? He was nails in 2012 but couldn't even get through Spring Training in 2013.
If nothing else, I think Layne has moved to the back of the line of players who could lose their 40-man roster spot this offseason. There are others in front of him who figure to go first, including Swarzak and Yates, and maybe even guys like Johnny Barbato and Conor Mullee. Unless you have a Miller or Chapman, the best approach with lefty relievers seems to be stockpile as many as possible, and hope someone emerges. Layne went from scrap heap pick up to potential part of the 2017 roster in a hurry, but his spot may not be secure.