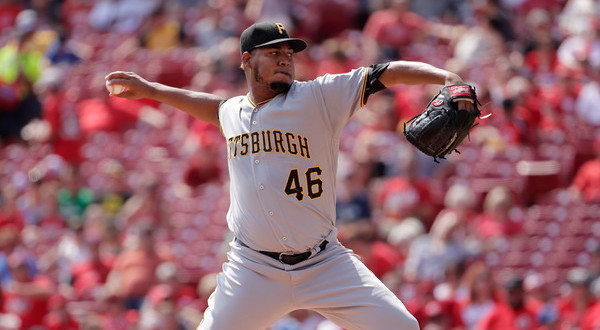 According to Ken Rosenthal (video link), the Rangers made a last minute push for Ivan Nova prior to the August 1st trade deadline. The two sides exchanged proposals, and Rosenthal says talks occurred so late they might not have had time to review medical information before the deadline. Nova was instead traded to the Pirates for two prospects.
Nova, 29, had a tough start yesterday but has generally been very good for Pittsburgh. He has a 2.93 ERA (2.67 FIP) in nine starts and 55.1 innings since the trade deadline. Nine starts since the deadline? Was it really that long ago? Geez. Anyway, I'm guessing more than one team made a run at Nova before the deadline given the general need for pitching around the league. I have a few thoughts on this.
1. What would have been a comparable package from Texas? The Yankees received two players to be named later for Nova and they were legitimate prospects: outfielder Tito Polo and lefty Stephen Tarpley. They're not high-end prospects — the Yankees traded Ivan Nova, not Greg Maddux — but they're bonafide prospects with a chance to help the Yankees at the big league level or as trade chips at some point.
Both Tarpley and Polo were at High-A at the time of the trade. Tarpley's a bit of a 'tweener in that he has quality stuff but may lack the command to start long-term, while Polo is a toolsy player who may profile best as a fourth outfielder. Using MLB.com's top 30 Rangers prospects list, here's a list of comparable Rangers prospects:
RHP Pedro Payano: "Payano may lack a plus pitch, but he has three effective offerings and knows how to use them."
RHP Jonathan Hernandez: "Hernandez may not have more of a ceiling than No. 4 starter, he's a safe bet to remain in the rotation and could advance quickly."
RHP Tyler Ferguson: "The bullpen might be the best destination for him anyway, because he'll never have fine command and has yet to show aptitude for throwing an offspeed pitch."
OF Jose Almonte: "Almonte's below-average speed and quickness precipitated his move from third base but shouldn't prevent him from becoming a competent right fielder."
This isn't an apples to apples comparison, of course. I was just looking for Single-A players who fit the "maybe a starter, likely a reliever" and "toolsy fourth outfielder" profiles. The Rangers system isn't all that deep in those types of players. They have a lot of teenage infielders in the back of their top 30 prospects list.
Anyway, the point is the Yankees probably weren't missing out on anything great by trading Nova to the Pirates instead of the Rangers. Some Single-A prospects with iffy profiles work out. Most don't. That's baseball.
2. The Yankees had to trade Nova. I have a hard time believing anyone would think otherwise. The Yankees sat 5.5 games back of a wildcard spot and they were coming off four straight losses the morning of the trade deadline. They had just been swept by the last place Rays. There was no reason to think they would miraculously storm back into the race, even temporarily.
Nova is an impending free agent and he was not a qualifying offer candidate because he'd pitched to a 4.99 ERA (4.98 FIP) in 191.1 innings following Tommy John surgery. They could either keep him, get another 12-13 mediocre starts, then lose him for nothing after the season, or they could trade him for some lottery tickets. Regardless of whether Nova went to the Rangers or Pirates or some other team, the Yankees were smart to move him.
3. No, the Yankees shouldn't try to re-sign Nova. Nova's the big winner here because there seems to be a belief that the Pirates are magicians and can fix any pitcher — why did they have to trade for Nova in the first place if that's true? — and Nova is the latest example. Someone's going to pay him good money in the weak free agent class, the same way J.A. Happ and Edinson Volquez made more than expected after leaving Pittsburgh.
Does that mean the Yankees should try to re-sign Nova? That's an easy no for me. I'm not convinced his recent success is the result of anything more than a favorable schedule — he's faced the Reds, Brewers, and Phillies six times in his nine starts — and a friendly home ballpark in the non-DH league. Nova might only be fixed the same way Phil Hughes was fixed with the Twins in 2014. Ivan's going to get paid this winter and good for him. The 700-something innings in pinstripes far outweigh the 50-something innings with the Pirates in my opinion.