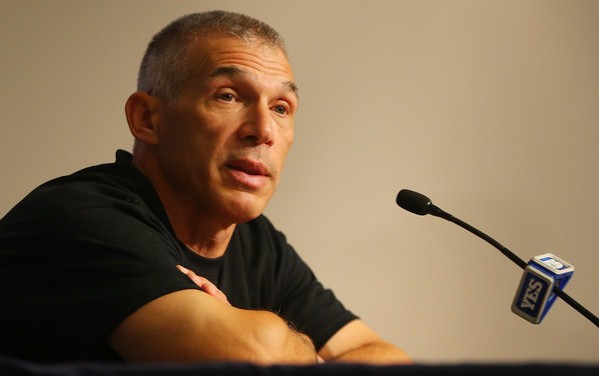 Prior to Sunday's season finale, Yankees manager Joe Girardi held his annual end-of-season press conference, during which he discussed the state of the franchise and where the team is heading in the future. Things like that. The usual, basically.
You can watch the entire 20-minute press conference right here, if you're so inclined. I compiled what I thought were the most interesting tidbits and grouped them together below. I also added some thoughts, because why not? Here is our annual recap of Girardi's end-of-season press conference. Brian Cashman's is Wednesday. That's the most important one.
The Youth Movement
On expectations Girardi had for the kids going into 2016: "I was pretty convinced in my mind that (Gary) Sanchez would help us at some point this year. When you look at Aaron (Judge), I thought he had a possibility of helping. I was not sure about Tyler (Austin) just because — the year before was pretty good — he had some physical issues. He was making a position change. But I've been really pleased with the way he's adapted to first base. I hope he's going to continue to get better. He works really hard and he's done some things that at times I've been surprised what he's done for us."
Do you have to manage kids differently than veterans? "You manage every group somewhat different because they're different types of players, but yes. I mean, obviously with (veterans) they've been through a lot … You have a history of how they handle those experiences and maybe those slumps. You're not sure how (young players are) going to react and what they are capable of being, the situation, how they're going to handle it. But again, you manage differently depending on their strengths and weaknesses."
Who is Girardi looking forward to seeing in 2017? "(I'm) most excited to see some guys that I haven't seen a lot of. I'm not sure who's going to be in my 40-man roster either … There are some guys I haven't seen because of the trades we've made. And next year could be an interesting Spring Training as a WBC year."
On expectations for Gary Sanchez next year: "My hope is the expectations aren't so large that no matter what he does, he can't reach those expectations. But I think you can expect a talented player and a good player to go out there and improve."
The expectations for Sanchez next season will be interesting. Interesting and scary. The kid hit like Babe Ruth for three weeks, and as good as Gary is, it's completely unrealistic to expect him to do that again. Expectations for Luis Severino got out of control last season. I don't think that contributed to his poor season, but a lot of fans set themselves up for disappointment by expecting an instant ace.
Hopefully Sanchez can be a middle of the order bat next season. I'm sure the Yankees will count on him to be exactly that. But asking him to be one of the best hitters on the planet again, especially across a full season, is not fair at this point. The learning curve for catchers can be steep. Sanchez hitting, say, .270/.320/.450 with 25 homers in 2017 would make him one of the best hitting catchers in baseball. I also feel like many folks would consider that a disappointment.
The Offense
On situational hitting: "As far as the situational hitting, when I said at times we didn't hit well, that was a big part. Situational hitting with runners in scoring position, we did not do a good job. There are years that are better years than other years, and the teams that score runs are the teams that do really well in that category, and that's something that we learned last season."
On the offense wearing down late in the season: "I mean, guys get beat up physically and they get run down in the month of September, and we're not the only team that goes through that … Your pitching needs to remain constant and sometimes they have to pick each other up. But you know, there's definite problems. I feel that this club is capable (of having a good offense). I think they're capable."
I'm honestly not too worried about the situational hitting. That stuff is so unpredictable from one year to the next. A year ago the Yankees hit .256/.341/.465 (114 wRC+) with runners in scoring position and this year it was .228/.308/.350 (73 wRC+) even though they had the same damn lineup most of the season. As far as moving runners over and that stuff … if the Yankees start obsessing over that, they deserve what they get.
There's no need to overthink this. Get as many quality above-average hitters as possible, and let the rest take care of itself. Want good hitters with runners in scoring position? Then get good hitters overall. The correlation is pretty damn strong. The Yankees have gone defense over offense at a few too many positions (center, left, short, third) and it's dragging down the offense overall. The Yankees don't need better situational hitters. They just need better hitters.
Luis Severino's Future
Is he a starter or reliever? "I think it's really up to him and the way he pitches. If he's going to be a starter, commanding the fastball is extremely important. Changeup is coming. Slider is much improved (from earlier this season) … My expectation is he's still going to be a starter."
Does his final role need to be determined soon? "When you look at the way things went down, he was stuck in the bullpen (because that's where we needed him). He's fairly young and aggressive. He's going to make a case. We're going to work here with him."
At no point this season did Severino look like a capable Major League starter. Not once. Not in April, not in his brief August cameo, and not in September. He looked great in relief though. That said, the kid will be 23 in February, and it's way too early to think about a move to the bullpen full-time. Let him start next season. All season. If that means he has to go to Triple-A, so be it.
Severino's issues are mostly command related. He admitted he lost confidence in his changeup this year, but he has a pretty good one. We saw it last year. He just lost a feel for it. Severino needs to get comfortable with his changeup again, and do a better job locating pretty much everything. The Yankees could let him work on that in the big leagues next year. I say let him earn it. If the command and changeup don't look good in camp, Triple-A it is. I'm not counting on Severino to be a big piece of the puzzle next year.
The Upcoming Offseason
On the biggest area of need: "(I will) sit down with Brian and let him handle those questions. You know he is the architect of the team. My job is to get the most out of the players, and I don't want to speak before we've had a chance to talk … The other thing is, you know, we talk about it and the players start to wonder how we think about them, and I don't think that's fair."
Do they need rotation help? "Well I think we have good players if we stay healthy, but that doesn't happen very often so I'm sure we will look into that as well."
Listening to Girardi the last few days, it seems pretty clear he believes the Yankees need to improve everything. The offense, the defense, the pitching staff … all of it. You can't look at the 2016 Yankees and point to one problem area of the roster. Yes, the offense was the main culprit, but the back of the rotation and the middle of the bullpen were weak too. So was the defense at times. The baserunning too. So bad. So, so bad.
How do the Yankees overhaul most of the roster? Well, plugging in young players is a good start, plus many of the big contracts will soon be off the books. Others like Brett Gardner and Brian McCann could be traded this offseason. The Yankees underwent a lot of change this past season. I don't think that's going to stop anytime soon. I think this was only the beginning.
Miscellany
On Masahiro Tanaka's improvement: "What he improved on was the amount of innings and starts, and staying healthy — we're shutting him down in a sense, if (Saturday's game) meant something, he would have started — so I think that's a big improvement. And just keep moving forward in that sense. I thought he played well, and when you can count on 200 innings every year, I think it's the best thing."
On Mark Teixeira's final game: "You know, I saw him earlier today and he was smiling and seemed very happy. And I think this day is going to be filled with every type of emotion. I think there's going to be happiness, there's going to be sadness, and there's going to be appreciation for having the opportunity to play this game and to play here and play in front of the fans."
What move would Girardi like to do over? "I was asked yesterday about, are there any decisions that I want like to have a chance to redo? I said no because I don't have hindsight. I make decisions based in real time. I make decisions based on information that I have. And then you have to deal with the human element. So you know, in every play, in every case, you could second guess if you want to."
On selling at the trade deadline: "I understood why they they traded veterans away. I mean, we were in a situation where we weren't getting it done. And I think Brian's job is (evaluate the team), but he also has to look at the future … As an organization, we thought it was in our best interest to make trades to try and get back to the World Series."
Does the World Series or bust mantra need to change? "No, no. I think you should all set your goals. You know I don't think you should be satisfied with just making the playoffs."
Girardi's message to fans: "We will do everything we can to bring a championship here. That's everyone's job in this organization."
Girardi's comments on the trade deadline were pretty interesting. He seemed excited about all the young players and also disappointed that the Yankees were forced to sell. As he said, the goal is to win the World Series every year, and the Yankees had to sell because they were far from World Series contenders. Selling was a result of the team's failure to perform, and ultimately that (or at least part of that) falls on Girardi.
Don't expect the goal to change, either. Girardi was clear about that. The Yankees are going to try to win next season, even while incorporating younger players into the lineup. Those things don't always work well together, not unless every position player comes up and hits like 2016 Sanchez while every pitcher performs like 2015 Severino. I'm curious to see what gets prioritized next year, the development of young players or winning.