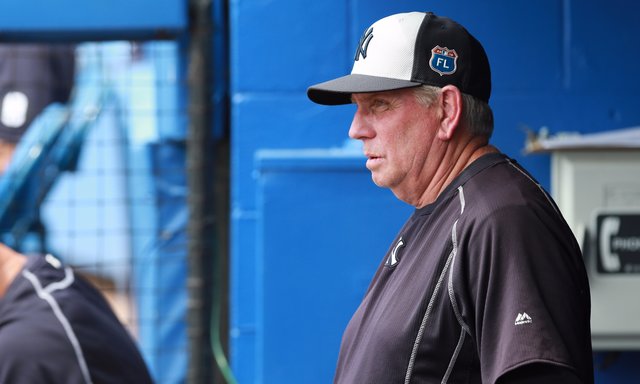 At noon today, Brian Cashman will hold his annual end-of-season State of the Yankees press conference. These things rarely bring major news — usually the only announcements are coaching changes — but Cashman is very candid by GM standards, so it'll be interesting to hear what he has to say about the 2016 season and the team going forward. Until then, here are some links and bits of news to check out.
Rothschild hopes to return in 2017
The contract of pitching coach Larry Rothschild expired after the season, and he told Dan Martin he hopes to return in 2017. "We'll see what happens," said Rothschild. This is probably one of the things Cashman will discuss at today's press conference. Rothschild has been New York's pitching coach since the 2011 season, and since then the Yankees lead all AL teams in pitching WAR. They're third among all 30 clubs.
Of course, evaluating a pitching coach (or any coach) is not nearly as simple as looking at WAR. I said what I had to say about Rothschild last month. I think the vast majority of the team's pitching issues stem from their obsession with raw stuff over command and refinement. The Yankees have now missed the playoffs three times in the last four years, and they've replacing their hitting coach each of the last two offseasons. It wouldn't surprise me if Rothschild is let go in a scapegoat move. We'll see.
Manfred hopeful new CBA will be done soon
While speaking to reporters over the weekend, commissioner Rob Manfred said he is hopeful MLB and the MLBPA will finalize the new Collective Bargaining Agreement soon after the end of the postseason, according to Bob Nightengale and Ben Nicholson-Smith. "Both parties still have significant issues on the table," said Manfred, who added this is not a "rip the agreement up, start over type of negotiation."
I'm not in any way worried about a work stoppage — revenue is at an all-time high and both sides have too much to lose — though I am curious to see how the new CBA changes free agent compensation, the draft, and international free agency. My guess is the IFA system is changed pretty drastically. I don't think MLB likes teams making a mockery of the system, like the Yankees did with their 2014-15 signing spree. Either way, change is on the horizon.
Steinbrenner among ten on Today's Game Era ballot
Earlier this week, the Hall of Fame announced the ten-person Today's Game Era ballot, according to the Associated Press. Among the ten are former Yankees owner George Steinbrenner. The Boss was previously up for Hall of Fame election through the Expansion Era committee, though he didn't receive enough votes. The Today's Game committee will announce their voting results during the Winter Meetings in December. Twelve of 16 votes are needed for induction.
The Hall of Fame restructured their voting committees recently — the Veterans and Expansion Era committees are no more, and have been replaced by the Today's Game (1988-present), Modern Baseball (1970-87), Golden Days (1950-69), and Early Baseball (1871-1949) committees — and the new ones meet every few years. Steinbrenner, who I think should be in the Hall of Fame, is on the Today's Game ballot with Mark McGwire, Harold Baines, Albert Belle, Will Clark, Orel Hershiser, Davey Johnson, Lou Piniella, John Schuerholz, and Bud Selig.
YES ratings down in 2016
Surprise surprise: YES Network ratings were down this past season, according to Eben Novy-Williams. YES averaged approximately 218,000 viewers per game in 2016, down from roughly 233,000 per game last year, as best I can tell. Part of that is the squabble with Comcast; Comcast stopped carrying YES this year because they didn't want to pay the rights fee. There are 900,000 or so Comcast subscribers in the Tri-State Area and I'm sure more than a few are Yankees fans.
From 2002-11, the first decade of the YES era, the network averaged about 400,000 viewers per game. Interest has waned in recent years thanks to some retirements (Derek Jeter, Mariano Rivera, etc.) and non-playoff seasons. Novy-Williams says SNY had higher ratings than YES for the first time ever this season — SNY averaged a little less than 264,000 viewers per game in 2016 — which isn't surprising given the Comcast issue and the fact the Mets went to the World Series a year ago.