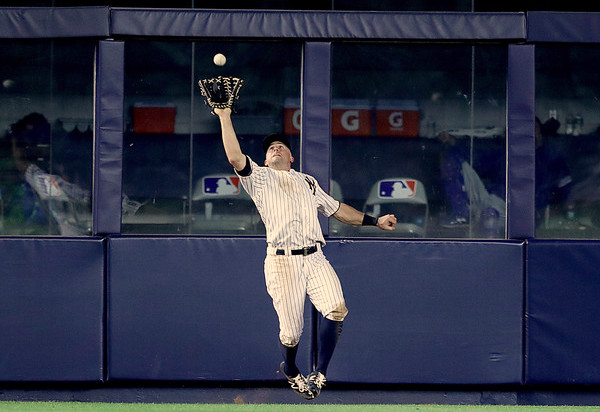 The Yankees right now are very much open to trading pricey veterans for prospects. They sold big time at the deadline and continued selling in the offseason by sending Brian McCann to the Astros for two Single-A pitching prospects. The Yankees have reportedly dangled Brett Gardner and Chase Headley in trade talks this winter, and I'm sure they'd love to move Jacoby Ellsbury too, but, you know.
Two teams that stood out as obvious suitors for Gardner addressed their outfield needs last week. The Nationals traded for Adam Eaton and the Cardinals signed Dexter Fowler. Both clubs needed a defensively competent center fielder — Gardner plays left for the Yankees in deference to Ellsbury, but he could still handle center full-time, no problem — and a top of the order on-base guy. The Nats and Cards went in another direction.
Gardner is a good player, not a great one, and the two years and $23M left on his contract is not unreasonable. And besides, the Yankees have shown a willingness to eat money to facilitate trades. They did it with Carlos Beltran at the deadline and McCann a few weeks ago. Salary shouldn't be a problem. The problem is finding a team that actually needs Gardner, a defense first outfielder with on-base skills. Here are the remaining potential trade partners I came up with.
Baltimore Orioles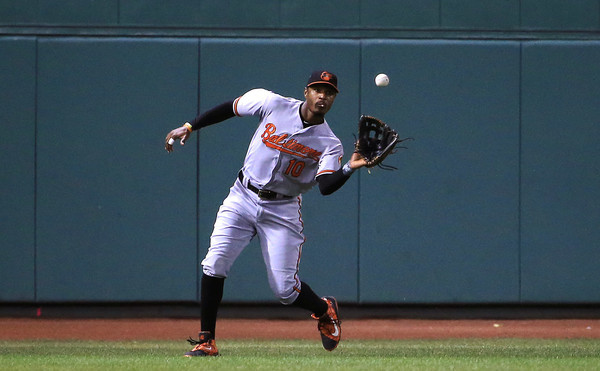 Current Outfield: Adam Jones in center and Hyun-Soo Kim in left, with Joey Rickard and Rule 5 Draft picks Anthony Santander and Aneury Tavarez candidates for right. They also have the option of moving Chris Davis to right field and playing prospect Trey Mancini at first.
Why Would They Want Gardner? He's a heck of a lot better than Rickard and the Rule 5 Draft kids — Santander has never played above High-A — and he'd give the O's a legitimate leadoff hitter, something they really lack. Jones was their leadoff hitter most of this past season. Yeah. Also, the Orioles have an opening at DH, remember. They could put Gardner in left, Kim at DH (where he fits best), and stick with the kids in right.
So Are They A Fit? Yes with the caveat that they're an AL East rival, and intradivision trades are rare. I don't think that closes the door completely, it just makes it unlikely. For what it's worth, Brian Cashman told Bryan Hoch he'd have no problem trading with the Orioles.
"If I can trade with the Red Sox and the Mets, I can trade with the Orioles. I can trade with anybody. If it's in our best interest, whether it's short- or long-term, it doesn't matter what the other teams get. Does it make sense for us? If it happens to be them, I don't really care."
What do the O's have to offer the Yankees for Gardner? Geez, beats me. Their farm system isn't in great shape (here's their MLB.com top 30 prospects list) and I doubt they'd be willing to give up pieces from their big league roster. I'm sure the Yankees could find some combination of minor leaguers to make it work though.
Cleveland Indians
Current Outfield: Tyler Naquin in center and Lonnie Chisenhall in right. Brandon Guyer and Abe Almonte are expected to hold down left field until Michael Brantley returns from shoulder surgery.
Why Would They Want Gardner? Not too many reasons at this point. The Indians seem focused on adding a big middle of the order bat to share first base and DH with Carlos Santana, and I suppose if those plans go awry, they could circle back and import Gardner to be part of a rotating DH system. He'd give them a more traditional leadoff hitter too. They used Santana at leadoff most of last season, which was somewhat a waste of his power because he batted with fewer men on base.
So Are They A Fit? Nah, I don't think so. Naquin had a nightmare postseason but a very good regular season, good enough to finish third in the AL Rookie of the Year voting and earn a starting spot in 2017. They'll ride it out with Almonte and Guyer until Brantley returns, which could be as soon as April.
Detroit Tigers
Current Outfield: Justin Upton and J.D. Martinez on the corners, with Anthony Gose and JaCoby Jones in the mix for center. Tyler Collins could get a crack at the job too, though he's best in a corner.
Why Would They Want Gardner? Gardner is much better than the group of players vying for Detroit's center field job at the moment. Of course, the Tigers traded away Cameron Maybin earlier this winter, and they seem to be scaling back on payroll a bit. Salary dumping Maybin only to turn around and acquire Gardner would be a bit weird, don't you think?
Of course, plans change, and the Tigers are looking at a more winnable AL Central right now. The Twins stink, the White Sox are selling, and the Royals might have to sell at the deadline since basically their entire core will hit free agency next winter. The Tigers won 86 games in 2016 despite going 4-14 (4-14!) against the Indians. What are the odds of that happening again? Small. Gardner would improve their chances in a much more winnable division.
So Are They A Fit? Maybe! I think the Yankees would have to eat money to make a trade happen, which I doubt would be a deal-breaker. If the Yankees ate money to trade Beltran and McCann, I'm sure they'd do the same for Gardner.
Oakland Athletics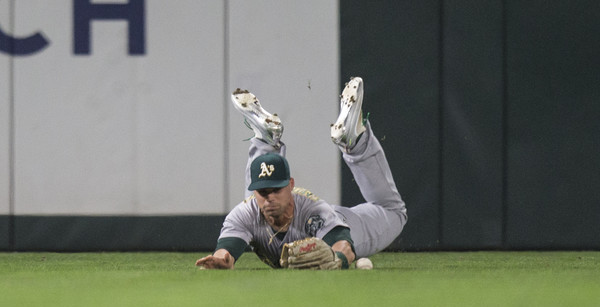 Current Outfield: Some combination of Khris Davis, Matt Joyce, Brett Eibner, and Jake Smolinski. Did you know Khris Davis hit 42 home runs in 2016? True story.
Why Would They Want Gardner? The A's are in the market for a center fielder this offseason, it's been reported everywhere, and they've most recently been connected to Jarrod Dyson of the Royals. Gardner is a very similar player (lefty hitting leadoff type with speed and defense) who happens to be much more expensive. But again, if the Yankees are willing to eat money, his contract may not be an obstacle.
So Are They A Fit? Maybe. The Athletics are a weird team that seems to be stuck between going for it and rebuilding. It wouldn't surprise me one bit if they traded for an outfielder making $23M over the next two years despite losing at least 93 games the last two seasons. They're weird like that.
San Francisco Giants
Current Outfield: Denard Span in center and Hunter Pence in right, with Mac Williamson and Jarrett Parker slated to platoon in left. Gorkys Hernandez has a leg up on a bench job.
Why Would They Want Gardner? Left field is wide open. Williamson and Parker did an okay job as platoon partners while Pence was on the disabled list this summer — they hit a combined .230/.338/.402 with eleven homers in 278 plate appearances in 2016, but also struck out 28.5% of the time — though neither is a long-term building block. Williamson is the young one at 26. Parker turns 28 in three weeks.
Gardner would, at a minimum, give the Giants an above-average defender for that spacious left field at AT&T Park. In also guessing he'd outproduce a Williamson/Parker platoon at the plate over a full 162-game season. The Mark Melancon signing pushed San Francisco over the luxury tax threshold and they don't want to go much higher, so Gardner's contract could be an issue. Then again, the Giants are built to win right now, while Buster Posey and Madison Bumgarner are still in their primes, and left field is a sore spot.
So Are They A Fit? Yes, definitely. The Giants have enough prospects to cobble together a trade package (here is their MLB.com top 30 prospects list) and the Yankees could eat money to make things work on San Francisco's end with regards to the luxury tax. The Giants are a fit. A great fit. No doubt.
Seattle Mariners
Current Outfield: Leonys Martin in the middle with some combination of Seth Smith, Ben Gamel, Guillermo Heredia, Mitch Haniger, and possibly even Danny Valencia in the corners.
Why Would They Want Gardner? As an alternative to that hodgepodge of platoon veterans and mid-range prospects slated for the corners. The Mariners are trying to win right now. I mean, they should be. Felix Hernandez, Robinson Cano, and Nelson Cruz aren't going to be this productive forever, so anything Seattle can do to improve their short-term chances qualifies as a good move in my book. Gardner represents an upgrade.
So Are They A Fit? Yes in theory, no in reality. Mariners GM Jerry Dipoto has said his team is too left-handed at the moment, which Gardner would only exacerbate. Also, they seem committed to playing those kids in the outfield. So while there is a fit on paper here, I don't see it happening.
Texas Rangers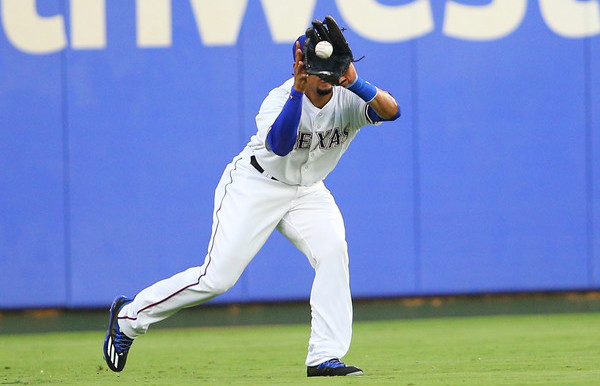 Current Outfield: Carlos Gomez in center, Shin-Soo Choo in right, and Nomar Mazara in left. Delino DeShields Jr. and Ryan Rua are the depth options.
Why Would They Want Gardner? The Rangers have no first baseman or designated hitter at the moment. Adding Gardner would allow them to slide Mazara over to right field, his natural position, and put Choo at DH full-time, which is where he belongs at this point. Texas has money and prospects to trade, plus an obvious opening for Gardner in the lineup and on the field.
So Are They A Fit? Yes. Whether the Rangers are willing to make a trade is another matter. They may prefer to hang on to their prospects and address those first base and DH openings through free agency. There are still plenty of those players available.
Toronto Blue Jays
Current Outfield: lol
Why Would They Want Gardner? Kevin Pillar is still the center fielder. That much is clear. But after losing out on Fowler, the Blue Jays have Melvin Upton, Steve Pearce, Ezequiel Carrera, and Dalton Pompey penciled in as their corner outfielders. That might be the worst outfield unit in baseball. Gardner would give them a legitimate left fielder and leadoff hitter, allowing them to slide Devon Travis lower in the order, in a run producing spot. That would be a big help considering they effectively replaced Edwin Encarnacion and Jose Bautista with Kendrys Morales and Steve Pearce. I'm sure that'll work out fine.
So Are They A Fit? Yes in the same way the Orioles are a fit. The Blue Jays could use Gardner, for sure, but to get him, they'd have to swing a rare intradivision trade. It's not impossible. Just really tough to do. There's a reason you don't see them often. Everyone's afraid of losing a trade to a division rival.