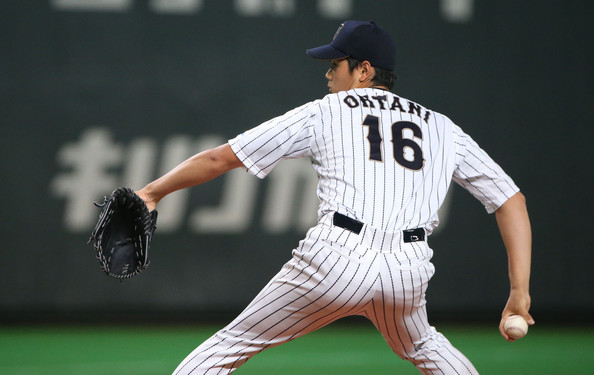 Earlier this week we learned Shohei Otani, the best pitcher (and hitter?) in the world not under contract with an MLB team, hopes to come over to MLB next offseason. The new Collective Bargaining Agreement means Otani will be subject to the international spending cap, severely limiting his earning potential. Hard to believe MLB and the MLBPA created a system that incentivizes a great player to stay away from the league, but here we are.
Anyway, according to Jim Allen, Otani's manager with the Nippon Ham Fighters, Hideki Kuriyama, said he still expects Otani to come over next offseason despite the hard cap. He's doing it for the challenge, not necessarily the money. "I think money is not a matter for Shohei. I think what he has in his mind is where and what kind of batters he wants to face," said Kuriyama to Kyoto.
Needless to say, Otani coming over next season is good news for the Yankees. He's a potential ace who will turn 23 in July, meaning he has so many prime years ahead of him. Otani would fit right in with New York's youth movement. He'd be the centerpiece of the youth movement on the pitching side. Three other factors would make his decision to come over next offseason very good for the Yankees.
1. Several other big market teams will still be limited by the international spending penalties. The Yankees are currently riding out the second year of the penalties associated with their 2014-15 international spending spree. They were limited to $300,000 maximum bonuses during both the 2015-16 and 2016-17 signing periods. Come the 2017-18 signing period, the one Otani will count against next offseason, they're free to spend again.
Other big market teams are not so lucky. The penalties do carry over to the next CBA — you didn't think MLB would let those teams get away easy, did you? — which means the Athletics, Astros, Braves, Cardinals, Cubs, Dodgers, Giants, Nationals, Padres, Reds, and Royals will all still be dealing with the penalties from their recent international spending sprees. They can't offer Otani more than $300,000. Right off the bat, potential suitors like the contending Astros, Cardinals, Cubs, Dodgers, Giants, and Nats are out of the race. The Yankees, Red Sox, Blue Jays, Tigers, Mariners, and Rangers will be the only traditional big market clubs not subject to the $300,000 limit.
2. The release fee still applies. There are two systems in play here. First, the posting agreement between MLB and NPB, which allows Otani to come over. And two, MLB's international hard caps. Otani has to be posted, which means the (Ham) Fighters will presumably seek the maximum $20M release fee. Not every team can afford to pay that upfront. Well, they can, but some choose not to. The Yankees have no such problem. They'll cut a $20M check no problem, like they did with Masahiro Tanaka and, ugh, Kei Igawa.
3. Otani will be insanely cheap. This is how it will work, as things stand. Otani gets posted and some team agrees to sign him for what I assume will be their entire international pool. That team pays the (Ham) Fighters the $20M release fee. Otani comes to Spring Training as a non-roster invitee (minor league contracts only for international players!), makes the team, and plays the 2018-20 seasons as a pre-arbitration eligible player making something close to the league minimum. An ace at that salary is basically the most valuable commodity in baseball.
Could a team promise to give Otani, say, an eight-year extension worth $180M at some point next year? Sure. But as Ben Badler notes, MLB would likely see such an arrangement as intentional circumvention of the hard cap and put an end to it. Otani, who made roughly $1.75M in 2016 and recently signed a $2.36M contract for 2017, won't be able to truly cash in until his arbitration-eligible years. At that point I'm guessing MLB and especially the MLBPA would be okay with a big extension. If not, a grievance will surely follow.
* * *
The new CBA really screws over Otani, who is still making good money in Japan, but not nearly what he could be making over here. He'll get a nice bonus when he signs next year, then have to settle for the big league minimum for a few years. It's a fraction of what he'd get had he not been eligible for the spending cap because of his age. So much can go wrong from 2017-20, before the big extension, which really sucks. Otani has to assume a lot of risk.
Unless MLB makes Otani exempt from the hard cap — Ken Rosenthal has been told from MLB as well as teams there won't be an exemption — in which case everything changes, the Yankees will be in great position to sign him next offseason. So may other big market clubs are dealing with the $300,000 limit, and many of clubs that aren't can't afford to fork over a $20M release fee. The Yankees also have the advantage of saying, "Hey, we're in New York, so you'll be able to make millions in endorsements for the time being." (The downside: Every team can offer similar money.)
As it stands, the hard cap is incredibly unfair to Otani and a godsend for the Yankees. It makes the signing so incredibly low risk because all they'd have to pay is the release fee ($20M), his bonus ($4.75M), and three years at the minimum-ish salary ($2M, tops). That's $26.75M total. How could they not go after him at that price given his upside? If Otani does intend to come over next season despite the hard cap, the Yankees couldn't ask to be in a better situation. So much is working in their favor.