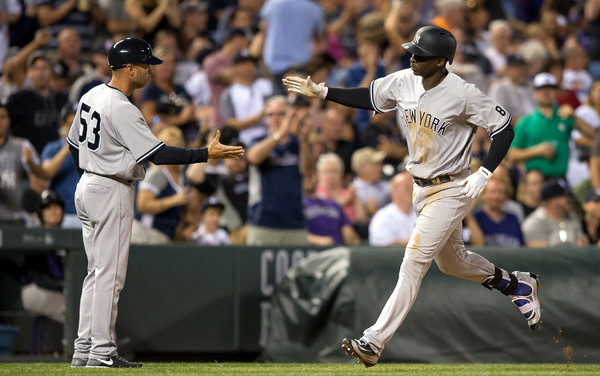 Original Post (Friday, 12pm ET): Today is a significant day on the offseason calendar. The deadline for teams and their arbitration-eligible players to file salary figures for the 2017 season is 1pm ET. The team submits the salary they believe the player deserves while the player submits the salary he feels he deserves. Simple, right?
The Yankees have seven arbitration-eligible players on the roster right now. They started the offseason with nine, but Nathan Eovaldi and Dustin Ackley were released when 40-man roster space was needed back in November. Here are the seven arbitration-eligible players and their projected 2017 salaries, per MLB Trade Rumors:
Michael Pineda: $7.8M
Didi Gregorius: $5.1M
Dellin Betances; $3.4M
Adam Warren: $2.3M
Aaron Hicks: $1.4M
Tommy Layne: $1.2M
Austin Romine: $900,000
Most arbitration-eligible players around the league will sign a new contract prior to the filing deadline. Last year the Yankees signed Pineda and Ackley before the deadline, but ended up filing figures with Gregorius, Eovaldi, Ivan Nova, and Aroldis Chapman. It was the first time they failed to sign an eligible player before the filing deadline in several years.
It's important to note exchanging figures today doesn't mean the two sides have to go to an arbitration hearing. They can still hammer out a contract of any size at any point. In fact, the Yankees were able to sign Gregorius, Eovaldi, Nova, and Chapman not too long after the filing deadline last year. New York hasn't been to an arbitration hearing since beating Chien-Ming Wang during the 2007-08 offseason.
We're going to keep track of today's Yankee-related arbitration news right here, assuming nothing crazy like a long-term extension happens. I'm not counting on it. Make sure you check back for updates often. The deadline is 1pm ET, but the news tends to trickle in all throughout the afternoon.
Update (Friday, 11:39am ET): The Yankees and Gregorius have agreed to a one-year contract worth $5.1M, reports Jon Heyman. Exactly as MLBTR projected. Gregorius made $2.425M last season, which was his first of four years of arbitration-eligibility as a Super Two. A long-term extension was always a long shot. Didi can't become a free agent until after the 2019 season.
Update (Friday, 12:27pm ET): Romine and the Yankees have an $805,000 agreement in place, says Heyman. Quite a bit below MLBTR's projection, relatively speaking. Romine made made $556,000 last season. This was his first trip through arbitration.
Update (Friday, 4:52pm ET): Pineda and the Yankees have agreed to a one-year contract worth $7.4M, per Heyman. That's up from his $4.3M salary in 2016. It pays to be a (middling) starting pitcher. Pineda came in just under his MLBTR projected salary.
Update (Friday, 4:55pm ET): The Yankees have a $2.29M agreement with Warren, according to Josh Norris. Almost exactly what MLBTR projected. He made $1.7M a year ago. Warren will remain under team control as an arbitration-eligible player in 2018 as well.
Update (Friday, 5:30pm ET): The Yankees announced they have agreements in place with both Hicks and Layne. They're one-year contracts. No word on the money yet though. That leaves Betances as the only unsigned arbitration-eligible player. I'm not surprised. Contract talks weren't smooth last year.
Update (Friday, 7:13pm ET): Betances filed for $5M and the Yankees countered with $3M, according to Heyman. That's a pretty significant gap. They might end up going to a hearing. Then again, I said the same thing about Chapman last year, and they hammered out a deal. Get that paper, Dellin.
Update (Friday, 7:56pm ET): Layne received $1.075M, so says Bryan Hoch. He was arbitration-eligible for the first of four times as a Super Two this offseason, so he's under team control through 2020. Then again, Layne is already 32 and he's been in four organizations the last five years, so yeah.
Update (Tuesday, 6:00pm ET): The Yankees and Hicks agreed to a $1.35M salary for 2017, reports Ronald Blum. Just a touch below MLBTR's projection. Hicks made $574,000 last season. He will remain under team control as an arbitration-eligible player through 2019.