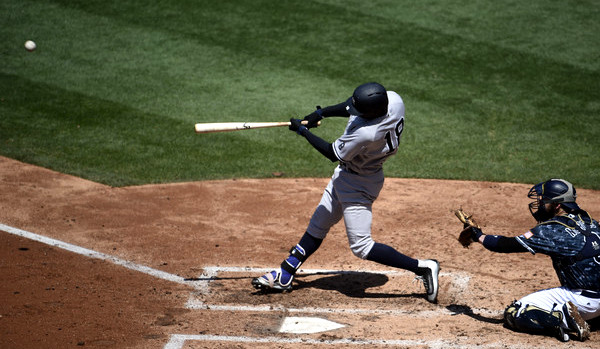 In just a few short weeks, the Yankees will enter year three of the Didi Gregorius era. Time flies, eh? In his two seasons as New York's starting shortstop, Gregorius has shown a rocket arm and strong overall defensive chops, and blossoming power as well. And enthusiasm for the game, too. The Yankees have been a little too corporate over the years and a player having fun on the field is a welcome change.
Gregorius came to the Yankees with questions about his ability to hit, and while no one is going to confuse him for Derek Jeter at the plate, Didi hasn't been a total zero with the stick either. He's authored a .270/.311/.409 (94 wRC+) batting line in nearly 1,200 plate appearances as a Yankee. The league average shortstop hit .262/.319/.407 (92 wRC+) last season, so Gregorius is right there. Add in his defense and you've got a nice little player.
One thing we know for sure about Gregorius offensively is that he loves to swing. Loves it. His 55.4% swing rate last season was sixth highest among the 146 hitters to qualify for the batting title. And when he swings, he usually puts the ball in play. Gregorius had the third lowest walk rate (3.2%) and 26th lowest strikeout rate (13.7%) in baseball last season. He's not someone who swings and misses a lot. When he swings, he tends to put in play.
Gregorius is not shy about swinging at pitches out of the zone — his 38.3% chase rate last year was 14th highest among those 146 batters — and that can get pretty annoying! At the same time, his 71.7% contact rate on pitches out of the zone was quite a bit above the 63.9% league average. This play sticks out to me from last summer. David Price tried to put Gregorius away with a changeup out of the zone, and Didi hooked it into the corner for extra bases:
That's not a bad pitch! It was down and out of the zone, and with an 0-2 count and two outs, trying to get the hitter to chase something in the dirt is a smart move. The count says you don't need to go right after the hitter in that situation. Price had some wiggle room thanks to the 0-2 count and the pitch was a ball (via
Brooks Baseball
) …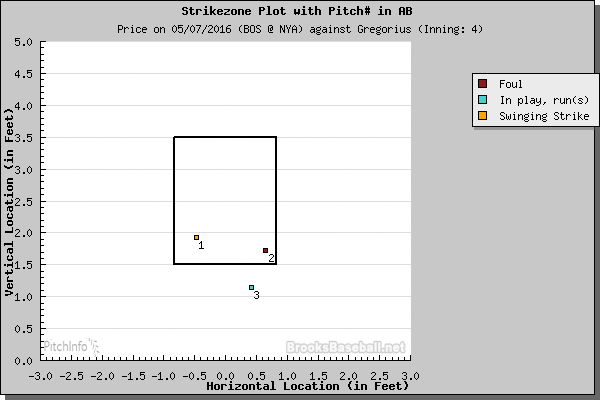 … yet Gregorius made him pay. What can you do if you're the pitcher in that situation? Nothing, you just have to tip your cap, as annoying as that may be. Price made a good pitch and Gregorius drove in three runs anyway. That's baseball. Sometimes you do everything right and still get beat.
That play speaks to Didi's skills as a bad ball hitter. Vlad Guerrero was the ultimate bad ball hitter. We've all see the highlight of him hitting a single on a pitch that bounced. That guy could swing at any pitch in any location and do damage. Ichiro Suzuki was another great bad ball hitter. Gregorius is not a Vlad or Ichiro caliber bad ball hitter, basically no one is, but he is better than most in MLB today.
Over the last two seasons Gregorius has hit .222 with a .297 BABIP on pitches out of the zone, which sounds terrible, but the league averages were .187 and .281, respectively. The best bad ball hitter over the last two seasons, Denard Span, hit .268 on pitches outside the zone. Only nine others cleared .250. Here are Didi's BABIPs on pitches in various locations from 2015-16, via Baseball Savant: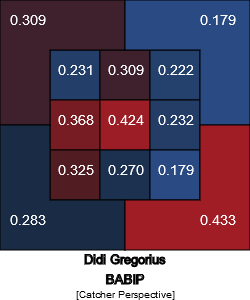 The brighter the red, the higher above average the BABIP. The brighter the blue, the further below average. Gregorius has excelled at pitches down and in and out of the zone, like the Price changeup in the video above, and has been about average on pitches out of the zone away from him. That's from the catcher's perspective, so his weakness is up and in. Otherwise if it's out of the zone, Gregorius has some level of success when he swings.
Of course, in a perfect world Didi would not swing at pitches out of the strike zone, but that's just not who he is. Getting a hitter to change his approach is awfully tough, especially when you're talking about a soon-to-be 27-year-old who has had success in the big leagues swinging at everything. Gregorius at this point probably is what he's always going to be from an approach standpoint. He's going to swing and swing often. So it goes.
I definitely think there is value in having a bad ball hitter in the lineup. Diversity is cool. On-base percentage is king and patient hitters who make the pitcher work tend to drive successful offenses. These days though, with velocity and strikeouts at an all-time high, having someone who can not only spoil those put-away pitches out of the zone, but actually get base hits off them is pretty useful. A full lineup of free swingers like Gregorius might not work. One in a lineup of patient hitters though? That's doable.
Do the Yankees have a lineup full of patient hitters at the moment? Not really, though they're probably in better shape than their 7.8% walk rate a year ago (19th in MLB) would lead you to believe. Brett Gardner, Chase Headley, Matt Holliday, and Greg Bird all have histories of working the count and drawing walks. Gary Sanchez showed similar patience last year. Aaron Judge has done it in the past too. Gregorius, Starlin Castro, and Jacoby Ellsbury are the team's only true swing at everything hackers right now. Maybe three is too many.
Over the last two years we've seen enough from Gregorius to know he's probably never going to draw a ton of walks and be a high on-base guy. Would I prefer it if he laid off pitches out of the strike zone? Of course, but that doesn't seem to be in his DNA. Revamping his approach will take a lot of work. Drawing walks is not natural to him. If nothing else, at least Gregorius has demonstrated the ability to have some success when swinging at pitches out of the zone. If he's not going to lay off them, then that's the next best thing.