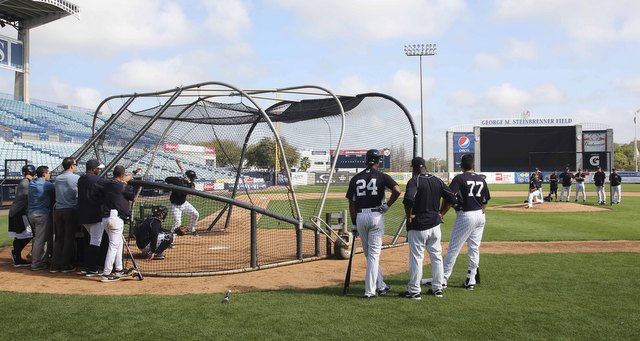 We are now a fortnight away from the first steps of the long journey that will be the 2017 baseball season. This has been a really boring offseason. Not just with the Yankees, all around the league. I'm ready for it to be over. Here are some thoughts for the meantime.
1. Know who I keep forgetting? Tyler Clippard. It keeps slipping my mind he's on the roster for some reason. When I think about the bullpen, I think Dellin Betances in the eighth and Aroldis Chapman in the ninth, Tommy Layne getting matchup work against lefties, and Adam Warren doing Adam Warren things. Really though, it's going to be Clippard in the seventh with Betances in the eighth and Chapman in the ninth. That's how Joe Girardi runs his bullpens. He assigns guys specific innings and rarely deviates. Clippard is a Proven Veteran™ who was quite good with the Yankees a year ago, so it make sense that he'll take over as the seventh inning guy. I don't love Clippard as a high-leverage reliever at this point of his career given his extreme fly ball tendencies and how much fastball he's lost since his prime, but he'll work fine as a seventh inning guy. The Yankees have a solid great back three in their bullpen plus the versatile Warren, and still two open spots for young pitchers. They won't have to push young kids into important roles right away. That's cool.
2. My bold bullpen prediction for 2017: Bryan Mitchell emerges as a trusted high-leverage option. I thought it would happen last year before the the toe injury. Alas. Mitchell will have a chance to win a rotation spot in Spring Training and he very well might win one, though at this point, I think he's better suited for the bullpen. He doesn't have a changeup — he's been working on it for years and years, and it's just not happening — and his control is just okay. That's why he had more walks (12) than strikeouts (11) in his limited big league stint a year ago. And he's sneaky not all that young anymore. Mitchell will be 26 in April. He worked out of the bullpen briefly in 2015 and during that time his fastball averaged nearly 97 mph. He topped out at over 99 mph, per PitchFX. My guess is Mitchell competes for a rotation spot in camp, doesn't get one, starts the season in the big league bullpen, and becomes a strikeout heavy reliever by airing it out and focusing only on his fastball/curveball combination. It could have happened last season if not for that stupid fluke toe injury.
3. Who's going to be the random "has a great Spring Training and everyone wants him on the Opening Day roster" guy this year? I guess we need to see the list of non-roster invitees first. I don't remember who it was last year (Kirby Yates, maybe?) but it happens every year. Jon Weber was the big name a few years back. Yangervis Solarte was the guy in 2014 and the fact he went on to have big league success added legitimacy to the whole "OMG this guy is having a big spring and needs to make the team!" phenomenon, which stunk for a while. Anyway, I'm going to go with … Ruben Tejada. He's going to get a good amount of playing time at short while Didi Gregorius is away at the World Baseball Classic, and I think he'll do enough at the plate in that time to convince folks he belongs on the roster and is better than Chase Headley. That seems completely possible.
4. I find it interesting teams are hiring recently retired pitchers as pitching analysts nowadays. Not pitching coaches, pitching analysts. They work with the stat guys and take that information to the pitching staff. As far as I know, the Red Sox started this trend when they hired Brian Bannister a few years ago. This offseason the Diamondbacks, who brought in several former Red Sox folks (Mike Hazen and Amiel Sawdaye) to run the front office, hired both Dan Haren and Burke Badenhop in pitching analyst roles. (Haren's official title is pitching strategist.) I'm guessing it's only a matter of time before more teams hire these pitching analysts. That's usually how this works. I'm not sure who the Yankees could bring in for this role. David Cone? He's into stats. Mike Mussina? Eh, Mussina seems perfectly happily living out his days away from baseball. It doesn't have to be a big name, remember. (Bannister and Badenhop sure aren't big names.) Maybe the answer is someone like Dustin Moseley. The Yankees hire a lot of ex-players as scouts and minor league coaches. How long until one of them becomes one of these pitching analysts?
5. The Cardinals escaped the hacking scandal with a relative slap of the wrist, I think. Per MLB, they have to pay the Astros $2M and send them their top two draft picks, which are their second (56th) and competitive balance (75th) round picks. (St. Louis gave up their first rounder to sign Dexter Fowler.) Two million bucks and two non-first round picks? That's nothing. Chris Correa, the former Cardinals front office employee who did the actual hacking, is currently serving 46 months in prison for what amounts to corporate espionage stemming from the scandal. MLB seems to be counting on the prison sentence acting as a deterrent, not the penalties they handed down on the Cardinals. I thought commissioner Rob Manfred was going to come down on St. Louis harder. I really did. He could have taken away future first round picks — they don't have to go to the Astros like the other picks, just take them away — and/or levied an even larger fine. This isn't like stealing signs on the field. The guy broke into another team's private database for a two and a half years, according to the court documents. Two little draft picks and a $2M fine? I'd feel pretty relieved if I were the Cardinals.