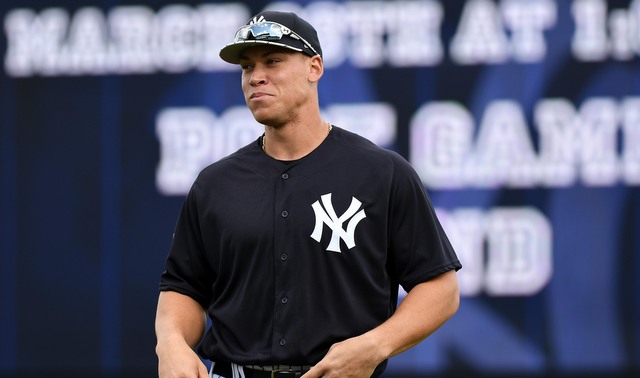 It wasn't until Saturday that position players were due to report to Tampa for Spring Training, though, like several others, outfielder Aaron Judge showed up to camp early. He spent the offseason working with hitting coach Alan Cockrell (and others?) on his lower half, and that work has presumably continued in Tampa in recent weeks.
A little more than a week ago videos hit Twitter showing Judge taking batting practice, and in those videos he had no leg kick whatsoever. Judge had a normal sized leg kick in 2015 and a much bigger leg kick in 2016. Now he was using no leg kick. I wrote an entire post about it. It seemed Judge had again tweaked his leg kick as part of his continued adjustments to big league pitching.
As it turns out, that was a false alarm. Judge has not changed his leg kick. Or at least he didn't eliminate it completely, as the videos suggested. Here's what Judge told Pete Caldera about his offseason work recently:
"Just kind of working on being consistent, repeat the swing, repeat the mechanics,'' Judge said of his offseason work. And he's not abandoning the left leg kick he adopted as a timing mechanism.

"Somebody posted a video about me that I was changing my stance,'' Judge said of his flat-footed stance earlier in workouts. "That was just kind of warming up, making sure my swing feels right.''
Well, so much for that, huh? Keep in mind this doesn't necessarily mean Judge hasn't changed his leg kick at all. It just means he hasn't eliminated it completely. That would have been a pretty drastic change. I was pretty shocked to see no leg kick when I first saw the videos. It sure seemed like a pretty big deal. That's what I get for jumping to conclusions.
Either way, leg kick or no leg kick, the goal for Judge remains the same. Win the right field job in Spring Training and keep it for the next six years. That's what the Yankees want to happen and I'm guessing that's what most fans want to happen. Judge, like every young player, is still figuring out what it takes to succeed at the big league level, and these continued lower half changes are part of that process.