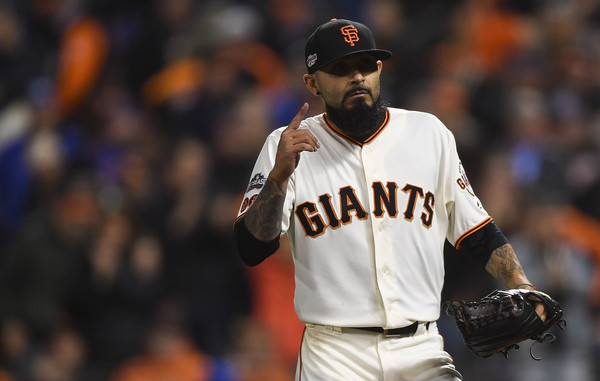 According to Jesse Sanchez, the Yankees made a "strong push" for free agent right-handed reliever Sergio Romo before he agreed to a one-year deal with the Dodgers over the weekend. Jon Heyman and Joel Sherman report the Yankees never did make a formal offer to Romo, who wanted to stay close to home on the West Coast anyway.
Romo, 34 in March, had a 2.60 ERA (3.80 FIP) with 28.2% strikeouts and 6.0% walks in 30.2 innings last year. He missed two months with a flexor strain, the same injury that sidelined James Kaprielian most of the season. Romo pitched in winter ball in Mexico this offseason to show teams he's healthy and effective. I've got some thoughts on this.
1. Romo is exactly the kind of pitcher the Yankees target. The Yankees are firm believers in DIPS Theory, which says pitchers should be evaluated based on things they control (strikeouts, walks, homers) and not so much on things out of their control (did the defense make the play?). That's good, though these days we know pitchers do have some control over the type of contact they allow (see: Michael Pineda giving up rockets despite a sexy FIP). The Yankees know that too.
Anyway, Romo has long been a guy with phenomenal strikeout and walk rates. From 2010-16, a span of seven seasons and 371.2 innings, he had a 2.70 FIP with a 29.0% strikeout rate and a 4.8% walk rate. That's the kind of pitcher the Yankees (and every team, really) loves. Lots of strikeouts and few walks. Furthermore, Romo has been throwing high-leverage innings for the Giants for the better part of a decade. He closed out a World Series (2012) and helped win two others (2010, 2014). The whole "how will this guy perform under pressure?" question has been answered.
2. Romo has his limitations at this point, however. Romo is not your typical reliever in that he never threw all that hard. His sinker sat in the upper-80s during his prime, and last year it was down to 85.9 mph on average. Romo succeeds by throwing his no-dot slider (GIF via Reddit)…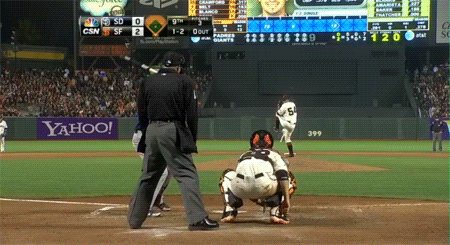 … a ton. I'm talking roughly 60% of the time in recent years. He pitches backwards. His slider sets up his sinker, not the other way around. The continued loss of velocity and the fact he's never been much of a ground ball guy (career 38.8%) gives Romo less margin for error nowadays. His 1.47 HR/9 and 13.9 HR/FB% last year were both career highs — that was in pitcher friendly AT&T Park too, remember — and over the last three seasons lefties (.362 wOBA) have had much more success against him than righties (.232 wOBA).
At this point of his career, with his best years almost certainly in the past, it's fair to consider Romo a middle innings right-on-right matchup guy, not a late-innings high-leverage option who faces batters on both sides of the plate. The presence of Aroldis Chapman and Dellin Betances ensured Joe Girardi wouldn't have had to use Romo as a high-leverage reliever. The Yankees didn't sign him though, so it doesn't matter anyway. Whatever.
3. The Yankees are still looking for help. This became clear when they signed Chris Carter. The Yankees hadn't done anything of note since (re-)signing Chapman during the Winter Meetings, but that didn't mean they weren't trying to improve the roster. I mean, I don't think anyone seriously believed they stopped trying to get better. Their interest in Romo is a reminder that they remain engaged in the market though.
The free agent market has little to offer at this point, so even though the Yankees were willing to spend X on Romo, it doesn't necessarily mean they will turn around and spend it on someone else now. (Heck, that money may have gone to Carter.) I'm not even sure who they could go after. Joe Blanton? Travis Wood?? Those fellows represent the best available free agent arms right now, at least among guys who finished the season healthy. The Yankees want to get better and they did with Carter. There just aren't many other ways to do it right now.