For the first time I can remember, a Steinbrenner has backed off the "World Series or bust" mantra. While speaking to
David Lennon
earlier this week, Hal Steinbrenner said the Yankees have the potential to be a postseason team in 2017. Not exactly a glowing endorsement, but hey, give Hal points for honesty. Here's some stuff to check out as we wait for Spring Training to begin.
Otani won't play in Arizona, WBC
Shohei Otani, the best non-MLB player in the world, will not play in Arizona with the Nippon Ham Fighters this month or the World Baseball Classic next month, reports the Kyodo News. Otani is nursing a nagging ankle injury. There was some hope he would be able to DH in the WBC, but nope. He's being removed from Japan's 28-man roster entirely. They don't want to push it.
The (Ham) Fighters are scheduled to hold Spring Training in Arizona at the Padres' complex for the second straight year. It was going to be a great chance for MLB clubs to get their eyes on Otani, even the Spring Training version of him, right in their own backyards. Now they'll have to wait for the regular season, and, to be fair, they were going to scout him during the regular season anyway. They just won't get an early start in camp or the WBC.
The biggest question remains whether Otani will actually come over to MLB next season. Reports indicate he will, but the new international hard cap means his earning potential will be severely limited. He could wait three years until he turns 25, make good money in Japan in the meantime, then come over when he's no longer subject to the hard cap. We'll see.
MLB unveils new Spring Training caps
Last week we got a sneak peak at the Yankees' new Spring Training caps, and yesterday morning, MLB made it official. The pinstriped brim is part of this year's Grapefruit League ensemble. Thankfully the team's road cap is much more … normal.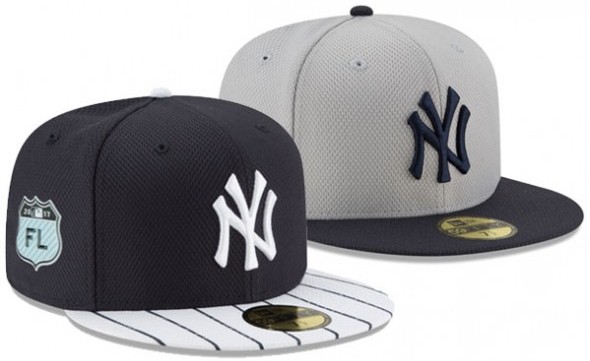 Well, I don't think I'll be running out to buy either one of those. Whatever. The jerseys, thankfully, look like normal Spring Training jerseys. You win some and you lose some.
A-Rod's coming to camp … twice
Earlier this week Steinbrenner confirmed Alex Rodriguez will serve not one, but two stints this spring as a guest instructor, according to Lennon. They haven't yet mapped out a plan for the regular season, however. A-Rod's official title is special advisor, though he's really more like a special instructor, going around and working with various prospects. What are the chances Gleyber Torres will be Rodriguez's pet project this year, 90%? I'll take the over.
Fowler is Law's sleeper prospect
Yesterday Keith Law (subs. req'd) wrapped up his annual prospect rankings package by naming one sleeper prospect for each team. He defines a sleeper as a prospect "not in the current top 100, but I think they have a good chance to take a big leap forward during 2017, ending up not just in the top 100 but also somewhere in the middle to upper reaches of it." Outfielder Dustin Fowler is his pick for the Yankees.
Fowler has the right mix of ability, some performance and youth to end up squarely in the top 100 next winter. Teenage prospects such outfielder Estevan Florial or shortstop Wilkerman Garcia are probably a year from that kind of status.
Pretty much the only thing Fowler doesn't do is walk, and while minor league walk rates aren't very predictive, the scouting report says he is a bit of a free swinger. With a little more patience, Fowler could develop into a 20-20 center fielder with solid on-base percentages. And it's not even clear he is one of the ten best prospects in the organization right now. Wild.