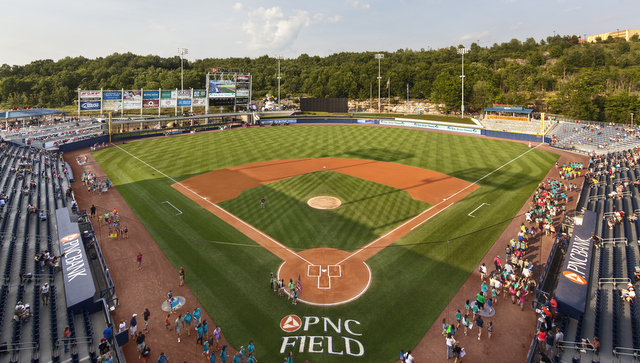 Over the last few seasons the Yankees and every other team in baseball have begun to use their Triple-A affiliate as an extension of their big league roster. They not only send relievers up and down whenever a fresh arm is needed, they'll also shuttle platoon players in and out based on upcoming pitching matchups. Clubs look for every advantage possible, and these days that means having MLB and Triple-A roster flexibility.
The Yankees have built an exceptional farm system with many high-caliber prospects ticketed for Triple-A. They also have several big league roster openings with young players slated to compete in Spring Training. The refreshing emphasis on youth means projecting the 2017 Triple-A Scranton roster is damn near impossible, but that won't stop me from trying. I do this every winter and I ain't stoppin' now.
Now that the non-roster invitees have been announced, let's try to figure out what the RailRiders' roster will look like on Opening Day. After all, these players are depth players for the Yankees, and inevitably we're going to see many of them in MLB at some point. The top prospects get all the attention, understandably, but don't sleep on the Chris Parmelees and Anthony Swarzaks of the world either. Those guys have a way of finding themselves in the Bronx.
Let's begin by looking at position player candidates for the Triple-A Scranton roster. An asterisk (*) denotes the player is on the 40-man roster, which, in this situation, is kind of a big deal.
| Catchers | Infielders | Outfielders | Utility |
| --- | --- | --- | --- |
| Kyle Higashioka* | Greg Bird* | Aaron Judge* | Tyler Austin* |
| Wilkin Castillo | Ronald Torreyes* | Mason Williams* | Rob Refsnyder* |
| Francisco Diaz | Ji-Man Choi | Jake Cave | Tyler Wade |
| Kellin Deglan | Cito Culver | Dustin Fowler | |
| | Mike Ford | Clint Frazier | |
| | Pete Kozma | | |
| | Donovan Solano | | |
| | Ruben Tejada | | |
I have 20 position players in the table and these days Triple-A rosters run 25 players deep. As recent as 2011, Triple-A and Double-A teams fielded only 24-man rosters. For real. It is not at all uncommon for Triple-A clubs to carry eight-man bullpens, especially early in the season when pitchers are still getting in the swing of things and also having their workloads monitored. We need to pare that list of 20 players down to 13 or even 12.
Catchers: Barring injury, the Yankees are set with Gary Sanchez and Austin Romine behind the plate at the big league level. Romine did an okay job as the full-time backup last year, and while I wouldn't completely rule out Higashioka winning the job in camp, it would surprise me. Remember, Romine is out of minor league options, which means if he's not the backup catcher, he's out of the organization. (Even if he clears waivers, he'd likely elect free agency and look for a big league opportunity elsewhere.)
The odds are strongly in favor of Romine backing up Sanchez with Higashioka biding his time as the third string catcher in Triple-A. The real question is who will back up Higashioka? Castillo seems like the safe bet considering he's a 32-year-old journeyman with (a little) big league experience and a ton of Triple-A experience. Diaz has two games of Triple-A experience and that's it. Deglan has barely played above Single-A. Those two figure to be the Double-A Trenton catching tandem with Higashioka and Castillo in Scranton. That's two of our 12 position player roster spots.
Infielders: Austin, Bird, and Refsnyder are essentially competing for two big league roster spots: the first base job and a bench job. Everyone wants Bird to win the first base job, including the Yankees themselves. But, if he needs more time to shake off the rust following shoulder surgery, a return trip to Scranton could very well be in the cards. Either way, one of these three players figures to start the season with the RailRiders while the other two are with the Yankees. My guess is Refsnyder winds up in Triple-A, but who knows. Three of our 12 Triple-A roster spots are now taken.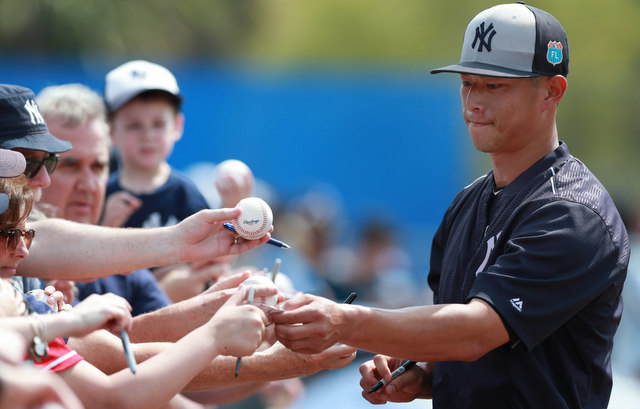 Solano, Tejada, and Torreyes will all compete for the big league reserve infielder's job in Spring Training, or at least appear to compete for the job. Maybe even Kozma too. Torreyes not only filled the role admirably last season, he's also on the 40-man roster and the other three are not. That's one heck of a tiebreaker. Torreyes can be sent to Triple-A, he has options remaining, it's just hard to think he could lose the bench job in Spring Training. Lil' Ronnie in the show with the other three in Scranton seems to be the most likely outcome here. That's six Triple-A roster spots accounted for now.
Choi has big league time and while I suppose it's not completely impossible he wins the big league first base job should Bird need more time in Triple-A, I'd bet against it. The big league service time all but ensures Choi will start the season in Scranton, not Double-A Trenton. That figures to spell bad news for Ford, who has played only 42 career games at the Double-A level. Hard to think the Yankees would send two pure first basemen to Scranton. Choi is position player number seven.
Before we found out the Yankees re-signed Kozma, the final Triple-A infield spot came down to Culver or Ford. Now neither of them figures to get a Triple-A roster spot. They'll likely have to go back to Double-A to begin the season. Either that, or the RailRiders will carry a six-man bullpen, and there's no chance of that happening.
Outfield: In a roundabout way, Judge and Williams are competing for one big league roster spot. Judge will be given every opportunity to win the starting right field job, but if the Yankees determine he's not ready for it, he could wind up back in Triple-A. In that case, Aaron Hicks would presumably take over in right field and Williams would get the fourth outfielder's job. I suppose it could go to Refsnyder or Austin, but I think the Yankees would want an actual outfielder on the bench. There's the eighth position player. (Hicks, by the way, is out of options and can't be sent to Triple-A.)
Frazier is a Triple-A lock because he reached the level last season and is a priority guy as a top prospect. The Yankees aren't going to send him to Double-A to clear a roster spot because Culver has tenure in the organization or anything like that. Fowler is another high-end prospect who had a successful season at Double-A in 2016, so an assignment to Triple-A is the natural order of things. Cave is a Triple-A veteran and the logical candidate for the fourth outfield spot. Frazier, Fowler, and Cave are position players nine, ten, and eleven.
Utility: I listed Austin and Refsnyder as utility players only because they can play the infield and outfield. They were already covered in the infield section. Wade, who is primarily an infielder but started working out in the outfield in the Arizona Fall League, had a solid Double-A season a year ago, so, like Fowler, an assignment to Triple-A makes sense. Wade is out 12th and final Triple-A position player.
Let's quickly recap everything we just went through:
Catchers (2): Higashioka and Castillo
Infielders (4): Choi, Kozma, Solano, and Tejada
Outfielders (4): Cave, Fowler, Frazier, and either Judge or Williams
Utility (2): Wade, and one of Bird, Austin, or Refsnyder
That's a dozen position players right there, and I suppose if the RailRiders open the season with a normal seven-man bullpen, either Culver or Ford would make the team as the 13th position player. Probably Culver. I still expect an eight-man bullpen, at least initially.
The perfect world scenario for the Yankees is Bird and Judge winning the first base and right field jobs, respectively, and Austin beating out Refsnyder for a bench spot. So, assuming that happens, here are the projected Triple-A position players, with a batting order written out because why not?
1. SS Tyler Wade
2. CF Dustin Fowler
3. LF Clint Frazier
4. DH Rob Refsnyder
5. C Kyle Higashioka
6. 3B Donovan Solano
7. 1B Ji-Man Choi
8. 2B Ruben Tejada
9. RF Mason Williams
Bench: C Wilkin Castillo, IF Pete Kozma, OF Jake Cave
The batting order is just for fun. Don't take it to heart. Remember, players are going move around. Refsnyder won't always DH. Wade will undoubtedly see some time in the outfield. Frazier and Williams will probably see time in all three outfield spots. Heck, Solano and Tejada will probably roam around the infield too. These things are very fluid. That, however, is the projected Triple-A Scranton group of position players based on everything we know at the moment. Now let's get to the pitchers.
| Starters | Righty Relievers | Lefty Relievers |
| --- | --- | --- |
| Luis Cessa* | Johnny Barbato* | Richard Bleier* |
| Dietrich Enns* | Gio Gallegos* | Chasen Shreve* |
| Chad Green* | Ben Heller* | Joe Mantiply |
| Ronald Herrera* | Jonathan Holder* | Jason Gurka |
| Bryan Mitchell* | J.P. Feyereisen | Evan Rutckyj |
| Luis Severino* | Mark Montgomery | |
| Chance Adams | Matt Wotherspoon | |
| Daniel Camarena | | |
| Kyle Haynes | | |
| Brady Lail | | |
| Jordan Montgomery | | |
Lots of pitchers. Lots and lots of pitchers. There are 23 of 'em in the table, and if that sounds like a lot, consider the RailRiders used 37 different pitchers last season, including 22 different starters. They used 45 pitchers and 24 different starters in 2015. So yeah, 23 pitches in the table seems like a lot, but it's maybe half as many as Scranton will need to get through the season. Before you know it they'll be signing Phil Coke out of an independent league again. That's baseball, yo.
Rotation: At the moment, the Yankees have to two open big league rotation spots, which Brian Cashman & Co. insist will go to two young pitchers. Cashman has specifically singled out Cessa, Green, Mitchell, and Severino as the candidates for those jobs. (Adam Warren too, but I don't think he'll actually open the season in the rotation unless all hell breaks loose in camp.) My money is on Severino and Cessa getting the rotation spots. We'll see.
In theory, the Yankees would send the two losers of the rotation competition to Triple-A, where they would bide their time until they need another starter in the Bronx. Sounds simple enough. That's not necessarily how it will work though. In 2014 the Yankees held a three-way competition for the long reliever job — not even a rotation spot, the long reliever spot — between Warren, David Phelps, and Vidal Nuno. The Yankees ended up carrying all three on the Opening Day roster because they were the best men for the job.
Who's to say that, if Cessa and Severino were to win the two rotation spots, that Green and Mitchell wouldn't be in the bullpen? That really complicates things and is why I included guys like Haynes and Lail in this exercise. More than a few of those 40-man roster Triple-A rotation candidates could wind up in the big league bullpen, creating a need for starters in Scranton. Geez, that's a mouthful.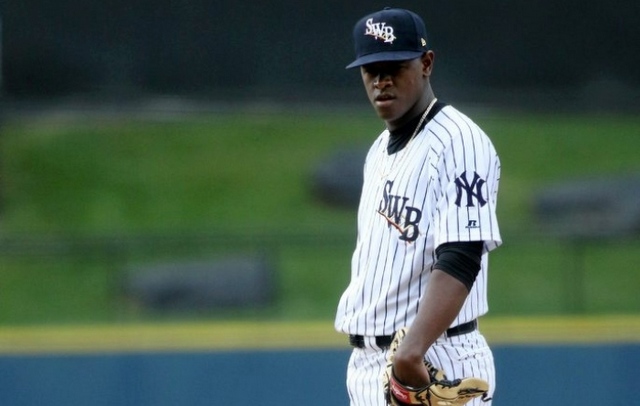 Anyway, this is what I think will happen: two of the Cessa/Green/Mitchell/Severino quartet get big league rotation spots and a third winds up in the bullpen as the long man. The fourth goes to Scranton as the de facto sixth starter. That means, based our table, we're left with seven candidates for the four remaining Triple-A rotation spots: Adams, Camarena, Enns, Haynes, Herrera, Lail, and Montgomery.
Two of the four spots are easy. They'll go to Adams and Montgomery, two of the better pitching prospects in the organization, both of whom are ready for Triple-A. (Montgomery thrived there in his brief stint last year.) Enns and Herrera are on the 40-man roster, which could give them a leg up for the final two Triple-A rotation spots. I do wonder whether the Yankees will move Enns to the bullpen since that's likely his ultimate destination.
For now, I'm guessing Enns remains a starter, meaning Scranton's five-man rotation to start the season will be, in whatever order, Adams, Enns, Herrera, Montgomery, and one of Cessa, Green Mitchell, or Severino. That leaves Camarena, Haynes, and Lail out in the cold. The projected Double-A rotation is pretty stacked (Ian Clarkin, Josh Rogers, Justus Sheffield, etc.) so it's not as simple as bumping them down a level. Hmmm.
Bullpen: Right now, the Yankees have five big league bullpen spots accounted for: Aroldis Chapman, Dellin Betances, Tyler Clippard, Tommy Layne, and Warren. Layne is out of options, so if he doesn't make the big league bullpen, he's probably out of the organization. No Triple-A for him. I assumed in the previous section one of the four young starters winds up in the bullpen, which means six of seven big league bullpen spots are accounted for in this little exercise.
I have 12 relievers in the table plus Camarena, Haynes, and Lail to consider, so that's 15 pitchers total. One of those 15 is going to get the final big league bullpen spot, so it's really 14 pitchers for eight Triple-A bullpen spots. In all likelihood one of the 40-man roster guys will get that last bullpen job with the Yankees. It doesn't really matter which one, specifically. My money is on Bleier because the Yankees really seem to like him, but ultimately the name doesn't matter.
Why doesn't it matter? Because there are six 40-man relievers in that table, and whichever ones don't get that final MLB bullpen spot will wind up in Triple-A, no questions asked. None of 'em are going to Double-A. That's five Triple-A bullpen spots accounted for already, which leaves us nine pitchers for the final two or three bullpen spots (depending whether they carry a seven or eight-man bullpen): Camarena, Feyereisen, Gurka, Haynes, Lail, Mantiply, Montgomery, Rutckyj, and Wotherspoon.
The Yankees signed Gurka as a minor league free agent earlier this offseason and he has some big league bullpen time with the Rockies, so I think he gets a Triple-A bullpen spot. Cashman talked up Mantiply at the town hall two weeks ago and he has a tiny little bit of big league time too, so I think he gets a Triple-A bullpen spot as well. If the RailRiders employ an eight-man bullpen — and to be clear, the Yankees make that decision, not the RailRiders — I think it would be Feyereisen. Just a hunch. Camarena, Haynes, Lail, Montgomery, Rutckyj, and Wotherspoon end up in Double-A for the time being. (One or two might even get released.)
Alright, so after all of that, my projected 13-man Triple-A Scranton pitching staff shakes out like this:
Rotation (5): Adams, Enns, Herrera, Montgomery, and one of Cessa, Green, Mitchell, or Severino.
Bullpen (8): Feyereisen, Gurka, Mantiply, and five of Barbato, Bleier, Gallegos, Heller, Holder, or Shreve.
After going through all of that, I must point out the odds are strongly in favor of this post being a complete waste of time. Guys are going to get hurt in Spring Training, released before the end of camp, whatever. These things change and they change a lot. Trying to project the Triple-A Opening Day roster in late January is a fool's errand, so I guess that makes me a fool.
I still think it can be instructive to go through this exercise each year, even though it's prone to blowing up in my face. It's good to get an idea of how the Triple-A roster will shake out, see where the Yankees have depth, and who the call-up candidates are at any given moment. I have a tendency to forget about Herrera, personally. Laying this all out is a good reminder that hey, he's probably going to be in the Scranton rotation. So even though this is all very subject to change, I think we get a good grasp of what the Triple-A roster may look like come April.