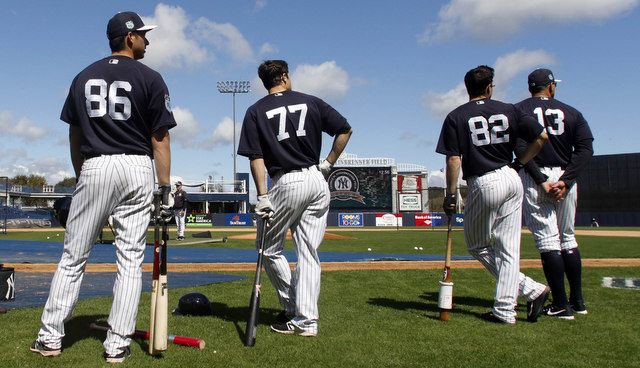 Yesterday's Grapefruit League opener sure was fun, wasn't it? Aaron Judge cranked a monster homer, Clint Frazier and Miguel Andujar both did some exciting things, and of course the Yankees won. That's always cool, even in Spring Training. This afternoon the Yankees are on the road for the first time this spring, and they brought some big time prospect firepower with them to Clearwater.
A few things to watch today: Greg Bird! He's playing again. First base too. The shoulder must be feeling good if he's playing back-to-back days in the field. We'll also get to see Chris Carter in a Yankees uniform for the first time. Will he be able to one-up Judge's homer from yesterday? That'd be cool. Also, natural shortstop Tyler Wade will play center field off the bench as the Yankees continue to turn him into a super utility player. Here is the Phillies lineup and here is the Yankees lineup:
2B Ronald Torreyes
C Austin Romine
1B Greg Bird
DH Chris Carter
RF Aaron Judge
LF Clint Frazier
3B Miguel Andujar
SS Gleyber Torres
CF Dustin Fowler
RHP Adam Warren
Available Pitchers: LHP Dietrich Enns, LHP Daniel Camarena, RHP Ben Heller, LHP Joe Mantiply, and RHP Jonathan Holder are all scheduled to pitch after Warren. RHP Johnny Barbato, RHP J.P. Feyereisen, RHP Brady Lail, and RHP J.R. Graham are also available.
Available Position Players: C Kellin Deglan, 1B Rob Refsnyder, 2B Jorge Mateo, SS Pete Kozma, 3B Donovan Solano, LF Ji-Man Choi, CF Tyler Wade, RF Billy McKinney, and DH Jorge Saez will be the second string off the bench. UTIL Wilkin Castillo and C Francisco Diaz drew the short straws and had to make the road trip even though they aren't scheduled to play.
The weather is pretty excellent in Clearwater. A little cloudy with temperatures in the mid-70s and a cool breeze. Can't beat it. First pitch is scheduled for a little after 1pm ET today. If you're in the Phillies' home market, you can watch the game on CSN Philly. Otherwise MLB.tv is your only option. There's no YES broadcast and MLB Network isn't showing the game live either. Enjoy.