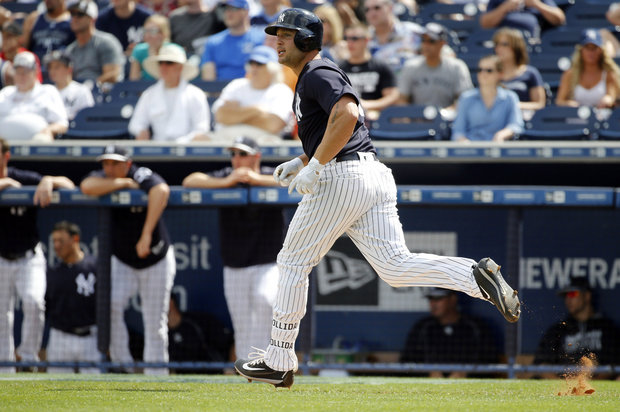 Insert cliche about anticipation here. As we've been over since the last out of the World Series was recorded, we're ready for baseball to begin again, aren't we? That snowstorm last week may have made us feel trapped in winter for a few days, but the calendar is ticking away and we're getting closer to Opening Day. The end of the WBC this week will likely speed things up as well, as it feels like a hill that needs to be conquered before we speed to the real season (but definitely a fun hill at that!).
The Yankees this year are somewhat up in the air. No one's really expecting them to do anything much in the way of competing–myself included–but you can't help but dream with all the potential on the team. Frankly, this is a best-of-both-worlds scenario and part of why I'm so looking forward to this season. If the Yankees are 'bad,' well, so be it. At least there are a bunch of young, exciting guys to watch. If they happen to compete? Awesome! An unexpected surprise. Even though I'll watch and listen to most every game and definitely care in the moment, on a macro level, this season is going to be the epitome of Joe's old maxim of Zen Baseball: just relax and enjoy it.
Regardless of that, curiosity's got the best of me, so I wanted to take a look at what we might be in store for in 2017. We've already taken a look at ZiPS, so let's try our hand at the Steamer projections for the Yankees.
Leading things off, Gary Sanchez paces the team in fWAR projection. Steamer projects him for 3.6 fWAR this year. Didi Gregorius follows him at 2.2 and Chase Headley rounds out the top three at 2.0. I was a bit surprised to see Headley at the third position, but Steamer likes his defense a lot and pairing that with near average offense (96 wRC+) gives him a solid projection. I'd sign up for that from Headley in a heartbeat.
In terms of wRC+, Steamer gives the nod to Greg Bird, projecting him for a 123 mark, just a head of Matt Holliday at 121 and Sanchez at 118. All in all, Steamer projects six Yankees to be over 100 in terms of wRC+: those three as well as Brett Gardner (101), Aaron Judge (106), and Chris Carter (107). Last year, only Brian McCann (103), Carlos Beltran (135), and Sanchez (171) were above average for the team in a significant number of plate appearances. That, frankly, is a breath of fresh air. It doesn't mean this stuff will actually happen, but that would be a welcomed sight after last year's mostly disappointing offense.
In terms of counting stats, Sanchez is projected to lead the team with 27 homers, then Bird at 23, followed by Carter at 22, though in limited playing time. Steamer also has Judge at "only" 17 homers, but also with under 400 PA. Adjusting him up to 500 PA gets him in the neighborhood of 22-23.
Regarding homers, there was one thing I wanted to touch on: Didi Gregorius's total. It seems him dropping to 15 and, call it a silly gut feeling, but I think that's about right. Didi did add some power last year, but I'm not sure 20 homers is going to be the norm for him. If he drops lower than 15, too, that's fine, given his defense. I think 10-15 is more where he's going to live, not 15-20, or even more.
Overall, Steamer seems to like the Yankee offense, at least as an improvement over last year's team. ZiPS is definitely more bullish on Judge–projecting him to hit 30 homers–but Steamer seems to have the playing time distribution down better, excepting Judge being part-time. We've got to remember that projections aren't predictions. We should use them to guide expectations, a starting point rather than an ending one. Regardless, things are looking up for the Yankees at the plate. It may not be a return to full on Bronx Bombers status, but it's a step in the right direction.