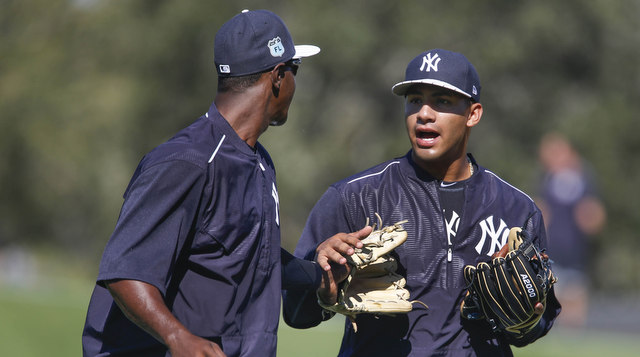 Everything in baseball is trending toward using pitchers less and less. Starters don't throw nearly as many innings as they once did — only 15 pitchers reached 200 innings in 2016, ten years ago 38 guys did it — and relievers are becoming increasingly specialized. Every team has a one-inning setup man, a left-on-left matchup guy, players like that. Individual workloads are declining even though the season is still 162 games long.
It feels like only a matter of time until six-man rotations or eight-man bullpens (or both?) become the norm, so much so that MLB and the MLBPA reportedly considered expanding rosters to 26 players during the most recent Collective Bargaining Agreement negotiations. I'd bet on it happening during the next round of CBA talks. Point is, teams are using more pitchers than ever before, and there's no reason to think that trend will reverse anytime soon.
As a result, benches are getting shorter and super utility players, guys who can play three or four positions rather than one or two, are increasingly more valuable. Ben Zobrist is the poster boy for the super utility movement. Others like Brock Holt and Sean Rodriguez fit the mold as well. The Yankees, like everyone else, have been looking for such a player. That's one reason Rob Refsnyder has moved around so much, and why Ronald Torreyes has seen time in the outfield this spring.
I thought the Yankees would try to turn Dustin Ackley into a super utility player when they acquired him two years ago, but alas. It didn't work out. Why? Because he couldn't hit. That's what makes this super utility business so tough. You're asking a player to be competent defensively at several positions and hit well enough to deserve a lineup spot. That's hard! Playing one position is difficult. So it hitting.
Now though, the Yankees have a chance to develop a super utility player like Zobrist (or, to a lesser extent, Holt or Rodriguez) because of their shortstop depth. Seven of my top 30 prospects are shortstops …
1. Gleyber Torres
7. Jorge Mateo
10. Tyler Wade
17. Hoy Jun Park
18. Wilkerman Garcia
26. Kyle Holder
27. Thairo Estrada
… and that doesn't include other shortstop prospects like Abi Avelino, Oswaldo Cabrera, and Diego Castillo, all of whom would have made my top 30 list in a "normal" year. Shortstops are typically the best athletes and thus the best candidates to move to other positions. Zobrist was a natural shortstop. So were Holt and Rodriguez. And Torreyes. And other internal utility candidates like Pete Kozma and Ruben Tejada.
Sure enough, the Yankees are already making sure their shortstop prospects spend time at other positions to increase their versatility. Torres has seen time at second. Mateo has played second in addition to short, plus he's working out at third base and in center field. Wade was introduced to the outfield in the Arizona Fall League and he's played short, third, left, and center already this spring. Park, Garcia, Holder, and Estrada have seen time all around the infield in the minors.
The other component here, as I mentioned earlier, is the offense. A super utility player is only super if he can hit. Otherwise he's just a bench guy you're looking to replace. Torres projects as an impact middle of the order hitter. Mateo has the tools to be a dynamic offensive player at well, thanks largely to his speed. Wade has no power, but he makes the contact and will draw walks, which is essentially the Holt skill set. There are varying levels of offensive upside here.
We're used to seeing the Yankees give their veteran players extra rest whenever possible, creating a need for a strong bench and a super utility type. Now, even with the youth movement in full swing, having a super utility guy to give the regulars rest is still useful. The more you can help your players stay fresh and avoid fatigue, the more productive they'll be. If that means 550 plate appearances across the 162-game season rather than 650, so be it. That means your players will be that much closer to midseason form in the postseason.
Of course, one reason the Yankees have the luxury of moving their young shortstop prospects around is Didi Gregorius. He's established himself as a starting caliber big league shortstop these last two seasons. If that weren't the case and the Yankees were still looking for Derek Jeter's long-term replacement, they might not be soon keen on moving their young shortstops around. Gregorius helps makes this super utility talk possible.
Given the way pitching staffs are used these days, super utility players are becoming a necessity, not a luxury. The Yankees have been hoarding shortstop prospects because they're the best athletes and often have the broadest skill sets. So, in addition to being good shortstop prospects, they're also candidates for a super utility role. There's no stigma to being a utility guy now. They're highly sought after and quite valuable.