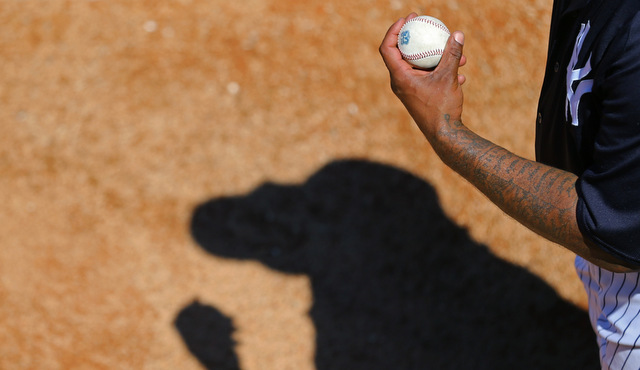 Only one week of meaningless baseball remains. The Yankees will play their final exhibition game one week from today, and Opening Day is one week from Sunday. Thank goodness for that. Spring Training is fun in it's own way, but I'm pretty much over it at this point. Bring on real baseball.
Anyway, CC Sabathia is on the mound this afternoon making his fourth Grapefruit League start. He's allowed nine runs in 6.2 innings so far, though Sabathia never seems to have a good spring. Only once in the last six years and twice in the last eight years had he had a sub-5.00 ERA in Spring Training. Shrug. Here is the lineup the Phillies sent over, and here are the players the Yankees will use today:
LF Brett Gardner
C Gary Sanchez
2B Starlin Castro
DH Matt Holliday
1B Chris Carter
3B Chase Headley
CF Aaron Hicks
RF Aaron Judge
SS Ronald Torreyes
LHP CC Sabathia
Available Pitchers: RHP Luis Severino, RHP Dellin Betances, and LHP Jon Niese are all expected to pitch today. (LHP Tommy Layne and RHP Ben Heller are both on the lineup card, but Shane Hennigan says they threw in a minor league game this morning.) RHP Gio Gallegos, RHP Matt Marsh, LHP Josh Rogers, RHP Eric Ruth, and LHP Nestor Cortes are all up from minor league camp to serve as the extra arms.
Available Position Players: C Austin Romine, 1B Wilkin Castillo, 2B Tyler Wade, SS Ruben Tejada, 3B Pete Kozma, LF Rob Refsnyder, CF Rashad Crawford, and RF Trey Amburgey will be the second string off the bench. C Radley Haddad, IF Donovan Solano, and IF Abi Avelino are the extra players. Amburgey, Haddad, and Avelino are up from minor league camp.
It's a little cloudy in Tampa this afternoon, though the weather is plenty good enough for baseball. This afternoon's game will begin at 1:05pm ET, and you can watch on YES. There's also MLB.tv and the FOX Sports Go app. Enjoy the game.