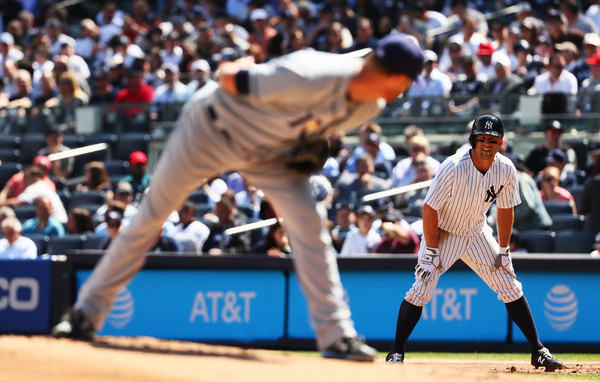 For the third time in the first nine days of the 2017 season, the Yankees have an off-day today. This one is a happy off-day. They won the home opener convincingly yesterday, one day after rallying late to beat the Orioles in Camden Yards. The Yankees are 3-4 through their first seven games of the new season. Not great, but considering they were nine outs away from a 1-5 record through six games fewer than 48 hours ago, I'll take it.
The first week of the season is the best time to watch baseball because woo baseball's back! We've been waiting all winter for this. The first week is also the worst time to analyze baseball because the sample sizes are tiny. Our eyes lie to us these first few days. Not everything needs a large sample size though. We can make some observations after only seven games, and I'm going to do that right now. Here are five things, in no particular order, we've learned about the 2017 Yankees through the first week of the new season.
The new Sabathia is sustainable
Seven games into the season, CC Sabathia has been unquestionably the best starter in the rotation, allowing three runs total in eleven innings in his two starts. He chucked five shutout innings in his first start and allowed three runs in six innings next time out, and both starts were reminiscent of last season. Sabathia danced in and out of danger and did a nice job limiting hard contact. The Orioles got to him with a bunch of soft line drives to the shallow outfield Sunday.
Last year the 36-year-old Sabathia reinvented himself after being wholly ineffective from 2013-15, mostly by adding a cutter and doing a better job neutralizing right-handed batters. Those two things are not mutually exclusive. Sabathia is having more success against righties because of the cutter. He's always been good against lefties — he's not as effective as he once was against them, but he's still able to keep them in check — but righties hit him hard the last few years. We're talking .304/.363/.502 (.370 wOBA) in 2015. Yikes.
MLB switched from PitchFX to Trackman this season and there have been some pitch classification issues early on — I had an entire Dylan Bundy post at CBS get borked by classification issues — so for some reason Sabathia's cutters are being classified as four-seamer fastballs. Watching the games though, you can see he's throwing a cutter, not a straight four-seamer. Here's how he's pitched righties through two starts, via FanGraphs (view is from the catcher's perspective):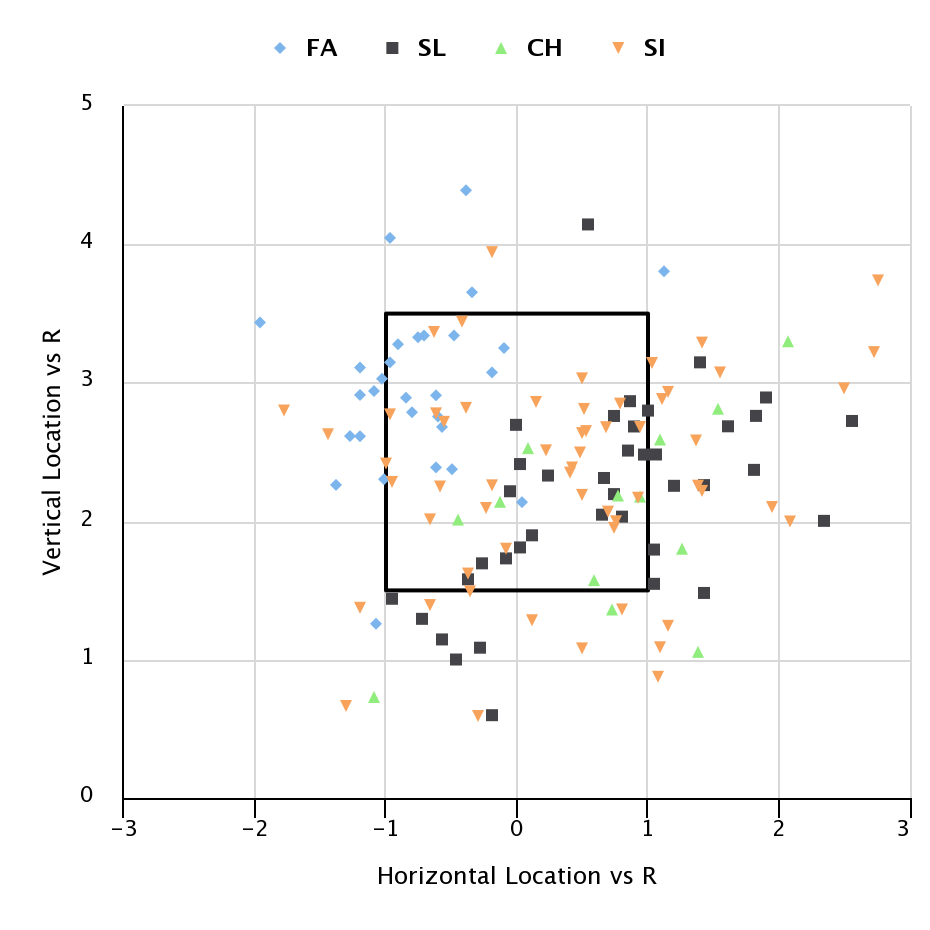 Cutters — four-seamers according to Trackman, but nah — inside and everything else outside. Same as last year. And it's working too. Sabathia has had two solid starts and he's held righties to a .212/.333/.212 (.266 wOBA) batting line early on. (He won't be that good against righties all season, obviously.) That Sabathia has already been able to carry over last season's approach and success is encouraging. His days as an ace are over. We know that. Based on last season and the first two starts this year, Sabathia can still be a serviceable big league starting pitcher.
Gardner will be more aggressive on the bases
Over the last four seasons Brett Gardner's stolen base totals have fallen from 24 to 21 to 20 to 16. His stolen base attempts have declined from 32 to 26 to 25 to 20. Gardner is 33 now and players that age typically don't run as much as they did earlier in their careers, but you can't help but shake the feeling he (and Jacoby Ellsbury, for that matter) is capable of more on the bases.
"I definitely think we should be more aggressive and I need to be more aggressive. Not only hopefully do a better job of getting on base but when I do, I'm going to run a little more often, for sure," said Gardner to Brendan Kuty back in Spring Training. And through seven games, Gardner has five steals in five attempts. He didn't steal his fifth base until the team's 27th game last year, and it wasn't until the 36th game that he stole his sixth base.
Furthermore, Gardner is running early in the count. He's had an annoying tendency to wait and wait and wait before stealing a bag, rather than going early and giving the hitter a better chance to drive him in. Gardner has stolen all five bases on the third pitch of the at-bat this year. You'd like him to go first or second pitch, but going on the third pitch is better than going fifth or sixth pitch, you know? He said he was going to be more aggressive on the bases and we've seen it so far.
"I talked to (Gardner) in Spring Training. Gave him a goal, basically," said Joe Girardi following yesterday's game. "Your job is to score 100 runs, and I don't care how you get to the next base, but your job is to score 100 runs. If you do that, and Ells can do that, we're going to have a pretty good offense. He's run a lot, he's swung the bat extremely well, he's played defense extremely well, so he's off to a great start."
Ellsbury, meanwhile, has only one steal so far, but it was kind of a big one. He pinch-ran for Matt Holliday in the ninth inning of a tie game Sunday, and stole second on the very first pitch. Again, Gardner and Ellsbury are both 33 and will soon be 34. Their days of stealing 40+ bases a year are probably over. Speed typically doesn't age well. They do seem to be capable of more than their 36 combined steals last season though, and they're off to a nice start on the bases in 2017, especially Gardner.
Judge is adjusting to MLB pitching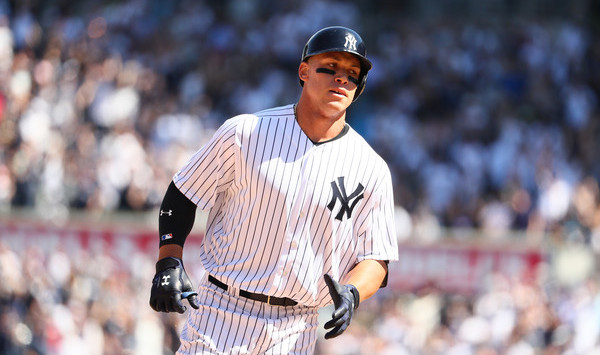 The overall numbers are pretty awesome thus far: .261/.320/.565 (150 wRC+) with a double and two home runs. It's still early, of course. More important than the raw numbers these first 25 plate appearances is how much more comfortable Aaron Judge looks so far this year compared to last year. Last season, when he fell into a two-strike count, Judge was basically in survival mode. Pitchers picked him apart and the result was a 44.2% strikeout rate.
So far this year Judge has struck out six times in 25 plate appearances, a 24.0% rate, and his approach looks so more better. He's not chasing out of the zone as often. He's doing a much better job laying off those breaking balls down and away, the pitch that gave him such a hard time time in 2016. Judge also isn't swinging and missing at pitches in the strike zone nearly as much. Here are the quick numbers, which come with big ol' sample size warnings:
Judge in 2016: 34.9% chase rate and 74.3% contact rate in the zone
Judge in 2017: 25.5% chase rate and 92.3% contact rate in the zone
MLB averages 2016-17: 30.8% chase rate and 86.4% contact rate in the zone
All throughout his career Judge's tendency has been to struggle initially when he gets to a new level, then adjust and have success. He struggled big time last season after being called up. Sure, he mashed some long home runs, but the strikeouts piled up and were a major concern. How could they not be? We've yet to see that version of Judge this year, the one who can't make contact. He's provided some nice punch from the bottom third of the lineup.
"I think it's important he contributes," said Girardi yesterday. "Being a young player can be difficult at times, when you get off to slow starts. Maybe you're not swinging quite as well as people think you should. There's a lot of expectations placed on you. Anytime you're able to contribute — and he's contributed pretty big the last two days — I think it helps them relax a little bit."
Seven games doesn't tell us anything definitive about Judge this season. He could slip into a 4-for-40 with 25 strikeouts slump tomorrow. Early on though, he looks more comfortable at the plate, especially in two-strike counts, and that is really encouraging. He's worked hard to make changes and put himself in the best position to succeed. We're starting to see the results of that work now that he's swinging and missing less often.
Yes, there will be growing pains with the kids
Spring Training sure was fun, wasn't it? Greg Bird and Gary Sanchez hit the snot out of the ball and it was hard not to get excited about them hitting second and third in the regular season. Naturally, both have started the regular season slowly. Bird was off to a 1-for-16 (.063) start — the one hit was a bloop just inside the foul line — before getting sick over the weekend and sitting out a few games. Sanchez went 3-for-20 (.150) with a homer before landing on the disabled list with a biceps issue.
Fair or unfair, the combination of their first impressions — Bird in the second half of 2015 and Sanchez in the second half of 2016 — and dynamite springs raised expectations. The Yankees certainly expect Bird and Sanchez to be key contributors this year given their lineup positions. The first week of the season was a harsh reminder that yeah, these are two kids in their first full MLB season, and there will be bumps along the way. They're better than they've shown so far. Much better. Ups and down come with the territory with young players though.
Carter is an imperfect bench piece
The Yankees were smart to pick up Chris Carter on the cheap at the end of the offseason because hey, 40-homer bats don't grow on trees, plus no one knew what to expect from Bird. We still don't know what Bird can do this season. I think he'll be good, but I don't know that. Adding Carter as a safety net was a nifty little low-cost addition. Dingers are cool. I like dingers.
At the same time, Bird showed his shoulder is sound in Spring Training and the Yankees are committed to playing him, which leaves Carter on the bench. Before Bird's recent illness, Carter pinch-hit twice in the first four games of the season, and that's it. He can't do much else. He's a first baseman (and designated hitter) only, so he offers no versatility, and given his splits, ideally he'd hit against lefties. There's a very specific set of conditions that have to be met for Carter to play.
Bird is out sick now (and his ankle is acting up), so the Yankees are happy to have Carter as a temporary fill-in. When Bird is healthy though — and especially once he starts hitting, which is only a matter of time — Carter's usefulness is limited. He basically gets to pinch-hit against lefties in the late innings, and even then he's only going to pinch-hit for certain batters. Ronald Torreyes and Austin Romine, essentially. That's about it. Meh.