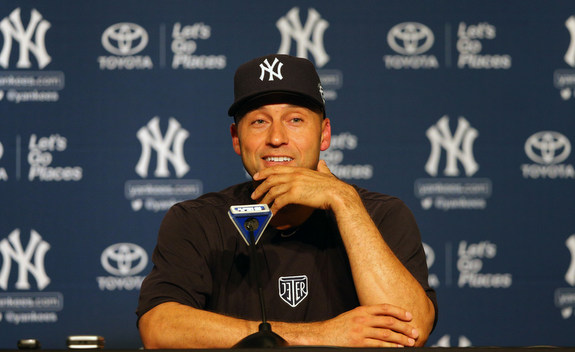 It looks like Derek Jeter's dream of being an owner is coming true. According to Barry Jackson, Jeter is part of an ownership group that has agreed in principle to purchase the Miami Marlins from Jeffrey Loria for $1.3 billion. There are still some details to work through, plus MLB and the other owners have to give approval, so the sale is not final.
Former Florida governor Jeb Bush is leading the ownership group and will be the "control person" while Jeter will have an "active role" with the franchise, according to Jackson. Sounds like a Magic Johnson situation. The Guggenheim Partners own controlling interest in the Dodgers, but Johnson owns a piece and is basically the face of the ownership group.
Loria has been looking to sell the team for months now and at one point reportedly had a $1.6 billion handshake agreement in place, but that fell apart due to political reasons. Loria purchased the Marlins for $158.5M back in 2002. He sold the Expos to MLB and bought the Marlins from John Henry, who then bought the Red Sox. It was essentially three sales at once.
Jeter has made it no secret he wants to one day own a team, and while he won't have controlling interest in the Marlins, he has a piece of the pie. I have to say, I always figured Alex Rodriguez would buy into the Marlins. Not Jeter. The team is right in A-Rod's backyard. A-Rod buys the Marlins and Jeter buys the Rays. That's how it's supposed to work!
In all seriousness, it's going to be kinda weird seeing the Cap'n promoting the Marlins, huh? What if he throws a ceremonial first pitch in a Marlins jersey? That's going to be weird. I'm sure Hal Steinbrenner will love cutting Jeter and the Marlins a revenue sharing check too. That won't be awkward at all.